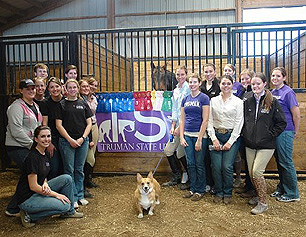 In lieu of a Bulldog, "Walter" the Corgi serves as Truman State mascot. Though Northern Illinois scored 40 points to win on November 15th the Bulldogs won by ten over the Huskies a day earlier and now lead the Region 2 hunter seat team standings by five going into the winter break (Photo courtesy Kate Heisler/Truman State Equestrian Team).
TRUMAN STATE GAINS SLIGHTLY OVER FINAL FALL HUNTER SEAT WEEKEND
Wildwood, MO - Washington University in St. Louis held shows on November 14th and 15th at Baskin Farms in Wildwood, Missouri. The weather on the 14th was excellent (sunny and warm, with temperatures in the '70's) as well as the turnout. 14 schools were represented, no easy feat considering the size of Region 2 and the long distances schools must travel to compete.
On day one Truman State took home the title of High Point Team with 35 points while host Washington University took home the Reserve ribbon with a season-high 32 points. Led by 2009 Nationals qualifier Britney Hartigan, Iowa State tied Northern Illinois University for third place with 25 points. The High point rider ribbon also went to a Truman State rider, as freshman novice rider Emily Fahey's first place ride over fences and second place ride on the flat was enough for the blue outright. The title of Reserve High Point rider came down to a ride-off between Amy Sneed of Illinois State University and Laura Stremke, an Open rider from Northern Illinois University with Sneed winning. The Alumni were well represented on the 14th, with riders from Southern Illinois University at Carbondale, Washington University, Missouri State, Northern Illinois University, Truman State University and Hollins University (located in Zone 4, Region 2) present. After the first day of competition, the tight races for leading team and open rider remained the same, with Truman State in first place but closely followed by Northern Illinois. Anna Lopez of Northwestern University continued to lead the region in open rider points. Following the show Washington University hosted a pizza party hospitality event on Saturday evening that most teams attended.
On the second day of competition, the High Point team award went to Northern Illinois University, with a season-high 40 points (so far in 2009-10 this is the high score for any Region 2 hunter seat team through six shows). Truman State came in second with 33 points while Washington took third with 30 points. The High point rider ribbon went to Lindsey Belvis, a Novice rider from Western Illinois University who won both her fences and flat classes. The reserve champion rider on Sunday was Joanna Russell, a Senior Open rider from Truman State University who was second over fences and first on the flat.
After the completion of this show (on a much cooler and cloudier day than yesterday) Truman State was able to hold onto their lead with 179 points. Close behind are defending champion Northern Illinois with 174 points. Lopez continues to lead the Region as well, with 44 open points. But closely following Lopez are Laura Stremke of Northern Illinois (with 41), Rori Feibert of Washington University (37), Russell (34) and Hartigan (33). The races for high point team and high point open rider will be settled at the next (and final) hunt seat competitions of the season March 19th and 20th when Augustana College and Illinois State co-host.
--Kate Heisler