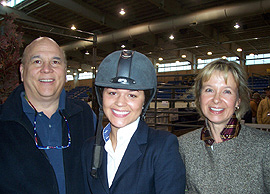 Savannah College of Art & Design freshman Jaime Graham poses between her parents before competing in the individual intermediate over fences at 2006 IHSA Nationals on May 4th. Graham would be the first of 34 people to win a blue ribbon at 2006 Nationals, and the first of eight who won individual hunter seat classes.
SCHOOLS FROM SOUTH, MIDWEST AND FAR WEST FAIR THE BEST IN INDIVIDUAL ENGLISH CLASSES
Harrisburg, PA - There was a time when the Northeast was thought of as the dominant part of the country for hunter seat riding. True, the IHSA started there and only reached the south eight years into the organizations' existance. The plain states and the far west only came on board at the start of the 1990's.
In 2006, only six of the eighteen riders in each individual hunter seat class were generally from schools based in the northeast. And it would turn out that only one school east of the Ohio/Pennsylvania border and north of the Potomic River would earn an individual blue ribbon at IHSA Nationals.
While the eight blue ribbons were spread around the country during three days of individual hunter seat classes at the Pennsylvania Farm Show Complex, many of the riders from these schools located outside the Northeast were actually from towns and cities inside that geographic location. The most successful rider at 2006 Nationals, english or western, would be Stanford University senior Sarah Willeman. From South Hamilton, Massachusetts, Willeman would win four of a possible five blue ribbons over three days of hunter seat classes for the Cardinal, including the first in team history at an IHSA National show on day one.
The first class of 2006 IHSA Nationals was once again the individual intermediate over fences. Unlike last season, when this division featured a large number of riders who would show again at some point during the four-day event, only Jennifer Januzis of Centenary College would compete a second time (in team intermediate flat the next day). There would be only one ride for the other 17 competitors.
The show began at 8:55AM with MaryClaire Schmiege of Notre Dame navigating the jumps first. As was the case with all 18 entries, the riders were given a combined score from judges Robert Bielefeld and Linda Andrisani as soon as they had left the ring (Schmiege received a score of '74' for the record). This made the placings slightly anti-climactic, as one could write down the scores into a program and determine for the most part how the placings would turn out. In 2005 four riders were tested in this division. This time no testing was called for, which meant the judges' scores would tell the tale outright. Tenth place went to University of the South senior Hannah Schremser, who earned a score of '76.5' in what was her third appearance (and fourth class) at IHSA Nationals since 2003. Kutztowns' Molly Lowman earned a '77' for ninth while Michelle Young of Cal State - Fullerton earned eighth place with a '78.' Like all the other Zones, Zone 8 would receive 16 rides in the undergraduate individual classes. However eleven of these sixteen rides would be good enough to make the top ten, earning a tie with Zone 7 for the second most top ten placings of any hunter seat zone at 2006 Nationals! Emily Lawless earned a '78.5;' Lawless was the first rider in the history of the Villanova program to reach Nationals, earning seventh. Laura Bagby was the lone rider from Washington State University to reach Nationals, finishing sixth with a score of '79.'
Campus Equestrian received a very nice e-mail from Jeanne Roberts, whose daughter Caitlyn rode for Oklahoma State in this division, shortly after Nationals was completed. We learned many interesting facts in the e-mail, including the younger Roberts converting her Father's 17 year old bulldog roping horse into a hunter and that this hunter even figured out how to jump the barrier fencing around the Roberts' property! Roberts' considerable time riding quarter horses has paid off, as the junior from Mountain Park, Oklahoma was fifth with a score of '79.5.' Roberts had previously placed seventh in individual novice fences at 2004 IHSA Nationals. Fourth went to Michael Hurwitz of the University of Richmond. Hurwitz was the first of 12 Zone 4 undergraduate riders who would place inside the top ten of a hunter seat individual class, the most of any zone at 2006 Nationals. Hurwitz scored an '80' while University of Findlay junior Laura Baldine was third with an '81.' It was Baldines' second appearance at an IHSA Nationals show and her first time inside the top ten.
Finishing second was Erin Crocker of the University of Colorado at Boulder. Though she attends a school in the mountain time zone, Crockers' current hometown is State College, Pennsylvania, home to Penn State University and not more than two and a half hours from the Pennsylvania Farm Show Complex, site of 2006 Nationals. Crocker earned an '83' while Savannah College of Art & Design freshman Jaime Graham took Championship honors with a score of '87.' Like Crocker, Graham could also claim to be a Pennsylvania resident, as she is from the Doylestown, PA area. Graham would not be the last Pennsylvanian to win a individual class at 2006 Nationals.
Only four riders who competed in individual intermediate fences could claim their school was in the hunter seat team competition. The same held true for competitors in individual open over fences, the second individual class of the event. And only one of the four teams in the team competition could claim their rider in individual open fences made the top ten! As was the case in intermediate, judges' scores were read over the loudspeakers after each trip. Unlike in intermediate, there was testing, and five riders were called back.
Callie Schott of the University of Kentucky (with a score of 88), Chris Peregrin of Columbia (with a score of 85.5), Jennifer Champagne of Hollins (with a score of 84), Kalyn Healey of Stonehill College (with a score of 83.5) and Alison Noe of Bridgewater College (with a score of 83) were tested, but strangely enough, not for first place! It was apparent both judges were satisfied that Stanfords' Sarah Willeman was worthy of the blue ribbon. Willeman had received a score of '90' and was not tested further.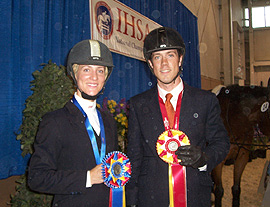 College Football Trivia: Columbia Defeated Stanford 7-0 in the 1934 Rose Bowl. Move forward 71 years and Stanford's Sarah Willeman (left) wins out over Columbia's Chris Peregrin (right) for the top spot at IHSA Nationals in the individual open over fences. We at Campus Equestrian cannot recall a time when riders from two of the most difficult schools to gain admission claimed the top two placings in a class at IHSA Nationals.
When the placings were announced, tenth place went to Alex Szarmach of Northern Illinois (a '76' score) while ninth went to Morgan McDonald of Fresno State (a '79'). Daisy Freund of Dartmouth found herself in a 'Wildcat Sandwich' as a pair of University of Kentucky riders were on either side of her. Diana Glenney of the Wildcats scored an '80' while Freund was awarded seventh with an '81.5.' Schott, whose mother Elaine was the Kentucky Head Coach for many seasons in the 1990's and earlier this decade, was sixth while Noe received fifth. Seniors held down the top four placings as Champagne was fourth, Healey third (moving up from what would have been fifth without testing), Peregrin second and Willeman the individual open over fences champion.
In the late 1990's and very beginning of this decade, Willeman was perhaps THE best junior rider in the country. Among her many achievements at that time included winning the 1998 Washington International Equitation Classic Finals, the 2000 USET Talent Search Finals, the 2000 USA Equestrian Hunt Seat Medal Finals, and Best Junior Rider on a Horse Award at the 2000 Pennsylvania National, which was held in the "Large" Arena within the same complex as 2006 IHSA Nationals. Many individuals this writer met prior to IHSA Nationals thought Willeman stood better than a 50/50 chance of winning every class she would be competing in. The senior from South Hamilton, Massachusetts would win four of five classes over the course of three days, with high scores in most cases that surpass anything accomplished at IHSA Nationals so far this decade.
Runner-up Peregrin ended his IHSA career on an up-note. The senior from New York City who has trained with Anne Kursinski had a roller-coaster spring, missing out on a shot at the Zone 2, Region 4 Cacchione entry after breaking from the canter following the seventh of eight fences at the final regular season show, then having arguably the best fences trip of anyone at Zone 2 Zones in individual open jumping before a refusal in team open fences a few minutes later. Peregrins' work in the test moved him from third to second, providing the Lions with what appears to be their best ribbon at an IHSA Nationals show ever.
The third of five individual hunter seat classes on opening day was Novice Fences. Somewhat unusually, the very first ride of the class turned out to be the best. There was no testing, and after all 18 riders had navigated the course the results were announced.
Tenth place went to Catherine Rodericks of James Madison University, the lone member of the Dukes to reach 2006 Nationals, with a '72' score. Maryville senior Jessica Drake then placed ninth, becoming the first member of the Scots equestrian team to earn a ribbon at an IHSA National show since at least 1996 if ever. Drake had a '72.5' while eighth place went to Mount Holyoke senior Christine Gunn with a '74.' Catherine Zeronda of Penn State was seventh with a '75,' and would not be the last Nittany Lion to earn a purple ribbon individually. The green ribbon went to Michelle Woolschlager of Oklahoma State, bearer of a '76' score, and a member of the team with the most hunter seat riders in the competition overall (Hunter Seat Coach Suzanne Flaig had riders in eight team classes, the Cacchione Cup and six of the eight individual classes, including two in this division). Fifth place went to Kansas State junior Stephanie Bell with a '77' while another junior, in this case Purdues' Elizabeth Strehlow, was half a point better with a '77.5.' Third place went to Nicole Benesch of Centenary College, one of six cyclones to compete on an individual basis, with an '80.'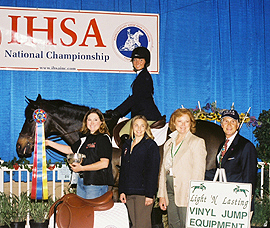 Former Middle Tennessee State rider and University of Tennessee graduate Blain Newsome (on left, holding horse) made her Ohio State hunter seat team coaching debut with a bang, as Buckeye senior Amanda Balonis won the individual novice fences. Though their Western team probably has more blue ribbons at IHSA Nationals than anyone in the history of the IHSA, Balonis is the first english rider in school history to win a class at Nationals.
Brittany Thaler was the second of four Savannah College of Art & Design riders to compete, coming up one place short of Grahams' blue ribbon earlier. Still the freshman from Glyndon, Maryland earned the red ribbon with a score of '81.' Amanda Balonis of Ohio State had gone first and earned an '82' score. Over an hour later, the senior from Shamokin, Pennsylvania had seemingly finished her IHSA undergraduate career with her ultimate achievement: Bringing Ohio State their first-ever individual blue ribbon in an english class at IHSA Nationals! (the 2006 IHSA Show Program repeated several errors from past editions, including that Carolyn Campbell won the 2000 individual novice fences for the Buckeyes when in fact Campbell rode for Ohio University.) The third Pennsylvania resident to make the top two in the first three individual classes would have to get back on a horse after all, as Ohio State abruptly found themselves in the Hunter Seat Team Competition for seven divisions after a rider from another team was disqualified and a few points from Zones were removed from that teams' score. It was pure luck that Ohio State had the riders to fill the team classes held later on during the day, including Balonis in team intermediate flat, held only half an hour after the conclusion of individual novice fences.
Held later in the day between the flat sections of the Cacchione Cup Competition was the individual novice equitation on the flat division. With no testing and no announced scores, the flat classes moved very swiftly this Thursday afternoon. Tenth place was awarded to Cal Poly - Pomona junior Dara Sheinman. Sheinman was one of three Zone 8, Region 2 hunter seat riders to qualify for an individual class, and all three placed inside the top ten. University of Findlay sophomore Natassia Hovey was ninth while Sarah Yungmeyer was the third University of the South rider to show individually, placing eighth. Oklahoma State sophomore Brittany Myers became the third of five hunter seat Cowgirls to place inside the top ten on an individual basis, with a seventh. University of Virginia sophomore Kathryn Clapp was sixth while Kelly Balk of Centenary was fifth. Balk was one of only four undergraduate hunter seat riders to qualify twice on an individual basis. Kate Bacon of Saint Lawrence was fourth while Ashlie Soderstrom became the first of four Texas A & M hunter seat riders to place individually with a third.
Up until this point the Northeast United States could claim the hometowns for riders in individual classes that had placed first or reserve. Noelle Dukes of Fresno State put a stop to that, as the sophomore from Murrieta, California earned the red ribbon. The top spot went to Amanda "Mandy" Lynch of Hollins University. The ribbon was bittersweet for Hollins, which did not have a full hunter seat team at IHSA Nationals for the first time since 1997. Lynch did keep a mini-streak alive for Hollins, which could claim a blue ribbon in either a team class or individual class at each of the past three IHSA National shows. Lynch, a sophomore from Chesterfield, Virginia, was the final rider at 2006 Nationals for Hollins, but beware if Hollins returns with a full team in '07. The only two times in program history that Hollins qualified a full team for IHSA Nationals following a season when they were not region champions the National Championship was theirs! (Hollins ended Southern Seminary's 13-year streak of Regional Titles in 1992-93 with one championship while snapping Virginia Intermonts' then-two-year streak in 1997-98 with another - Editor)
Following the second Cacchione Flat class, the walk-trot-canter finished off the Thursday portion of individual classes. Kristie McEvers, who was the lone hunter seat rider from Georgia Southern to qualify, was tenth. Texas A & M senior and Co-Captain Kelly Brademan finished her IHSA career with a ninth while Saint Andrews Presbyterian College sophomore Hayley White took eighth. Not too many riders can pick up a coach during the day, but this is what happenned to Krystal Guthrie of Ohio State. Earlier, when teammate Balonis won the novice fences, Blain Newsome had been the hunter seat coach. Newsome officially took over that title at the end of Zone 6 Zones, as it was understood between the school and then-hunter seat coach Jim Arrigon that he was to coach the Buckeyes as long as the full team was competing. When Ohio State was apparently the odd hunter seat team out at Zone 6 Zones on April 5th, Newsome assumed the reins. However when the full Ohio State team was suddenly allowed to compete at 2006 Nationals, Western Head Coach Ollie Griffith told Arrigon he was back at the helm! Newsome and Arrigon can both take credit for Guthries' seventh-place ribbon here, as both had coached her during the season and both were involved in her preparation on this day (Guthrie had actually ridden two classes earlier, finishing out of the ribbons in team novice flat).
Sixth place belonged to Lindsay Cook of Kansas State while Amanda Stoops of Slippery Rock, who had placed second at Zone 3 Zones on her 21st birthday on April 9th, placed fifth. Shelby Clark, the lone hunter seat undergraduate rider from Middle Tennessee State in this years' Nationals was fourth while Christine Jordan of Centenary equalled teammate Beneschs' placing with a third. Kathryn Dickson, a junior from El Paso, Texas, gave New Mexico State their best hunter seat ribbon of the show with a second while Kathleen Reed of the University of Kentucky remained unbeaten in the post-season with a first. University of Kentucky riders - english and western - all made the top ten at 2006 Nationals. Reed, a freshman from Louisville, Kentucky joined Schott, Glenney and Jessica Harbour (sixth three days later in advanced western horsemanship) inside the top eight.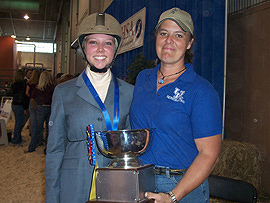 She may have drawn 'Hamlet' for her ride, but University of Kentucky freshman Kathleen Reed certainly tamed the shrew en route to a blue ribbon in individual walk-trot-canter. Head Coach Michelle Zimmer (right) and Reed pose with the Union Fidelity Trophy afterward.
Though twelve classes took place on Friday, May 5th, the most classes held on any day of the event, only one was an individual hunter seat class. The eighth class of the day was individual walk-trot, and an unusual streak was on the line going in. Since 2002 all four winners of the individual walk-trot had come from schools in Zone 1. Janet Obee of Mount Holyoke College had won in 2002 (Region 3), Galyn Burke of Brown won in '03 (Region 1), Sara Royston also of Mount Holyoke won in '04 (and would show in the 2006 team competition) and Caroline Gottschalk of the University of Connecticut won last season (also a Region 1 team). Unless you want to count the mid 1980's Alumni Flat streak as four straight for Zone 2 (and this only applies to the 2005-06 re-configuration of that zone), not since the 1970's had one Zone claimed the individual hunter seat champion more than three seasons in a row. Could one of the two Zone 1 riders in this years' competition keep the streak going?
Riders in the individual walk-trot spent seven minutes riding in the ring (from 3:32PM to 3:39PM), then spent nine minutes lined up facing away from the judges while the scores were calculated. When announcer Ken Marash began reading the placings it was Harris Blum of George Washington earning tenth (To the best of our knowledge, Blum is the first George Washington University rider ever to compete in a hunter seat class at IHSA Nationals - Editor). Ninth place went to Ashley Worrell of Bridgewater College, the team that unseated Hollins for Zone 4, Region 2 high point team honors. Eighth went to Maryville College freshman Kim Maclennan, the only member of the Scots to ride both individually and in a team class. Lianna Bodlak of Kansas State was seventh. One of many schools with the Wildcat nickname, Kansas State had more riders in the combined individual and team english and western classes than any other school at 2006 IHSA Nationals, with one rider in 22 different classes including the Cacchione and individual AQHA divisions. Sixth went to Bill Pyle, the lone Western Michigan rider at 2006 Nationals, who like Stoops had finished second at Zones on his 21st birthday.
With all the riders who were not destined to place inside the top ten having been excused before tenth through first were announced, it should be noted that both Zone 1 riders were still lined up at this point. That changed when Colby-Sawyer College sophomore Melissa Lewis was placed fifth. Teresa Field of Stanford earned fourth while Katrina McLeod of Texas A & M would be third. McLeod would win the individual beginner western horsemanship division outright two days later.
Only Amanda Yancey of Oklahoma State and Danielle Johnson of Mount Holyoke remained in the ring. Yancy, a senior from Tulsa, Oklahoma, finished her IHSA career with the reserve ribbon. Johnson, a junior from Stow, Massachusetts, had kept the Zone 1 streak intact. Johnson became the third Mount Holyoke rider in five years to win this class. When Royston had won the division two seasons ago, we gave considerable praise to Mount Holyoke Head Coach Carol J. Law for being able to get the best out of so many riders with no riding experience. After Johnsons' blue ribbon, Law informed this writer that much of the credit really belongs to a woman named Lani Sattler, who was in attendance. Sattler has been teaching the lower levels (i.e, the walk-trot and walk-trot-canter riders) since becoming involved with Mount Holyoke around 1998. Sattlers' impact was immediate, as Megan Gregory-Morley and Nicole Brown were second at 1999 Nationals in the individual walk-trot and individual walk-trot-canter, respectively. Save for 2001 Nationals, at least one Mount Holyoke rider has reached Nationals in either the individual walk-trot or individual walk-trot-canter divisions since that '99 National show at Cazenovia. And regardless of how one looks at it, Zone 1 is in the record books for most consecutive wins at IHSA Nationals in one individual hunter seat division with five.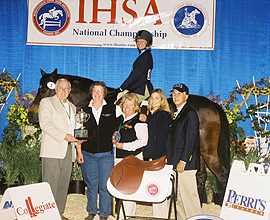 Little or no riding experience? Want your own saddle? Why not enroll at Mount Holyoke College! Danielle Johnson (on horse) is the third Mount Holyoke rider in five seasons to win the individual walk-trot division at IHSA Nationals. The winner of this division, as well as the individual walk-trot-canter champion, receives a Collegiate Saddle. Since 1999 Mount Holyoke has faired the best at Nationals in both of these divisions. Since 2002 riders from Zone 1 have won the walk-trot at five IHSA National shows in a row!
Day three of IHSA Nationals marked the last rides for the hunter seaters in 2005-06. Following team open fences (during which Kyla Makhloghi's reserve placing clinched Mount Holyokes' third National Championship in program history), the work-off phase of the Cacchione Cup (won by Willeman, becoming the first rider from a West Coast school to win the Cup) and the parade and presentation of hunter seat awards, the individual intermediate flat was the penultimate english class of the season. Three teams could claim two riders in the division: Penn State with both Lauren Dowler and Katie Troyanoski, Miami of Ohio with both Virginia Kiefer and Matt Arrigon (the son of 're-activated' Ohio State Coach Jim and 2005-06 Xavier University Coach Gwen), and Kali Carlson and Lindsey Willard of the University of Wisconsin at Madison. When the dust settled (and that took some time as a re-ride forced the entire class to run a second time) it was Fresno States' Becky Legris finishing up her IHSA career in tenth place. Ninth went to Saint Andrews' Presbyterian College sophomore Jamie Nickolson while eighth went to Carlson, who had won the division at Zone 9 Zones on April 9th. Texas A & M sophomore Katie Henion was seventh while Sarah Zaides, the lone member of the University of California at San Diego team to qualify for Nationals was sixth. The rider in fifth place made quite a splash at the two IHSA Nationals shows in Murfreesboro, Tennessee. Riding for the University of Findlay at the time, Mara Keith-Hunter won the team novice fences division at 2003 Nationals, then returned to place second in team intermediate flat and win individual novice flat in 2004. Now riding for the University of Massachusetts at Amherst, Keith-Hunter placed fifth, but still has one more year of eligibility and thus could be back in 2007. Whitney Leeder accounted for another Savannah top five showing with a fourth, while Arrigon had his highest placing to date at a Nationals show, the junior from Hanover Township, Ohio improving one spot over his team novice fences showing in 2004 to claim third.
One team from Upstate New York which perhaps flies under the radar is Colgate University. Faced with the formidable task of trying to overtake Skidmore College and Cornell University in Zone 2, Region 3 (not to mention Morrisville State and Hartwick College, both narrowly ahead of Colgate this season), the Raiders have some top-notch talent. Colgate junior Devon Storbeck was second at Zone 2 Zones on April 8th and the Bolton, Massachusetts resident earned the same ribbon on this day. Taking top honors was Willard, a junior from Lake Bluff, Illinois who will be a co-captian with Carlson in 2006-07. Willard became the first rider in Wisconsin - Madison team history to win an individual hunter seat class at IHSA Nationals.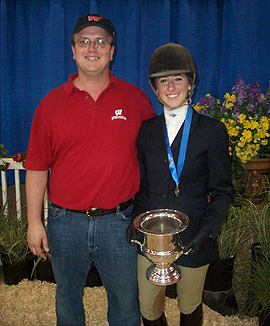 While Willeman was the first Stanford rider ever to win a class at IHSA Nationals, Lindsey Willard (on right, with Head Coach Mark Aplin) became the first University of Wisconsin at Madison rider to do likewise. The junior from Lake Bluff, Illinois won individual intermediate on the flat, becoming the first undergraduate rider from Zone 9, Region 3 to win a class at Nationals since the region was created prior to the 2002-03 season.
Willards' fine performance ended what was a difficult season for the Badgers. The Wisconsin - Madison team did not survive Zone 9 hunter seat Zones for the first time in four years, in part because of a disrupted training schedule. Their usual facility was quarantined for most of the spring, which forced Head Coach Mark Aplin to find an alternative. "The team got some limited riding time in on some horses that are owned by clients of mine while the UW barn was quarantined," said Aplin. "My business is named Gallop Away so they rode client horses and Gallop Away horses. Those horses are kept at a boarding barn called Saddleridge." With the illness no longer an issue at their regular facility, Aplin is confident the Badgers will have a full hunter seat team competing in Springfield come May of 2007.
The final english class of 2006 was the individual open flat. Though the actual riding in this division was quite good, events surrounding the testing and the placings bring to mind terms such as 'Snafu' and 'Oops.' As was the case with all eight individual open divisions, the class started with eighteen riders. Following the usual walk-trot-canter-reverse-walk-trot-canter routine, announcer Marash instructed the riders to line up. Then certain 'numbers' were announced for testing. The rest were excused. One rider who shall be nameless thought she had not been announced. This rider headed for the out gate before being told to turn around and stay in by her coach. The strange part at this point is that eleven riders - not ten - were now being tested. This would mean that someone still in the ring would not receive a ribbon (save for the participation ribbon awarded to all competitors at registration). As the fortunate eleven worked without stirrups, each was called into the center of the ring one-by-one until only Willeman was still on the canter. The class lined up and the judges decided who finished where.
Then came the confusion. Sarah Lawrence College freshman Liz Stitzel was announced as tenth place. Then Southern Illinois senior Sheila Gallery was announced as ninth place. Then Oklahoma State sophomore Bailey Mahoney was announced as 9th place!! As was the case with all flat classes, each rider who received a ribbon tenth place or higher had to first ride over to where IHSA Founder and Executive Director Bob Cacchione and other dignitaries presented them with their ribbons before exiting the ring. Mahoney walked her horse to the dignitaries and was given the eighth place brown ribbon while Cal Poly - San Luis Obispo senior Renee Beggs was given the purple seventh place ribbon (this writer is not sure which placing was announced for Beggs). The rider announced as sixth was Virginia Intermont senior Erika Jewell, runner-up to Willeman for the Cacchione Cup earlier in the day and - hard to believe - exiting the ring for the final time as an IHSA rider. In some sports a player's number can be retired; Jewell probably had a different number every season, so this would not be practical. But if any rider in VI team history deserved to have their number retired, Jewell would be it! Four times a Cacchione Cup competitor and the open rider chosen by Head Coach Eddie Federwisch to compete in seven of eight team open classes at Nationals over four seasons, Jewell played a huge part in two Virginia Intermont National Championships.
Fifth place went to Brown senior Alexis Gilbard. From Malibu, California, Gilbard started college at Colgate before transferring to Brown two seasons ago. Fourth went to Caitlin Lane of Washington & Lee. The senior from Leesburg, Virginia graduates having competed in two Cacchione competitions and having ridden at least once at each of the past four IHSA National shows. Ashley Delzer of Michigan State took third place. The junior from Troy, Michigan had placed fifth in the Cacchione Cup earlier in the day and had finished second in individual open flat at 2005 Nationals. Mount Holyoke College junior Nathalie Cooper took the reserve ribbon. From Newport, Rhode Island, Cooper had beaten out teammate Kyla Makhloghi by three points during the regular season to earn the right to compete in the 2006 Cacchione competition, placing eighth earlier this day.
Though several of these riders have extensive resumes from past Nationals, the 2006 Championship will be remembered for the efforts of Sarah Willeman. A winner in her final IHSA ride, Willemans' flat work put her in a different world from the rest of the field. Her '92' score on Thursday in the flat phase of the Cacchione was the highest flat score given to any rider in any hunter seat class at IHSA Nationals this decade. It looked like more of the same this Saturday afternoon.
Yet with Willeman announced as the winner, there was still one rider remaining in the ring! From Danbury, Connecticut, Penn State freshman Samantha Pandolfi rode her horse through the out gate, apparently placing eleventh, but she had ridden better than what was announced. It turns out that Stitzel was eleventh, Gallery tenth, Mahoney ninth, Beggs (who actually came out ahead of Willeman head-to-head at few Zone 8, Region 1 shows during the fall) eighth and Pandolfi seventh. Though Pandolfi did get the purple ribbon from Beggs, and Beggs received the brown ribbon from Mahoney, the other ribbons were still being tracked down as team open reining began around 2PM. Were eleven riders supposed to be tested? This writer was unable to prove if someone snuck in or not. The placings are history now, as is the entire 2005-06 season.
---Steve Maxwell
The following is a list of the Individual Class-by-Class Results from 2006 IHSA Nationals, held at the Farm Show Complex in Harrisburg, Pennsylvania. The first five classes listed were held Thursday, May 4th, the sixth class was held Friday, May 5th and the final two were held Saturday, May 6th. The judges for all hunter seat classes were Robert Bielefeld and Linda Andrisani:
Individual intermediate equitation over fences: 1. Jaime Graham, Savannah College of Art & Design. 2. Erin Crocker, University of Colorado at Boulder. 3. Laura Baldine, University of Findlay. 4. Michael Hurwitz, University of Richmond. 5. Caitlyn Roberts, Oklahoma State University. 6. Laura Bagby, Washington State University. 7. Emily Lawless, Villanova University. 8. Michelle Young, Cal State - Fullerton. 9. Molly Lowman, Kutztown University. 10. Hannah Schremser, University of the South.
Individual open equitation over fences: 1. Sarah Willeman, Stanford University. 2. Chris Peregrin, Columbia University. 3. Kalyn Healey, Stonehill College. 4. Jennifer Champagne, Hollins University. 5. Alison Noe, Bridgewater College. 6. Callie Schott, University of Kentucky. 7. Daisy Freund, Dartmouth College. 8. Diana Glenney, University of Kentucky. 9. Morgan McDonald, Fresno State. 10. Alex Szarmach, Northern Illinois University.
Individual novice equitation over fences: 1. Amanda Balonis, Ohio State University. 2. Brittany Thaler, Savannah College of Art & Design. 3. Nicole Benesch, Centenary College. 4. Elizabeth Strehlow, Purdue University. 5. Stephanie Bell, Kansas State University. 6. Michelle Woolschlager, Oklahoma State University. 7. Catherine Zeronda, Penn State University. 8. Christine Gunn, Mount Holyoke College. 9. Jessica Drake, Maryville College. 10. Catherine Rodericks, James Madison University.
Individual novice equitation on the flat: 1. Mandy Lynch, Hollins University. 2. Noelle Dukes, Fresno State. 3. Ashlie Soderstrom, Texas A & M University. 4. Kate Bacon, Saint Lawrence University. 5. Kelly Balk, Centenary College. 6. Kathryn Clapp, University of Virginia. 7. Brittany Myers, Oklahoma State University. 8. Sarah Yungmeyer, University of the South. 9. Natassia Hovey, University of Findlay. 10. Dara Sheinman, Cal Poly - Pomona.
Individual walk-trot-canter equitation: 1. Kathleen Reed, University of Kentucky. 2. Kathryn Dickson, New Mexico State University. 3. Christine Jordan, Centenary College. 4. Shelby Clark, Middle Tennessee Stae University. 5. Amanda Stoops, Slippery Rock University. 6. Lindsay Cook, Kansas State University. 7. Krystal Guthrie, Ohio State University. 8. Hayley White, Saint Andrews Presbyterian College. 9. Kelly Brademan, Texas A & M University. 10. Kristie McEvers, Georgia Southern University.
Individual walk-trot equitation: 1. Danielle Johnson, Mount Holyoke College. 2. Amanda Yancey, Oklahoma State University. 3. Katrina McLeod, Texas A & M University. 4. Teresa Field, Stanford University. 5. Melissa Lewis, Colby-Sawyer College. 6. Bill Pyle, Western Michigan University. 7. Lianna Bodlak, Kansas State University. 8. Kim Maclennan, Maryville College. 9. Ashley Worrell, Bridgewater College. 10. Harris Blum, George Washington University.
Individual intermediate equitation on the flat: 1. Lindsey Willard, University of Wisconsin at Madison. 2. Devon Storbeck, Colgate University. 3. Matt Arrigon, Miami University of Ohio. 4. Whitney Leeder, Savannah College of Art & Design. 5. Mara Keith-Hunter, University of Massachusetts at Amherst. 6. Sarah Zaides, University of California at San Diego. 7. Katie Henion, Texas A & M University. 8. Kali Carlson, University of Wisconsin at Madison. 9. Jamie Nickolson, Saint Andrews Presbyterian College. 10. Rebecca Legris, Fresno State.
Individual open equitation on the flat: 1. Sarah Willeman, Stanford University. 2. Nathalie Cooper, Mount Holyoke College. 3. Ashley Delzer, Michigan State University. 4. Caitlin Lane, Washington & Lee University. 5. Alexis Gilbard, Brown University. 6. Erika Jewell, Virginia Intermont College. 7. Samantha Pandolfi, Penn State University. 8. Renae Beggs, Cal Poly - San Luis Obispo. 9. Bailey Mahoney, Oklahoma State University. 10. Sheila Gallery, Southern Illinois University at Carbondale.