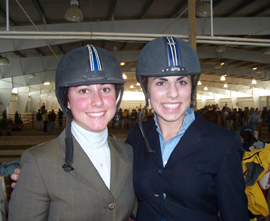 They earned four blue ribbons at Zone 3 Hunter Seat Zones between them! Samantha Pandolfi (left) and Jackie Geewax of Penn State did as well as anyone riding at the many Zones shows around the IHSA last weekend. Geewax won both team intermediate classes while Pandolfi won team open fences, individual open flat and was reserve in individual open fences. The Nittany Lions were Zone 3 Champion Hunter Seat Team for the fourth season in a row.
2006 IHSA ZONES RECAP
Save for Zone 3 Stock Seat Zones, which took place way back on March 25th, and Zone 6 Zones, which took place on Wednesday, April 5th, all the IHSA Zones shows took place over the April 8th/9th weekend. Many of the Hunter Seat Competitions included schools with full teams at Zones for the very first time. A few of them even survived to reach IHSA Nationals May 4th through 7th at the Farm Show Arena in Harrisburg, Pennsylvania.
Depending on the number of English or Western riders a Zone has, either one, two or three teams advance to Nationals. In 2005-06 Zone 2 became the first zone with over 1,000 English riders, thus allowing three teams to advance from their four-way team competition on April 8th. Zone 9 apparently has the largest number of Western riders of any Zone in the nation this season, and although their stock seat team competition was a three-way affair, all three teams still advanced to Nationals.
One thing common to all zones is that the top two riders in each of the Individual Classes at a Zones show advances to IHSA Nationals. At several of the Zones shows, certain teams had field days in terms of advancing individuals. Miami of Ohio hunter seat riders placed inside the top two six times at Zone 6 Zones, while the University of Findlay claimed seven of a possible 12 western rides from their Zone at Nationals the same day.
Though we are still somewhat in the dark about what happenned at Zone 8 Zones, we present a recap of the highlights of each Zones show. Class-by-class Results for most of these shows may be found on our home page through April 18th and on the various Zone pages afterward...
ZONE 1 ZONES (Mount Holyoke Equestrian Center, South Hadley, Mass 4/8): Mount Holyoke scored the most points of any team Nationwide, 54 of a possible 56, to win the team competition. Senior Kyla Makhloghi won the first and last team classes of the day while four of her Lyon teammates advanced to Nationals on an individual basis...Freshman Ali Joyce of the University of Vermont was the only rider not from Mount Holyoke to win a team class. The Cattamounts needed it, as second place was a tie!...Wheaton College, making their first-ever Zones appearance with a full team, tied the Cattamounts with 33 points each. However Sarah Muntyan, a sophomore from Sharon, Mass. won a ride-off (in novice flat) to advance Vermont to Nationals for the second time in three years...The University of Massachusetts at Amherst advanced four individual rides to Nationals, the same number as Region 3 rival Mount Holyoke...
ZONE 2 ZONES (Centenary College Equestrian Center, Long Valley, NJ 4/8 and Cazenovia College Equestrian Center, Cazenovia, NY 4/9): The top three English teams all advanced on Saturday, as Skidmore College edged Centenary College by a 47-46 score. The real drama was between Columbia and Saint Lawrence, as the Lions led the Saints through the jumping phase by a 12-10 margin. The Saints then hit their stride with several red ribbons on the flat to edge Columbia by a 32-27 margin...Centenary dominated the individual classes, earning six rides at Nationals, including two for Kelly Balk in novice flat and fences...The Western show on Sunday was won by Morrisville State with 36 points. However there was high drama as host Cazenovia and the United States Military Academy tied for second with 29 points each. The ride-off was won by USMA, which will take a full Western Team to Nationals for the second time in the program's history...
ZONE 3 ZONES (Saddlebrook Equestrian Center, Schwenksville, PA 3/25 and C-Line Stables, Odessa, Del. 4/9): Zone 3 staged the first Zones show of the season when the Western riders battled it out on March 25th. Because Zone 3 went over 201 Western riders this season, both high point team Delaware Valley College and runner-up West Virginia University will both take full stock seat teams to Nationals...The English show was on April 9th, with Penn State getting ahead early by sweeping the team over fences divisions. The Nittany Lions won but the last class of the day (team open flat) gave Delaware Valley a chance to tie for first and West Virginia University the chance to tie Del Val for second. Penn State won the class via a first for Jennifer Betts and prevailed 47-41 over Delaware Valley, who will also take their team to Nationals...Penn State riders claimed five individual rides at Nationals, including two for freshman open rider Samantha Pandolfi. Eleven other Zone 3 schools claimed one (undergraduate) ride each...
ZONE 4 ZONES (on campus at Sweet Briar College, Sweet Briar, VA 4/9): It was time for the two-time defending National Hunter Seat Champs to put their streak of six consecutive trips to IHSA Nationals on the line. Virginia Intermont College actually had third place all to themselves through two team classes, with Bridgewater College and host Sweet Briar up by an 11-10 score. Then junior Kristina Macey won team novice fences and the Cobras were never in the cellar again. However headed into team novice flat, the final team class of the day, Virginia Intermont only led Sweet Briar 39-38 with Bridgewater at 35. If you do the math you realize that VI was in, but that the hosts had a chance to win outright. Bridgewater also had a chance to tie for second and force a ride-off. However Julianne Wilson of the Cobras won the class while Katie Bird was second for Sweet Briar, which broke a seven-year streak of Zone 4, Region 1 English Teams being eliminated at Zones. The Vixens will make their first-ever appearance at IHSA Nationals with a full team, though they did win their region once before, in 1975-76, three years before the first actual Nationals team classes and the first year for what is now called Zone 4...Saint Andrews Presbyterian College was one of four teams to introduce Western to Zone 4, Region 3 this season. Though no one within the region qualified individualy in western, the Saint Andrews stock seat team won five of six team classes versus Goucher College at Zones to advance a full team to Harrisburg. Open rider Gwen Titus won twice in the western team competition for the Knights...
ZONE 5 ZONES (Evermore Farm, Brooklet, Georgia, 4/8 English and 4/9 Western): The College of Charleston was one of four hunter seat teams to score 50 or more points over the weekend. The Cougars swept the team over-fences and never really looked back, securing a return trip to Nationals. The race for second was close for a while, but Kim Maclennon's first in team walk-trot-canter gave Maryville College a 36-31 lead over the University of Georgia with one team class remaining. Charleston won with exactly 50, Maryville was reserve with 40 and Georgia was third with 38. Maryville, riding with a full team at Zones for the first time, will now have a full team at Nationals for the first time as well...Savannah College of Art & Design dominated the individual hunter seat classes, with six riders advancing including four-time Cacchione rider Jordan Siegel in individual open over fences...We have the team totals listed at the bottom of this page for the Western Competition held the next day, won by Middle Tennessee State over Georgia Southern and Berry College. MTSU and GSU will both take a full Western Team to Nationals. We had placings posted briefly for this show, but because several placings changed due to AQHA rules which require zero scores in certain situations, the placings have been removed until we get the corrected version...
ZONE 6 ZONES (George M. Humphrey Equestrian Center, Concord, Ohio 4/5): The only Zones show anywhere this year to alternate English and Western classes throughout much of the day, Zone 6 Zones featured a pair of close team races. Ohio State had the early lead in hunter seat, with 19 points to 16 for Miami of Ohio and 13 for Findlay when the jumps were removed. Miami of Ohio dominated on the flat, winning four of five team classes to take first place outright by a 48-40 score. Findlay chipped away and tied Ohio State at 40 to force a ride-off, which was won by Oiler junior Katie Johnston, who had finished second in team open flat to force the tie only an hour earlier...While Miami advanced six riders to Nationals on an individual basis (including double-blue ribbon winner Katie Kurtz in both intermediate divisions), the University of Kentucky, like Miami a member of Zone 6, Region 2, advanced three of four hunter seat Zone qualifiers to Nationals. Region 2 thus has nine rides at Nationals, which ties them with Zone 8, Region 1 for second-most of any hunter seat region in the country...Kentucky also had one stock seat rider at Zones (in the person of advanced rider Jessica Harbor), and she too advanced to Nationals...The Buckeye stock seat team was in a close battle with Miami and Findlay as well. Through four classes Ohio State and Miami were tied at 21 while Findlay was at 18. Then Ashley Kovar won team open western horsemanship and the Buckeyes were ahead for good. The final was still close, with the Red Hawks finishing behind Ohio State 33-32. Though the defending Western National Champs were third with 27, seven different oilers advanced to Nationals on an individual basis. The remainder of the Zone accounts for five individual Western rides in Harrisburg...
ZONE 7 ZONES (The Animal Science Arena on the campus of Oklahoma State University, Stillwater, Okla. 4/9): In contrast to the many close team races around the country, both the Zone 7 English and Western team competitions were one-sided. The hosts won the first three english team classes and never looked back, prevailing over New Mexico State by a 52-44 margin. Cowgirl sophomore Michelle Woolschlager won both team intermediate classes while also advancing to Nationals in the individual novice over fences. Six other Oklahoma State hunter seat riders also advanced individually...Five Texas A & M english riders also advanced individually, giving Zone 7, Region 2 twelve individual rides at Nationals, the most of any region, english or western, throughout the nation...Texas A & M won or tied for the Western National Championship three years in a row before finishing second to Findlay last season. The battle of the two Zone 7 schools with the nickname "The Aggies" went to Texas A & M, winners in five of six stock seat team classes. Though New Mexico State was second, the number of western riders in Zone 7 is well over 201, so both Aggies will field full teams at Nationals...
ZONE 8 ZONES (Leone Equestrians, Inc. Sacramento, CA 4/8 and 4/9): While we have the team scores for both the English and Western competitions, we have few other details about Zone 8 Zones, other than it was one of the more exciting competitions coast-to-coast. Led by Sarah Willeman, who won both hunter seat team classes and advanced individually on the flat and fences, Stanford's first appearance at Zones with a full hunter seat team since 1996 was hugely successful. The Cardinal scored 53 of a possible 56 points (second only to Mount Holyoke for the weekend), finishing way ahead in first place. Many are already saying that Willeman is THE rider to beat in any class she competes in at Nationals, including the Cacchione, as her credentials as a junior were perhaps the best of anyone who went on to compete within the IHSA this century. For the first time in Zone 8 history, the runner-up in the english team competition also advanced, and in this case it was Rocky Mountain College. Located in Billings, Montana, the entry from Zone 8, Region 3 earned 37 points, enough to edge out Southern Cal and Oregon State. Courtney McGowan of Rocky Mountain advanced to Nationals in the individual walk-trot, making her the only english individual rider to qualify from Region 3. By contrast, Region 1 advanced nine individual rides, five from Stanford...The Western team competition was much closer, with the top three teams separated by three points. Utah State, which had edged out the College of Southern Idaho to win Region 3, was Zone 8 Champion with 30 points while Oregon State was reserve with 29. Cal Poly - Pomona was third with 27 while Fresno State was fourth with 22. The top three western teams in Zone 8 all head east to Harrisburg...
ZONE 9 ZONES (On campus at Saint Mary of the Woods College, St. Mary of the Woods, IN 4/8 and Foxton Farm, Romney, IN 4/9): Though Christina Ecker of host Saint Mary of the Woods started the day with a first in team open reining, the remaining five western team classes all went to Kansas State riders. The Wildcats scored 40 points, tieing them with Texas A & M and Saint Andrews for the most points scored by a western team at 2006 Zones. Kansas State Junior Sara Weller won the individual open reining while placing second in individual open western horsemanship, becoming the only western rider in Zone 9 with two individual stock seat rides at Nationals. Though SMOTW and Nebraska finished with 30 points and 26 points, respectively, both advanced to Nationals due to the soaring western numbers in Zone 9...English Zones were held the next day, with the Wildcats again the best overall. Though schools in other zones such as Penn State and College of Charleston may have swept the team over fences divisions and go on to win by a reasonable margin, most of the hunter seat shows started with mixed results that were not indicative of the final outcome. Through three jumping classes the Indiana Hoosiers were up 19 to 15 on the University of Wisconsin at Madison while K-State was close with 14. Then the Wildcats won four of the five team flat classes to become Zone Champion with 47 points. The Hoosiers, who were competing at Zones for the first time with a full team, got a big boost when team walk-trotter Courtney Boswell won the only team flat class not awarded to the Wildcats. This allowed Indiana to hold second place, finishing with 43 points and stopping the Badgers' streak of Nationals appearances with a full team at three...Wisconsin at Madison did advance three individuals, including Kali Carlson and Lindsey Willard, who placed 1-2 in individual intermediate on the flat. Host Purdue also advanced three riders to Nationals...
Save for a handful of Invitational shows, the next IHSA competition that counts will be held May 4th through 7th. The IHSA National Horse Show will take place at the Farm Show Arena in Harrisburg, Pennsylvania, with English classes scheduled for May 4th through 6th and Western classes to be held May 5th through 7th. The flat phase of the Cacchione Cup Competition will be part of the May 4th proceedings, with the over fences phase the next morning. The AQHA Trophy horsemanship or Rail division will begin the Western classes around lunch time on May 5th, with the Reining phase finishing the May 6th proceedings in the early evening. A Cacchione Class work-off Phase will also take place, early in the day on May 6th (which is a Saturday). By the afternoon of May 6th we will all know who the 2006 IHSA Champion Hunter Seat Team and Cacchione Cup winners are, and by mid-afternoon on Sunday, May 7th the Champion Western Team and the new AQHA Trophy winner will be in the record books too.
The following are the Team Totals from the 2006 IHSA Zones shows held around the country. When a school's name is in BOLDFACE type then that institution has advanced a full English or Western Team to IHSA Nationals. Zone 1 Zones were English Only for the record.
Zone 1 Zones: MOUNT HOLYOKE COLLEGE 54, UNIVERSITY OF VERMONT 33 (RESERVE), Wheaton College 33 and the University of Connecticut 30.
Zone 2 Hunter Seat Zones: SKIDMORE COLLEGE 47, CENTENARY COLLEGE 46, SAINT LAWRENCE UNIVERSITY 32 and Columbia University 27.
Zone 2 Stock Seat Zones: MORRISVILLE STATE COLLEGE 36, UNITED STATES MILITARY ACADEMY 29 (RESERVE) and Cazenovia College 29.
Zone 3 Hunter Seat Zones: PENN STATE UNIVERSITY 47, DELAWARE VALLEY COLLEGE 41, West Virginia University 38 and Princeton University 26.
Zone 3 Stock Seat Zones: DELAWARE VALLEY COLLEGE 38 and WEST VIRGINIA UNIVERSITY 34.
Zone 4 Hunter Seat Zones: VIRGINIA INTERMONT COLLEGE 46, SWEET BRIAR COLLEGE 43 and Bridgewater College 39.
Zone 4 Stock Seat Zones: SAINT ANDREWS PRESBYTERIAN COLLEGE 40 and Goucher College 32.
Zone 5 Hunter Seat Zones: COLLEGE OF CHARLESTON 50, MARYVILLE COLLEGE 40 and the University of Georgia 38.
Zone 5 Stock Seat Zones: MIDDLE TENNESSEE STATE UNIVERSITY 36, GEORGIA SOUTHERN UNIVERSITY 30 and Berry College 26.
Zone 6 Hunter Seat Zones: MIAMI UNIVERSITY OF OHIO 48, UNIVERSITY OF FINDLAY 40 (RESERVE) and Ohio State University 40.
Zone 6 Stock Seat Zones: OHIO STATE UNIVERSITY 33, MIAMI UNIVERSITY OF OHIO 32 and the University of Findlay 27.
Zone 7 Hunter Seat Zones: OKLAHOMA STATE UNIVERSITY 52 and New Mexico State University 44.
Zone 7 Stock Seat Zones: TEXAS A & M UNIVERSITY 40 and NEW MEXICO STATE UNIVERSITY 32.
Zone 8 Hunter Seat Zones: STANFORD UNIVERSITY 53, ROCKY MOUNTAIN COLLEGE 36, University of Southern California 33 and Oregon State University 30.
Zone 8 Stock Seat Zones: UTAH STATE UNIVERSITY 30, OREGON STATE UNIVERSITY 29, CAL POLY - POMONA 27 and Fresno State 25.
Zone 9 Hunter Seat Zones: KANSAS STATE UNIVERSITY 47, INDIANA UNIVERSITY 43 and the University of Wisconsin at Madison 38.
Zone 9 Stock Seat Zones: KANSAS STATE UNIVERSITY 40, SAINT MARY OF THE WOODS COLLEGE 30 and UNIVERSITY OF NEBRASKA AT LINCOLN 26.
--Steve Maxwell