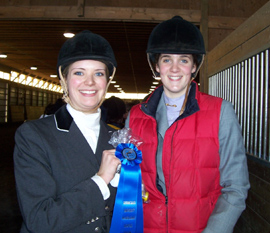 Bea Jarocha-Ernst (left) did it in novice flat. Kelly Casadevall (right) did it in novice fences. What they did was win blue ribbons at the February 17th Bloomsburg show. Three other Rutgers riders did it too as the Scarlet Knights started the new calendar year with a victory.
SCARLET KNIGHTS START 2007 WITH 41-39 WIN OVER KUTZTOWN
Doylestown, PA - During the fall of 2006 the Rutgers University Football Team had perhaps their best season ever, spending most of the season nationally ranked and concluding their campaign with a 37-10 win over Kansas State in the Texas Bowl, the Scarlet Knights' first-ever bowl game victory.
Though not exactly as big a story as their football team, the Rutgers equestrian team has quietly moved into second place within the Region 4 team standings. On February 17th the Scarlet Knights came from behind to edge Kutztown 41-39, marking the third time in seven competitions this season that Rutgers has won outright. Katy Galbraith (walk-trot), Caitlin Belding (advanced walk-trot-canter), Bea Jarocha-Ernst (novice flat), Kelly Casadevall (novice fences) and Lauren Sabo (intermediate fences) all won classes for Rutgers, with Sabo pointing out thanks to her blue ribbon. With three shows remaining the Scarlet Knights now trail Kutztown by only a 198-184 margin. Rutgers' 41 points is also the highest score earned by any Region 4 team so far in 2006-07.
The Golden Bears were apparently ahead for most of the day until Galbraiths' win in the day's final class made the difference. Freshman Andrea Heinzman had the distinction of winning consecutive classes, though in honesty the hour-long lunch break fell between her blue ribbons. From Cochranville, Pennsylvania, Heinzman won both her intermediate flat and novice fences while teammates Lauren Casale (open flat), Jennifer Hoff (novice flat) and Linda Beyer (advanced walk-trot-canter) also were class winners. After scoring only 65 points through the first three shows Kutztown has posted scores of 38, 32, 24 and 39 over the past four shows, averaging nearly 34 points per show in that time.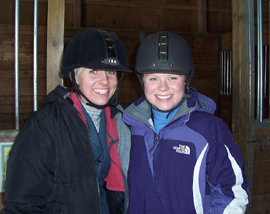 Amanda Berger (left) and Katie Miervaldis both won open fences classes to start the day for Lafayette. When the open flat rolled around both Berger and Miervaldis earned third place ribbons. The Leopards finished third for the day with 32 points (their highest score so far this season) and third overall in the Region 3 Team Standings with 179.
Like Rutgers, Lafayette earned their high score of the season, the Leopards finishing third with 32 points. Katie Miervaldis and Amanda Berger both won sections of open fences while Kristen Greaney was a winner over the novice jumps. The bad news is the Leopards trail Kutztown by 19 and Rutgers by five. The good news is that Emily Hanson returned after missing the entire fall semester with a torn ACL, placing second in intermediate flat and third in novice fences. Open rider Emily Mallory is also expected back for the Scranton show after missing the fall with a broken pelvis. Considering how consistant the Leopards have been this season (only once below 24 points and only once above 29) Lafayette may still have a chance to catch the Scarlet Knights and Golden Bears with some good fortune.
Defending Region 4 champ Princeton will probably have to wait until next year for another shot at a trip to Zones. The Tigers were behind the eight ball before the show ever started, with a few surprise scratches. Nevertheless Princeton did earn their share of blue ribbons, as Audrey Banks (open flat), Allison Harding (open fences) and Amy Maletz (advanced walk-trot-canter) were all winners. The Tigers scored 25 points and fourth place for the day minus a walk-trot rider (only three of the eleven teams entered at today's show had a rider competing in walk-trot) and will still have their share of riders going to Regionals including Banks, who with next-to-no riding lessons between the November 19th show and today still won on the flat to reach exactly 28 points for the season in the division.
Moravian was fifth for the day, their 22 points moving them very close to sixth place overall. 14 of their 22 points likely belonged to junior Ellie Murdoch, a winner in both open flat and intermediate fences. Murdoch missed out on a shot for high point rider honors, as she had to leave the show early to go to work! Still the Wind Gap, Pennsylvania resident earned the reserve ribbon, as no one else besides Heinzman was a double blue winner.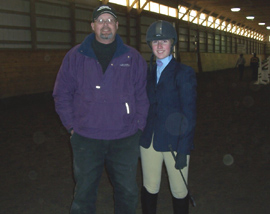 From Newtown, Pennsylvania, Kutztown freshman Linda Beyer (right, with Head Coach Bruce Lachiusa) earned one of five blue ribbons handed out to Kutztown riders on February 17th. Beyer won her section of advanced walk-trot-canter. Kutztown remains in first place, with Rutgers now the nearest threat 14 points back.
Though today's show was held at Delaware Valley College (a school which competes in neigboring Zone 3, Region 2), Bloomsburg was the host college. The Huskies finished sixth overall, with Mallory Eroh earning the lone Bloomsburg blue ribbon of the day in advanced walk-trot-canter. The show itself ran fairly smoothly, ending at 3:27PM, with the Huskies earning 18 points and breaking the 100-point barrier for the season, now at 104. Because Campus Equestrian did not get a chance to write an article on the November 19th all region show we should mention that the Huskies tied Rutgers for high point team that day with 26 points. It is believed that this is only the second time in the 14-year history of the Bloomsburg program that they were awarded high point team honors.
Lehigh was next with 17 points. Dana Grimley earned the Mountain Hawks' highest ribbon of the day with a second in intermediate flat. Open rider Jill Douglass may have only placed fourth over fences and fifth on the flat, yet because teammate Jess Engle did not compete on this day and Megan Lissi of Kutztown graduated mid-season her lead in the Region 4 open rider standings got bigger. Douglass now leads both Engle and Casale by a 62-52 margin.
Rounding out the scoring were East Stroudsburg with 13 points, the University of Scranton with 12, Wilkes University with seven and Cedar Crest College with five. Emily Johnson led ESU with a first in intermediate flat while teammate Sarah Whitley was second in her section of novice flat. Scranton had a pair of blue ribbon winners in Michelle Geise and Chelsea Levine, both of which won novice flat classes. Though it was not their first show of the season, Wilkes scored their first points, and though the Colonels did not have a rider compete all day until the final section of novice flat they would head back north with three red ribbons. Alishia Allegrucci would place second to Levine in novice flat while both Jessica Ashford and Sarah Brown would follow immediately with seconds in advanced walk-trot-canter. Cedar Crest had only two riders entered at today's show, with Aelen Mabille placing fourth in advanced walk-trot-canter and Lauren Forsyth earning fifth in intermediate flat to account for the Falcons' five points.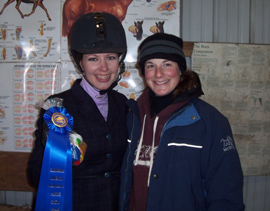 From Wind Gap, Pennsylvania, Moravian College junior Ellie Murdoch (left) poses with Head Coach Allison Fiorot after earning her second blue ribbon of the day. A winner in open flat and intermediate fences, Murdoch finished the day as reserve high point rider.
Phillips, Moyer most consistant alumni: Ashton Phillips took over the Region 4 lead in both alumni flat and fences. The 1989 Virginia Intermont graduate and current Princeton Coach won both alumni divisions, while Kutztown graduate Leah Moyer was second in both cases. Moyers' second on the flat now leaves her three points from going to Regionals in the division. Former Kutztown teammate Crystal Coffelt was third on the flat and fourth over fences while yet another Golden Bear graduate in Abby Tymchak was fourth on the flat and fifth over fences. Scranton graduate Sabrina King was third over fences and fifth on the flat to round out the alumni placings. Though not competing at todays' show Lafayette alumni rider Erin Githens was on hand. Githens, who has already qualified for Regionals in both alumni divisions, indicated that she would rather serve as a steward on such a chilly day.
This all sounds like ancient history to us: A week after everyone gathered at Delaware Valley for the first show of the new Calendar year, the University of Scranton hosted the northernmost show of the season at Lithia Valley Farm in Factoryville. Word has it that Lehigh rebounded from their off-day at Del Val to finish as high point team while Kutztown tied East Stroudsburg for reserve. The Golden Bears gained a little ground on all of their closest competitors and barring a colapse appear headed to Zone 3 Zones for the third time in program history.
--Steve Maxwell
Show Incidentals: Partly sunny skies, with temperatures in the mid '30's. Entire show held indoors. Start time: 9:11AM. Finish: 3:27PM - includes 1 hour lunch break/Coaches & Captains meeting. Point cards posted in this region? No. Alumni classes held in this Region? Yes. Judge: Louise Kass. Stewards: Clark/Lafayette College, Githens/Lafayette College alumni and Kieschnick/Delaware Valley College (Coach from another region).
Team Totals: Rutgers University (High Point Team) 41; Kutztown University (Reserve) 39; Lafayette College 32; Princeton University 25; Moravian College 22; Bloomsburg University 18; Lehigh University 17; East Stroudsburg University 13; University of Scranton 12; Wilkes University 7 and Cedar Crest College 5.
High Point Rider - Andrea Heinzman, Kutztown University
Reserve High Point Rider - Ellie Murdoch, Moravian College