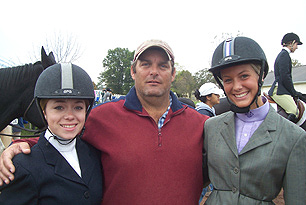 From left to right are Sarah Boland, Head Coach Bryan Bradley and Katie LaDow of the University of Delaware. Boland was one of five UDel freshman showing at the October 10th hunter seat season opener while LaDow was one of three riders to earn a first and a second.
UNIVERSITY OF DELAWARE SCORES 42, BEATS WEST CHESTER BY FIVE
Readington, NJ - Since Zone 3, Region 2 shed eight schools in mid-2001 the team race has routinely come down to Delaware Valley College versus the University of Delaware for the chance to take a full team to Zones. Not once during the previous eight seasons had either team finished below second place when all the points were counted at the end of the year.
However early in the season there have been some surprises. Roughly four years ago the University of Pennsylvania (which hosted today's show) held the overall lead through two shows. And after today's season opener at Briarwood Farm the West Chester Rams are the second best team in the Philadelphia area.
There were 29 undergraduate classes at today's show. Eleven times a West Chester rider was either first or second in those classes. When one realizes that West Chester did not have a rider in nine of those 29 classes (including no walk-trot rider) the Rams' 37 point reserve showing becomes even more impressive.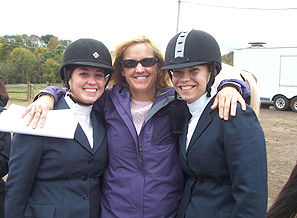 Kelly DelleDonne (on left) and Rebecca Dewald pose on either side of West Chester University Head Coach Beth Orem (center) after DelleDonne and Dewald placed first and third, respectively, in the second section of novice fences. Rams riders would place first and second in the third section of novice fences.
Nevertheless with an empty space on your card, high point is usually out of the question in this region. The University of Delaware, the Region 2 hunter seat Region Champion ten times since 1995, filled their card and filled up with team points to the tune of 42 of them. Blue ribbons were awarded to Jacquie Eckrote (in walk-trot), Abigail Randa (in beginner walk-trot-canter), Grace Oldfield (same), Lindsay Pologe (advanced walk-trot-canter), Maddy Jensen (novice flat), Sarah Lessler (open flat) and Katie LaDow (in intermediate flat), who was one of three riders technically qualified for the ride-off for reserve with a first and a second. In addition the Fighting Hens won red ribbons courtesy of LeDow (in open fences), Nicole Adames (same), Jen Piechowski (intermediate flat), Rachel Wilson (novice fences) and Cassie Simons (in both novice divisions).
West Chester was focused or some would say "In the Zone" throughout the day. Ashton Ryan, a senior from Cherry Hill, New Jersey, won open fences to start the day (and briefly put the Rams ahead). Freshman Rafaella Smith was second in intermediate fences two classes later while Ryan was second in open flat four classes after that. Then West Chester really got going! Emily Rosen, a senior from Wynnewood, Pennsylvania won intermediate flat while Kelly DelleDonne (section 4B) and Theresa Hutnyk (Section 4C) won in novice fences. Ashley Miller was second to Hutnyk while Emily Vandergrift was second in the final novice fences section (4E). Stephanie Wardius (novice flat), Alycia Ginther (same), Sarah Jacien (same) and Katharine Jones (beginner walk-trot-canter) added red ribbons as the day progressed. Ryan also technically qualified for the reserve ride-off. Though she placed third, Heather Yarnell's yellow ribbon in intermediate fences appears to have upgraded her into open. Yarnell may be the first rider from any Region 2 hunter seat team to qualify for 2010 Regionals.
Washington College was third for the day, with the Shoremen scoring 26 points. Competing with a full card, Washington was led by Jesse Schaefer. A sophomore from Woodstown, New Jersey, Schaefer won her advanced walk-trot-canter, securing the only blue ribbon the Shoremen won all day. Considering the number of schools with multiple blue or red ribbons on this day it is even more surprising that only one Washington rider took home a red ribbon. Jamie Frees was second to Rosen in intermediate flat for the Shoremen's lone red ribbon.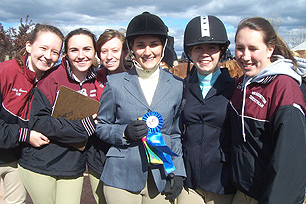 It wasn't until the 19th undergraduate class of the day that a Washington College rider won a class. Shoremen sophomore Jesse Schaefer (third from right) won her advanced walk-trot-canter class and now needs four more points to move up into novice. Despite the long wait for a blue ribbon the Shoremen were third for the day.
The biggest enigma of the day had to be defending Region Champion Delaware Valley College. The Aggies won eight blue ribbons, including two for senior Terence Prunty in the open divisions. Del Val secured five red ribbons and yet at the end of the day their total was only 24 points. Katie Istok (beginner walk-trot-canter), Sam Felice (advanced walk-trot-canter), Annie Donovan (novice flat), Kathryn Gibson (same), Lucy Schwartzman (same), Devan McNamara (intermediate fences) and Prunty were blue ribbon winners while Allison Decker (intermediate flat), Lauren Van Sicklin (advanced walk-trot-canter), Gianna Grupp (advanced walk-trot-canter; I hope we are spelling that name correctly as it was hand-written into our offical program - Editor), Krystin Gannon (walk-trot) and McNamara (open flat) won red ribbons. Prunty, from Cranford, New Jersey was high point rider while McNamara, a senior from Setauket, New York joined Ryan and LaDow in what would normally be a ride-off for reserve.
Not unlike Washington College, Drexel University gave Del Val a run for their money with few ribbons above third. Helping the Dragons to 23 points was Samantha Morse. A sophomore from Alton, New Hampshire, Morse won the third-to-last class of the day, the first section of walk-trot, to give Drexel their only ribbon above third place the entire contest. Three Dragons earned thirds on a day when if their intermediate fences rider had not scratched Del Val might be looking up at them in the standings.
Though they lacked an open fences rider, Temple University has gone through a population explosion, with 22 Owl riders listed in today's program. One point per rider entered is the equation (though not really), as the Owls scored 22 while grabbing many upper-level ribbons. The Owls made their presence felt in the novice divisions, as Lauren Eichorn (novice fences), Adria Wyszynski (same) and Brianne Murphy (novice flat) won blue ribbons. Katie Taylor (intermediate fences), Samantha Cronce (same) and Tasha Harris (beginner walk-trot-canter) won red ribbons.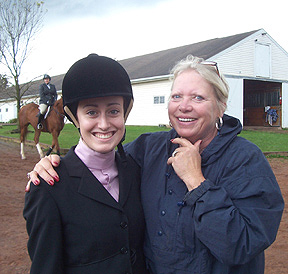 The best way to start: From Louisville, Kentucky, University of Pennsylvania freshman Alex Stern (on left, with Head Coach Dawne Morrone) won her IHSA debut class. The first Region 2 freshman with a blue ribbon in 2009-10 was best in a field of five intermediate fences riders (two scratches in that section). The Quakers hosted and finished the day with 20 points.
Host University of Pennsylvania made sure that everyone could tell who their horseholders were. The entire Penn team wore tie-dyed shirts which said they were horseholders (this of course when not dressed to compete in one of the classes). The Quakers went on to score 20 points. Alex Stern (intermediate fences) and Ally Langenfeld (novice fences) won blue ribbons while Kristen Aigeldinger (advanced walk-trot-canter) and Allison Lee (novice flat) were red ribbon winners. The Quakers were one of five schools with a full team at today's show.
Bucks County Community College missed a full card by only one division (open fences) while scoring 19 points. Kirsten Mefford (intermediate flat) and Amanda Clarey (advanced walk-trot-canter) won blue ribbons for Bucks. Many of Bucks' points came via the pink ribbon, as five riders accounted for six fifth-place ribbons.
Arcadia University was next with 14 points, not bad when one takes into account that the Beavers need an open rider and a walk-trotter to fill the remaining three spaces on their point card. Chelsea Crozier, a junior from Montville, New Jersey won the third class of the day (intermediate fences) while Jacky Widger (beginner walk-trot-canter) and Kacie Ulasevich (advanced walk-trot-canter) won red ribbons.
Valley Forge Military College scored nine points roughly a year after making their IHSA debut. Timothy Gridley, a sophomore from Southbury, Connecticut was second to Eichorn in novice fences while Lynsie De Falco, a freshman who like Crozier of Arcadia is from the town of Montville, New Jersey was second in walk-trot.
Villanova may have brought the fewest riders (five) but still filled all but the walk-trot division on their card. The Wildcats best ribbon of the day belonged to Ellen Craft, who was fourth in advanced walk-trot-canter. Villanova rounded out the scoring with four points.
The Alumni classes included five riders who had not shown since they graduated. For Carly Morgan of Arcadia and both Liz May and defending Region 2 Cacchione Cup competitor Jen Windish of the University of Delaware this meant their first IHSA appearance since last spring. For Valley Forge Head Coach and Centenary College graduate Nick Caputo this was his first IHSA ride since 1998. Windish went on to win alumni fences while second went to 2008 UDel graduate Tabitha McAnally, also in the ring for the first time as an alumni. Jess Schatz (UPenn '07) was third while Jamie Mast, who is now Jamie Windle was the only Del Val alum on this day and placed fourth. May was fifth while Morgan was sixth. 2008 Drew University graduate Tori Frederick won the alumni flat while Windish was second. McNally was third while Caputo was fourth. Windle was fifth while May was sixth.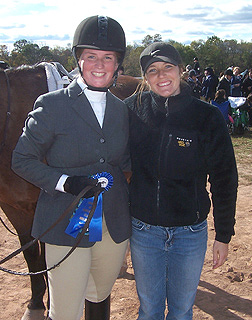 From Parsippany, New Jersey, freshman Katie Istok (on left, with Aggies Head Coach Cory Kieschnick) was the seventh and final Delaware Valley College rider of the day to win a blue ribbon. Istok was first in beginner walk-trot-canter. The Aggies will hope their point riders come through a little better next time, as their total of 24 points was somewhat shocking alongside the individual ribbons won during the day.
No ride-off for Reserve: Region 2 decided during their summer meeting that rather than hold ride-offs in 2009-10 the judges would ask questions of those who tied for high point or reserve. These question-and-answer sessions would break the tie. With Prunty the outright high point winner, Ryan, LaDow and McNamara were qualified to receive some questions from judge Yvonne Abel. However there was not to be a question-and-answer session on this day for both Ryan and LeDow left before the show concluded (Ryan for a friend's wedding; LaDow to be with her Parents as it was Parent's weekend back at the UDel campus in Newark). With McNamara still at Briarwood when the show was over, she received the reserve ribbon.
Coach McCoy makes us laugh: Villanova Head Coach Sara McCoy is now the Barn Manager at Valley Forge Military Academy's on-campus facility. "I am the Region 2 Bicycle," says McCoy, for having graduated from UDel while now coaching Villanova while working for Valley Forge.
Valley Forge to host a show like no other: Caputo explained that Valley Forge will host what he calls the "VFMC Intercollegiate Medal Challenge" on Saturday, October 17th at 9:00AM. Though schools from several nearby regions were invited, roughly five Region 2 schools will make up the program. The first class of the day will be a no stirrup class. The second class involves Gymnastics. The third class is a Medal Class with three course designations (and you have to pick your course ahead of time). The fourth class is a Medal Test while classes five and six are Table 2-A Jumper classes. Teams of five riders each will compete for a Silver Champaigne Cooler-Shaped Perpetual Trophy and additional prizes donated by Dover Saddlery. Caputo is hopeful that this competition will become a yearly event. The address of the Valley Forge Equestrian Center is 800 Radnor Street Road in Wayne, Pennsylvania (a zip of 19087). The Eq Center is located directly behind the Valley Forge Military College Football field.
What's next?: Excluding the Medal Challenge show, the October 17th/18th weekend is the only weekend from September 26th through November 22nd without either an official English or Western Region 2 IHSA show. The alumni host next, while five more hunter seat shows come before Thanksgiving after that. It would be hard to imagine Delaware Valley having another day like today (at least where the point card is concerned). The questions that remain are can the Aggies dig out of the early hole, will UDel have a show like Del Val just did to make everything interesting and where will West Chester finish in the mix? It is a long way to Regionals and even longer to Lexington, but sometimes the early returns point the way. But then again a three-way tie would only add to the mystique of the legendary Region 2!
--Steve Maxwell
Show Incidentals: Cloudy skies, with rain early. Then clearing with some sun. Highs in the upper '60's. Start time: 8:52AM. Finish: 4:13PM - Includes 37 minute schooling break. Coaches & Captains meeting held prior to start of show. Point cards posted in this region? No. Alumni classes held in this Region? Yes. Judge: Yvonne Abel. Stewards: McCoy/Villanova University, Kieschnick/Delaware Valley College and Amber Jewell/Bucks County Community College, Arcadia University and Temple University.
Team Totals: University of Delaware (High Point Team) 42; West Chester University (Reserve High Point Team) 37; Washington College 26; Delaware Valley College 24; Drexel University 23; Temple University 22; University of Pennsylvania 20; Bucks County Community College 19; Arcadia University 14; Valley Forge Military College 9 and Villanova University 4.
High Point Rider - Terence Prunty, Delaware Valley College
Reserve High Point Rider - Devan McNamara, Delaware Valley College