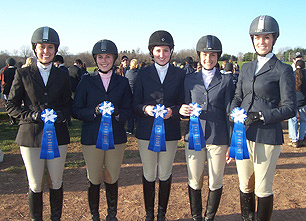 From left to right are Cristine Warzecha, Abby Horowitz, Ari Delin, Erica Eber and Savannah Sheldon of Penn State. At the November 21st Bucknell/Franklin & Marshall show there were five sections of novice fences, and these five riders made it a sweep of the division for the Nittany Lions.
PENN STATE HIGH POINT WITH 41; BUCKNELL AND DICKINSON RESERVE WITH 23
Readington, NJ - Over the final eleven classes held on November 21st, Zone 3, Region 1 leader Penn State was a winner only three times. The Nittany Lions could not claim a blue ribbon below the novice level.
However prior to the final eleven classes the Nittany Lions were on fire, winners on 14 occasions in 17 attempts. Penn State swept the open fences, intermediate flat and novice fences en route to a 41-23 win over both Dickinson College and co-host Bucknell University.
The Nittany Lions won early and often. Jessica Hoy (senior; Doylestown, Pennsylvania) earned Penn State's first blue ribbon in open fences, while actually limiting Region 1 Cacchione leader Elizabeth Lubrano to a rare second place ribbon. Kristen Cassone, a PSU freshman from nearby Branchburg, New Jersey won the second section of open fences. It was Cassone's first appearance at an IHSA show held at Briarwood Farm, where ironically she grew up taking lessons. Mary Zuccato (senior; West Chester, Pennsylvania) won both of her intermediate classes, advancing to Regionals in intermediate flat in the process. Ellen Forsyth (sophomore; Annapolis, Maryland) was another intermediate fences winner while Lubrano (sophomore; Glenmoore, Pennsylvania) reversed placings with Hoy in open flat. Erica Eber (junior; Stanford, Connecticut) won both before and after the lunch break, starting the sweep of intermediate flat while also winning her novice fences. Brian Stone (senior; Exton, Pennsylvania) followed Eber and Zuccato as a blue ribbon winner in intermediate flat. The highlight of the day for Penn State was going five-for-five in novice fences, as Cristine Warzecha (junior; Chester Springs, Pennsylvania), Eber, Abby Horowitz (sophomore; Huntington Valley, Pennsylvania), Savannah Sheldon (senior; North Kingston, Rhode Island) and Ari Delin (junior; Allentown, Pennsylvania) made it a sweep. Sheldon was a winner in novice flat only two classes after her novice fences ride. At that moment Sheldon had given Penn State wins in nine straight undergraduate classes dating back to Eber in intermediate flat. Jake Benedict (senior; Jamison, Pennsylvania), Kelly Post (sophomore; Flemington, New Jersey) and Katie Norris (junior; Yardley, Pennsylvania) rounded out the blue ribbons by winning later sections of novice flat for Penn State. Kaitlyn Zaleski, a senior from Montville, New Jersey earned two of Penn State's eleven red ribbons on this day. Zaleski was one of several Penn State riders to lose out head-to-head to one of her teammates, placing second to Zuccato in intermediate flat and Sheldon in novice fences.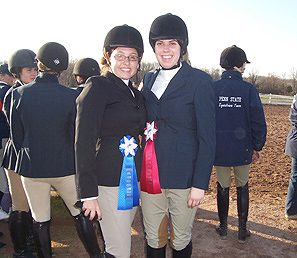 Bucknell was the only other team besides Penn State to earn both the first and second place ribbons in a given class. Bucknell did this twice, with Rachel Fisher (on left) and Cara Poli (on right) accomplishing the feat in beginner walk-trot-canter.
Considering the success Penn State had at today's show, any triumph over a Nittany Lion rider should have been a competing schools' cause for celebration. Co-host Bucknell University was one of two schools to take reserve high point team honors, and one of their beginner walk-trot-canter riders halted Penn State's nine-class win streak. Katie Coney, a sophomore from Stow, Massachusetts who was already qualified for Regionals in walk-trot, won the first section of beginner walk-trot-canter which fell between firsts in novice flat for Sheldon and Benedict (and yes there was a Penn State rider in Coney's class. In fact there were three of them!). Also winning blue ribbons for the Bison were Hanna Botney (sophomore; St. Louis, Missouri, in her first season with the team) in open flat, Caitlin Hume (sophomore; Baltimore, Maryland) in advanced walk-trot-canter, Hartley Stahel (sophomore; Atlanta, Georgia) also in advanced walk-trot-canter and Rachel Fisher (freshman; Mount Laurel, New Jersey) in beginner walk-trot-canter. The Bison earned a fair share of red ribbons, with Caroline Gilbert (in open flat), Katie Rubin (intermediate flat and novice fences), Grace Howard (intermediate fences), Alyssa Persing (novice flat), Sarah Schubert (novice fences), Meghan Hoopes (second to teammate Hume in advanced WTC) and Cara Poli (second to Fisher in beginner WTC) all heading home with seconds.
Dickinson College also scored 23 points to earn a share of Reserve High Point. Erin Bair, a junior from Lancaster, Pennsylvania (who was formerly with the Bridgewater College team in Zone 4, Region 2) won the Red Devil's lone blue ribbon of the day with a first in novice flat. Rebecca Fine, a freshman from Seattle, Washington earned red ribbons in both of her open rides. Another freshman, Julia Sturgeon, was second to Post in her section of novice flat to round out the Dickinson red ribbon collection.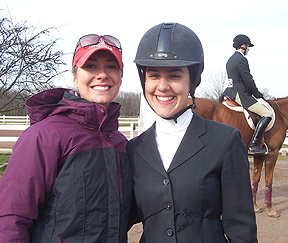 Ah what a fine photo! Dickinson College Head Coach Lindsay Vulich (on left) and Red Devils open rider Rebecca Fine are all smiles because Fine was second in both of her open classes on November 21st. Fine finished the day third overall in the Region 1 open rider standings.
Like Bucknell and Dickinson had finished in a tie, so did co-host Franklin & Marshall College and Gettysburg College. Both the Diplomats and the Bullets scored 21 points. Courtney Hair, a Franklin & Marshall senior from Carlisle, Pennsylvania won her open flat for the Dips' only blue ribbon of the day. Hair was extremely happy, as this was her first blue ribbon in IHSA competition. "I have gotten a couple of seconds but this is the first blue," she said. Hair's freshman teammate Cori Kaylor was the only other Franklin & Marshall rider to place above third. Kaylor, whose sister Paige rides for Sweet Briar College in Zone 4, Region 2, was second in both of her intermediate classes.
Gettysburg waited until the third-to-last class of the day to hear one of their rider's names announced first. Rachel Rakoff, a senior from Boston, Massachusetts won her section of advanced walk-trot-canter for the Bullets. Only one class earlier freshman Katie Klenk was second in the final section of novice flat. Prior to this Gettysburg had nothing higher than a third though both Greer Luce (intermediate flat and open fences) and Meghan Spellman (both intermediate divisions) had twice placed third for the Bullets.
There was a considerable drop-off in points after the tie with 21. Indiana University of Pennsylvania had only three riders present and four divisions filled but was still next with 13 points. IUP earned seven of their 13 points in the third undergraduate class of the day, when Shelly Wampole won her intermediate fences. A freshman from Allentown, Pennsylvania, Wampole was the only rider over the first six undergraduate classes held on this day not from Penn State to earn a blue ribbon. Sophomore Paige Lower was second to Delin in novice fences a short time later.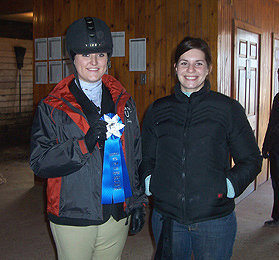 Indiana University of Pennsylvania Assistant Coach Erika Maggiore (on right) is also an IUP graduate. Freshman Shelly Wampole (on left) won the Crimson Hawks' lone blue ribbon on November 21st with a first in intermediate fences.
Wilson College scored 12 points and like Gettysburg had to wait until late in the contest for their only blue ribbon. Though the only section of walk-trot included five Penn State riders Phoenix freshman Charis Brenneman was best in the class of seven! From Millersville, Pennsylvania Brenneman thus edged out teammates Cara Spring (in novice fences) and Julia Hampton (in advanced walk-trot-canter) for the best ribbon Wilson had won on this day. Both Spring and Hampton had placed third in their respective divisions.
York College of Pennsylvania had 11 riders listed in today's program but only five divisions filled. Still the Spartans just made it into double figures with 10 points. Senior Lesley Parthree, who was riding for the first time in open flat at today's show, scored much higher with a second in intermediate fences. Mallory Haydt, a York freshman from Wernersville, Pennsylvania was second in her section of advanced walk-trot-canter while making her IHSA debut.
Susquehanna University is now coached by Jan Phillips, who was making her first appearance at Briarwood Farm since her 2004-05 Bucknell team competed at Zone 3 Zones. Phillips saw her crusaders score nine points while freshman Annie Cecil took first place in the final class of the day. From Rye, New York, Cecil won her advanced walk-trot-canter in what was also her first horse show of any kind! With Phillips now at the helm expect Susquehanna to move up in the standings once the number of riders goes up (five entries in four divisions at today's show).
Closing out the scoring was Lebanon Valley College with six points. Due to some late scratches the Dutchmen had only three riders at today's show, with junior Samantha Bowen earning half the LVC points with a fourth in advanced walk-trot-canter.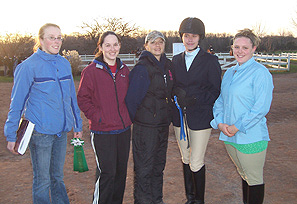 From left to right are Alexis Powers, Cara Spring, Head Coach Renee Cover, Charis Brenneman and Britteny Valtin of Wilson College. Our camera caught the Phoenix just before they left Briarwood and just after Brenneman won their lone blue ribbon of the day. Brenneman was first in a class of seven walk-trot riders (five of which were from Penn State!).
Region 1 Alumni make first appearance in two seasons: For the first time since the 2007-08 season Region 1 held alumni classes, and the turnout was heavy. Seven riders who rode in five different regions as undergraduates made up the field in both open flat and fences. In this group were 2009 Lebanon Valley graduate Ellen Pitman and her former teammate Kristi Jacobson, who graduated in 2008; Celaine So, a University of Southern California graduate and one of two riders competing today who was class of '02; Tasha Plunket, who rode for Randolph-Macon Woman's College in 2001-02 before the school was renamed simply Randolph College; Chris Fake, who under her maiden name Chris Laukaitis graduated from Virginia Intermont College in 1985; Courtney Myers, who like Fake was making her alumni debut. Myers' maiden name will sound familiar to those in Region 1, as Courtney Frankhouser (whose parents Jerre and Phyllis coach the Franklin & Marshall team) rode for some good Hollins teams in the late 1990's; and Niki Carter, a 2002 Clemson graduate who had previously shown alumni in Zone 4, Region 1 earlier this decade.
In unusual fashion (at least for a show at Briarwood) the alumni fences started the day, with Carter winning and '97 Hollins grad Myers in second. Alumni flat was held six classes later and was the first flat class of the day. Again Carter was the champion while Plunket earned the red ribbon. So's best ribbon was a third in alumn fences while Pitman earned a fourth in alumni flat. Fake was fifth in alumni fences while Jacobson was reserve in both sections. We are rooting for Jacobson to fair much better next time (after all, she helped found the Lebanon Valley team!). For a group of alumni which had never met prior to today's show they seem to hit it off, and it is hoped that alumni is offered at the remaining Region 1 shows to at least give a small number of riders a chance to qualify for the post season.
The Ride-Off: Zuccato, Eber and Sheldon all won twice and were thus qualified for the ride-off. However there may have been a question-and-answer session with the judge in place of the ride-off, this in an effort to save wear and tear on the horses and perhaps shorten the show. Sheldon was high point while Eber was reserve.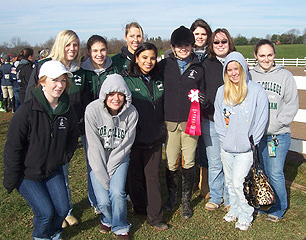 Much of the York College of Pennsylvania team gathered around Lesley Parthree (holding red ribbon) after she placed second in intermediate fences. Though the Spartans scored only ten points at today's show they still rank seventh out of 11 teams headed into the winter break.
Ascher leaves no stone unturned: The announcer at today's show was Steve Ascher, the Father of Franklin & Marshall open rider Bonnie Ascher (the latter who is fourth in the Region 1 open rider standings headed into the winter break - Editor). Ascher wanted to be as professional as possible behind the mic, and in this writer's opinion he succeeded with flying colors. Ascher added the nicknames of each team when announcing the placings, letting everyone know when the Nittany Lions had edged out the Dutchmen and Crimson Hawks among others. Ascher also repeated the placings for each section, helping those who may have had trouble hearing over applause and cheers the first time.
Pound the pavement until we find them: There was a shortage of full cards at today's show, with only Penn State and Dickinson posting sheets with all eight names written in. The most prevelant empty space was walk-trot, where only the Nittany Lions, Red Devils and Phoenix had entries. The good news is that finding someone who has never ridden on the average college campus is not all that difficult. Finding someone like this who will join an equestrian team is the tricky part.
What's next?: During the Coaches and Captains meeting Wilson and Lebanon Valley confirmed they will co-host on Sunday, March 7 on the Wilson Campus. Two back-to-back weekends at Briarwood were possibilities (one in February and one in March) but as of sunset this writer could not confirm if either February 20/21 or March 27/28 had been secured (only one of these weekends will be used by Region 1). Also still to be announced are the hosts for these shows. Hopefully when we post our Region 1 Spring Show Schedule on New Year's Day all the blanks will be filled in.
--Steve Maxwell
Show Incidentals: Sunny skies, with temperatures reaching the low '60's. Start time: 9:09AM. Finish: Unknown, but before 4:30PM. There was a 35 minute lunch break/Coaches and Captain's meeting. Point cards posted in this region? Yes. Alumni classes held in this region? Yes. Judge: Shane Ledyard. Stewards: Grice/Penn State University; Fralick/Lebanon Valley College and Groomes/Gettysburg College.
Team Totals: Penn State University (High Point Team) 41; Dickinson College (TIE-Reserve) 23; Bucknell University (TIE-Reserve) 23; Franklin & Marshall College 21; Gettysburg College 21; Indiana University of Pennsylvania 13; Wilson College 12; York College of Pennsylvania 10; Susquehanna University 9 and Lebanon Valley College 6.
High Point Rider - Savannah Sheldon, Penn State University
Reserve High Point Rider - Erica Eber, Penn State University