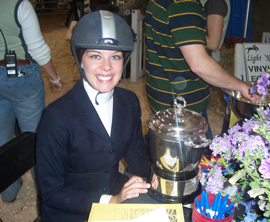 Katie Davis of Oklahoma State poses with the Michelle Cook Memorial Trophy, awarded annually to the team walk-trot winner at IHSA Nationals. Davis's win marked the first time - and to date the only time - an Oklahoma State hunter seat rider has won a team class at IHSA Nationals.
THE 2006 IHSA NATIONALS HUNTER SEAT TEAM COMPETITION
Harrisburg, PA - For the longest time visitors to the Campus Equestrian home page have read about the 'show that never was' and how it 'will be.' This is a reference to an advertisment which ran in the 1997 IHSA Nationals Show Program, which made the claim 'The Horse that never was...Will Be!'
The horse to be in question was a proposed bronze horse that stood over 24 feet tall and was to be placed on display in Milan, Italy. Legendary painter/sculpter Leonardo Da Vinci had originally concieved of the idea, for which he spent parts of 16 years preparing the 'Gran Cavallo.' Da Vinci's 24-foot clay model stood in an orchard near the Duke of Sforza's castle outside Millan when the French army invaded in 1498. In the process of taking over the Dukes' castle, the French used the horse for target practice, reducing the structure to a pile of clay while forcing Da Vinci and other cohorts to flee for Venice. The original ad states Da Vinci never ceased mourning his incompleted horse, for which the drawings went missing for several hundred years before resurfacing in Madrid in the mid 1960's.
A retired airline pilot who dabbled in art and art collecting named Charles Dent spent a great deal of time between 1977 and his passing in 1994 druming up funding to create Da Vinci's horse. Many artists got involved, and as of the time of 1997 Nationals only $1.5 million still needed to be raised to finish the project (the organization, known as 'Leonardo Da Vinci's Horse, Inc.' had a booth on the Mount Holyoke property at the National show). That money was in fact collected, and the Gran Cavallo was constructed in the US and shipped to Milan in seven pieces and re-assembled for a grand unveiling on September 10th, 1999.
Fast-forward to 2006 and IHSA Nationals at the Farm Show Complex in Harrisburg, Pennsylvania. While Mount Holyoke had hosted IHSA Nationals in 1989 and 1997, schools from the current Zone 3 could not claim to have hosted or co-hosted a National show since 1984, the longest gap without hosting for any zone since the organization officially set up shop in 1967. For the first time in 22 years it was in fact a collection of Zone 3 schools who hosted IHSA Nationals, utilizing the same facility (but a different ring which had been constructed circa 2002) as was the case in 1984. And one of their own schools would prove to be among the highest-placing hunter seat teams.
2005-06 was a breakthrough year for many english programs, as three schools which had never advanced a full hunter seat team to Nationals (or had even captured a Region Title) made up part of the eighteen-team field. Maryville College had won a close race to capture Zone 5, Region 1, traditionally won by University of the South; Rocky Mountain College came from behind to capture the always-unpredictible Zone 8, Region 3 and Indiana University prevailed over Notre Dame in Zone 9, Region 1 to reach Nationals for the first time.
Several other teams reached Nationals after a considerable drought. Stanford won Zone 8, Region 1 by a 52-point margin over a Fresno State team which had won the region every season since 1997. Stanford had last won their region in 1996, the last season the West Coast was one big region. A team from the state of Virginia re-wrote the IHSA record books, earning the destinction of 'Longest gap between region titles.' Sweet Briar College won a close race with Goucher College in Zone 4, Region 1 to capture their first region title since the 1975-76 season. At that time there were no team classes at IHSA Nationals, as a formula was used to decide which of the four region champions was the National Champion Team (Saint Lawrence University had the honor in '76). Thus 2006 Nationals were essentially the Nationals debut for Sweet Briar.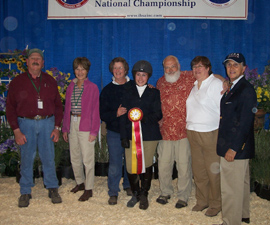 In her final IHSA undergraduate ride, Mount Holyoke senior Sara Royston was second in team walk-trot-canter. Royston (holding red ribbon) would be one of two Lyon riders to earn a second place ribbon.
The remainder of the teams included ten schools which had been part of the 2005 Nationals Hunter Seat Team Competition in Sunbury, Ohio (Skidmore College, Saint Lawrence University, Kansas State University, College of Charleston, Miami University of Ohio, University of Findlay, Delaware Valley College, Penn State University, 2005 Reserve National Champion Mount Holyoke College and 2005 National Champion Virginia Intermont College) and three others which had not (Centenary College, Oklahoma State University and the University of Vermont). By the time 2006 IHSA Nationals were completed one of the original eighteen teams in the competition would be replaced by another team from the same zone due to a rule infraction. Only nine teams, or in other words half the field, would be able to say after the show that they truly qualified a full english team for both 2005 and 2006 IHSA Nationals.
The show itself began at five minutes to nine on the morning of Thursday May 4th with the individual intermediate over fences. Less than an hour later came the team novice fences, with the combined scores of Judges Linda Andrisani and Robert Bielefeld read aloud by announcer Ken Marash after each ride (In most cases during 2006 Nationals, the jumping scores were read after two riders had gone. In several cases, Marash announced that the rider's score would be held until the end of the class. In all but one case the rider in question received a re-ride). Following all eighteen rides the riders returned to the ring to receive their ribbons. Sixth place and a score of '81' went to Jennifer Rowe of Delaware Valley College. The Aggies had scored only four points at '05 Nationals and needed only four more to top that score. Fifth and a score of '81.5' went to Brittany Meyers of Oklahoma State. The Cowgirls were making only their fourth team appearance at IHSA Nationals and their first since 2003. Myers had already improved on the '03' outing, during which Oklahoma State scored only one point. Katherine 'Kate' Fegan of Skidmore was fourth, her score of '82' one of seven scores given that were '80' or higher. Holland Davis of Saint Lawrence was third with a score of '83' while Penn State's Katherine Petro received a huge cheer for her second. Penn State was the closest school geographically to Harrisburg and thus had as many fans (and helpers) in attendance as perhaps anyone. Riding in her first IHSA Nationals, Petro received a score of '83.5,' giving the Nittany Lions two more points than they earned over eight divisions at Nationals a year ago.
It must have seemed like deja vu all over again when first was officially announced (anyone writing down the scores in a program could tell how the placings in this division would come out before the announcement). Virginia Intermont College had squeaked out their first IHSA National Championship in Murfreesboro, Tennessee two seasons earlier, champions by only a 27-26 margin over Findlay. In 2005 VI won by a 34-30 margin over Mount Holyoke, though their second National Championship was already assured before the eighth and final class. 2006 Nationals started off like it might become three straight, as junior Kristina Macey won the novice fences with a score of '85.' It was the second season in a row that Macey had competed at IHSA Nationals in the very same division, with the same result. Virginia Intermont had won both of the Tournament of Champions shows during the regular season, and all but one of the Zone 4, Region 3 shows. And while their Region 3 opponents did the best they could to stay close to VI the Cobras were impressive in victory up through Macey's appearance in the winner's circle. Could anyone stop VI from becoming only the second english program in IHSA history to win three straight National Championships?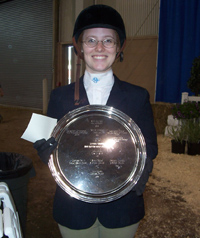 Virginia Intermont College junior Kristina Macey holds the perpetual trophy awarded annually at IHSA Nationals to the team novice fences winner. Macey won the division with a combined judge's score of '85' to give VI the early lead. Macey won the exact same division one day shy of a year earlier.
Two individual classes followed, completing all three individual undergraduate jumping divisions for 2005-06. However before the team intermediate flat took place in the early afternoon something out of the norm took place. One of the Findlay riders was ruled ineligible, due to the fact that the rider in question belonged at the open level under IHSA rules but had competed in a lower division. Because this rider had earned points at Zone 6 Zones nearly a month earlier, those points would have to be forfeited. And once those points were removed from the Zones total, Findlay was no longer the reserve Zone champion, and by IHSA rule the team that was originally third at Zones could immediately replace them at IHSA Nationals.
The team that had finished third at Zone 6 Zones was Ohio State University, long known as a western powerhouse but until this day never part of a hunter seat team competition at an IHSA National show (the Ohio State western team went on to win 2006 IHSA Nationals - Editor). However the Ohio State campus in Columbus is over five hours from Harrisburg, which would appear to create a logistical problem with four of the eight team classes taking place on the first day of Nationals. As luck would have it, Ohio State had a rider in the individual novice fences, the class directly before team intermediate flat. Amanda Balonis, a senior from Shamokin, Pennsylvania had pointed up into intermediate flat during the regular season so she could simply get down off one horse and back up onto another following novice fences. Krystal Guthrie of Ohio State, who had qualified for Nationals in individual walk-trot-canter was also to ride later in the day. Guthrie, now a novice flat rider, was also in the right place at the right time, with team novice flat coming up after team intermediate flat. An Ohio State freshman by the name of Caitlin Kawalec was also on hand as a spectator, and she too would compete in the next-to-last class of the day, team walk-trot-canter. The only question for Kawalec would be to find apperel that fit in only a few hours time.
The change of team even caused an instant coaching change! Ohio State western Head Coach Ollie Griffith, who also is director of the Ohio State riding program, had stated during the season that former Miami of Ohio Head Coach Jim Arrigon would coach the Buckeye hunter seat team for as long as they made it through the post-season with a full team. When Ohio State was intitially the odd team out at Zones Blain Newsome officially took over as hunter seat coach, with her first appearance at an IHSA show coaching Balonis and Guthrie at Nationals. However Griffith walked over to Arrigon after the decision was official to tell him he was back on the job! Incredibly, this change took place while Balonis was riding in the individual division, which even more incredibly she won!! Newsome was photographed in the winners' circle with Balonis before putting her unbeaten record on hold for Arrigon's temporary return.
Balonis actually had ample time to go find her next horse as the ring was dragged prior to the team intermediate flat division. Started at 1:55PM in the afternoon, the intermediate division included Virginia Intermont senior Nora Harris, who managed to draw 'Tucker' whom she won on in novice flat a year ago. In spite of the familiarity the result was not the same as at 2005 Nationals. Before Harris received fifth, Sophie Gassee of Stanford University earned the Cardinal their first point of the show with a sixth. Delaware Valley equaled their 2005 total as Kaitlyn McLaughlin was fourth while Sweet Briar earned their first-ever Nationals points via Alison Carr who was third.
To the surprise and delight of the locals, Penn State sophomore Jackie Geewax was reserve champion. The Nittany Lions had broken double digits for the first time since the early 1990's and when Hawthorne Hart of Skidmore won the division Penn State could claim temporarily to be tied for first with the Thoroughbreds for first place. VI was only a point back with nine while three other schools had four points each.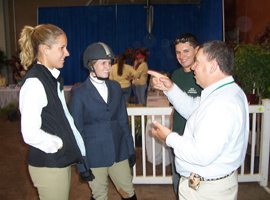 Jim Arrigon (on right, pointing) coached the Ohio State hunter seat team during the regular season but was thought to be finished when the Buckeyes were eliminated at Zones. However when another team was disqualified Arrigon was reinstated for the final seven classes and his Buckeye riders were summoned from Columbus. Junior Kelly Long (in helmet) was one of three Buckeyes to suddenly get the call to head east for day two of the competition.
Team novice flat followed immediately. Following the usual walk-trot-canter-reverse-walk-trot-canter routine the judges separated the class into separate groups of nine for further testing. When it was over sixth place went to Jessica Anselmo, the first Centenary College rider on the board thus far. Also earning their first points at 2006 Nationals was Miami of Ohio, as Michael Cush took fifth place. Defending reserve champion Mount Holyoke had been shut out over the first two classes. However senior Melissa Rabbitt put a stop to that with a fourth. Davis, who was one of four riders to compete in both team novice divisions, repeated her third-place showing to give Saint Lawrence a total of eight points.
Yet another team that was 0-for-2 headed into the novice flat earned their first points, as Sarah Muntyan took the reserve championship ribbon for the University of Vermont. A sophomore from Sharon, Massachusetts, Muntyan was one of a small number of riders to wear dress boots rather than the more common lace-up field boots. The school with the blue ribbon had in fact already been on the scoreboard. Stanford sophomore Pam Geist became the first rider in the programs' history to win a team class at IHSA Nationals when she came up with the blue ribbon here. From Bedford, New York, Geist had made things very interesting, for not only did Stanford sit only two points off the lead, their acclaimed open rider Sarah Willeman had both of her rides in the team competition still to come.
Willeman is not your average college open rider. The Stanford senior had taken a few years off from college to compete professionally. Willeman was concurrently a member of the coaching staff while riding in the open division for the Cardinal during the 2005-06 campaign. And early on at 2006 Nationals it was evident that Willeman would be very successful, as her ride in the individual open over fences produced a combined judge's score of '90' and first place while her flat phase score in the Cacchione Cup Competition had been a '92,' also the best. Incredibly, Willeman was not in first place in the Zone 8, Region 1 Open Rider standings at mid-season, trailing Cal Poly - SLO senior Renee Beggs. However at IHSA shows in the calendar year 2006 Willeman was undefeated. If this trend continued, Stanford would be assured of at least 22 points.
For the moment Willeman was not the issue for riders competing in the final team class on Thursday, the walk-trot-canter. When the placings were announced sixth went to Sarah Webb of Skidmore College, giving the Thoroughbreds eleven points overall through half the team classes. Centenary was in the ribbons in two straight, as Amy Carter earned a fifth for the Cyclones. Stanford was setting themselves up well for a shot at the championship, as Margaux Bennett was fourth. Stanford and Skidmore both had eleven at the moment, a tie at the top but for only about 60 seconds when all the placings were read aloud. Miami of Ohio earned points three through six as Sophia Alfridi took third place for the Red Hawks. Though Mount Holyoke had not started out as well as hoped, the Lyons total grew to eight as senior Sara Royston was the reserve champion. From Oregon, Royston had previously won the individual walk-trot at 2004 IHSA Nationals in Murfreesboro.
Remarkably the local team came through again. Penn State already had a pair of seconds, and now sophomore Lauren Klutchka had given them a first. The sophomore from Harleysville, Pennsylvania won the division on a draw named 'Shiloh,' giving Penn State a 17-11 lead on Skidmore and Stanford headed into day two. Nevertheless Virginia Intermont still had nine while Mount Holyoke was heating up with eight. Could Penn State become the first hunter seat team from a hosting zone to win the championship since Skidmore in 1999?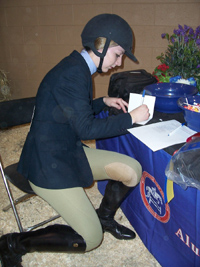 Riders who win perpetual trophies at Nationals must sign for them and see to it that they are returned for the following Nationals show. Penn State's Lauren Klutchka is seen here signing for the Gail A. Hulick Memorial Trophy, which the sophomore won via her first in team walk-trot-canter.
Day two of IHSA Nationals started with the alumni fences and was followed by the jumping phase of the prestigious Cacchione Cup Competition. Willeman, still waiting for her first ride in the team competition, had the second highest jumping score. Willeman earned an '87' while Brown University sophomore Whitney Keefe was best with an '89.' The third and final jumping class of the day was the team intermediate fences, which featured eight riders who had competed in team intermediate flat a day earlier. Surprisingly only one of these eight would earn points in both divisions. As was the case with all the jumping divisions, the combined judge's scores were read aloud as the trips progressed, leaving little mystery as to how the ribbons would be awarded once the division was completed. However during these rides there was considerable cheering when someone clearly jumped into the top six. When the class was complete and all eighteen riders returned to the ring Marash read off the placings. Sixth went to Gentry Horrigan of Kansas State, her score of '79' giving the Wildcats their first points of the show. Fifth went to Lindsey Cline of Sweet Briar College, giving the Vixens six points thus far. Clines' older sister Alissa had previously competed for Sweet Briar at Nationals, riding in the 2001 Cacchione Cup among other classes (Alissa Cline was also the Vixen's IHSA Coach in 2004-05). Lindsey had earned an '80' while fourth place and a score of '81' went to Allyson Ketron of Maryville College, who put the Scots on the board for the first time in Nationals history. Third place went to Natasha Rabinowitz of Mount Holyoke College, bringing the Lyons into double figures with 12 points overall. Rabinowitz received a score of '82' while Geewax became the only rider from the intermediate flat to make the top six here. Penn State raised their point total to 22 as Geewax received an '84' and the red ribbon.
The blue ribbon went to University of Vermont freshman Ali Joyce, who suddenly had put the Cattamounts in striking distance. From Moultonborough, New Hampshire, Joyce and her '86' jumping score had increased Vermont's total to 12, moving them into a tie for second with Mount Holyoke while Skidmore and Stanford remained at 11 and defending champ Virginia Intermont at nine. The real question was could anyone stop Penn State, ahead for the moment with 22 points. The Nittany Lions had tied their previous high point total at an IHSA National show, when Colby-Sawyer tied them at 1989 Nationals with what to date is the lowest total to secure a share of the hunter seat National Championship in IHSA history. To put Penn State's effort in perspective, the Nittany Lions had advanced a full team to six of the previous eight IHSA Nationals. Penn State's combined totals for all six of these shows had been only 24 points, with their best effort in that span having been nine points in 2003.
Following the alumni flat and the first western division of 2006 Nationals, the horsemanship phase of the individual AQHA trophy class, the first of two team open divisions got underway. After considerable testing the last six riders who were not called into the middle were Ashley DiBongrazio of Centenary, Erika Jewell of Virginia Intermont, Hannah Mayer of College of Charleston, Kyla Makhloghi of Mount Holyoke College, Jodie Weber of Sweet Briar College and Willeman. From this point the six riders cantering on the rail were slowly called in. Eventually only Willeman and Weber were still being tested. These two were put through a number of tests before Weber was called into the middle and then Willeman joined the other 17 in line. Sixth place went to Mayer, making College of Charleston the fifteenth team to earn at least one point at 2006 Nationals. Fifth went to DiBongrazio while fourth went to Makhloghi, giving Mount Holyoke 15 points and sole possession of second for nearly 60 seconds. Third went to Jewell, moving VI's total to 13 and keeping the dream of three consecutive National Championships alive.
Though some thought Weber had the better ride during the testing phase it was Willeman who prevailed to stay unbeaten in two (completed) classes. The senior from South Hamilton, Massachusetts had given Stanford sole possesion of second place. Now at 18 points, the Cardinal was within very real striking distance of delivering the West Coast their first IHSA team championship of any kind. Weber had kept Sweet Briar on a roll, as the Vixens had eleven points, enough to remain mathematically alive. However anyone with fewer than eight points was officially eliminated, which meant that less than half the field had a shot to tie Penn State for the title at the very least.
Four classes later came the team walk-trot division. Some do not like the fact that the lowest level of all hunter seat divisions is featured so late in the team competition, when the championship is truly on the line. The division has to come up at some point over the four-day event, and for the forseeable future it will remain slotted between the two team open divisions. All 18 riders walked, trotted and reversed to do the same once more. What turned out to be the second-shortest class in time at 2006 Nationals (only the individual walk-trot was shorter) saw four of the six front-runners all stay put as three schools out of the running picked up points. Sixth place went to Michal Adut of Skidmore, whose older brother Omri rides open for Stony Brook University in Zone 2, Region 4. Fifth went to Jessica Wooton of the College of Charleston while Kelly Reardon moved Mount Holyoke into a tie with Stanford for second with a fourth. Claudia Good finished off Delaware Valleys' scoring with a third, doubling the Aggie's total to eight points. Centenary also doubled their point total, as Pam Ciccone earned second for the Cyclones. Oklahoma State had all of two points through six divisions before Katie Davis beat out the entire field for the blue ribbon. From Pottsboro, Texas, Davis is the first Oklahoma State rider in program history to win a hunter seat team class at IHSA Nationals.
Through two days and seven classes Penn State was still ahead with 22 while both Mount Holyoke and Stanford had a shot to catch them with 18 each. No one else had a shot at the championship but Virginia Intermont (with 13), Skidmore (with 12), the University of Vermont (with 12) and Sweet Briar (with 11) all had a chance to earn a share of second place.
Day three of IHSA Nationals started with the class that would determine the new National Champion, the team open over fences (the schedule of classes in 2006 was very similar to both 2004 and 2005, when the IHSA went to a four-day National show. One quirk of the schedule is that the entire english portion of the show is completed by three in the afternoon on Saturday, with eleven western divisions still to come. Some object to western taking up most of the traditional weekend days, as friends, family and even students have to take time off to attend or participate in the Thursday and Friday events. Regardless of who you side with, the IHSA will likely continue to operate Nationals under a schedule nearly identical to this one for the foreseeable future). All eyes were on Willeman, yet to lose and seemingly invincible; Samantha Pandolfi, the Penn State freshman open rider who was also the Zone 3, Region 1 Cacchione representative at Nationals, and Makhloghi, who was the 2005 Cacchione rep from Zone 1, Region 3 but whom had lost out to teammate Nathalie Cooper for honor this season. Eight of the eighteen entries were identical to the team open flat a day earlier, and four of these returnees would score at least a point for their team.
The division started at 8:09AM, with Leslie Yates of Kansas State waking up the sleepy but focused crowd with an '86.' The early trips were generally all-or-nothing, with Willeman looking flawless but shockingly given an '83.' Weber went soon after and picked up the highest score thus far with an '87.5.' Eventually Makhloghi had her turn. The senior made her final IHSA ride count big time, delivering an '87.' The only other score over 80 went to Skidmore junior Ashley Woodhouse, the 2005 Cacchione Cup winner earning an '82.' Though for a moment it seemed as though Mount Holyoke might pick up the five points they needed to win Nationals outright, the Stanford faithful were to get a temporary reprieve over the loudspeakers: Marash announced there would be further testing.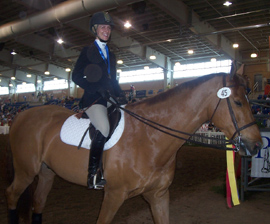 Stanford senior Sarah Willeman won four out of five classes she competed in at 2006 IHSA Nationals. Her one near-miss was in team open fences, during which she received an '83' score but moved up to third place following subsequent testing.
The top five were invited back, and the testing appeared to help Willeman. However Weber looked as good and it was thought if her initial jumping score meant anything then Sweet Briar might win their first-ever blue ribbon in an IHSA Nationals team class. Eventually Marash announced the placings in reverse order. Sixth place went to Jewell, who had received a score of '79.5.' Woodhouse delivered Skidmore two more points with a fifth, which meant VI and Skidmore had tied overall with 14 points each.
Then people became very nervous. If Willeman's testing had not moved her up she would be the next rider announced, which would mean Penn State would do no worse than second. However fourth went to Yates, giving Kansas State a total of four points in the hunter seat competition (The Wildcats would fair much better in the western team competition, eventually earning the Reserve National Championship, trailing Ohio State by a 22-19 score). At this point Penn State fans knew the Nittany Lions would come in no higher than second, as either Willeman or Makhloghi was going to earn at least a second to propel their team above 22 points.
It seemed like forever between Marash's announced placings and the time it took each rider to walk their horse to IHSA Founder and Executive Director Bob Cacchione to receive their ribbon. Finally, it became clear who the new champion would be. Third place went to Willeman, her only time out of first place over the course of five classes. To her credit Willeman had a tremendous ride in the testing phase of the Cacchione Cup Work-Off which followed team open fences. Willemans' fourth and final blue ribbon of the year came in the season's final hunter seat class, when she won the individual open flat two divisions after the work-off.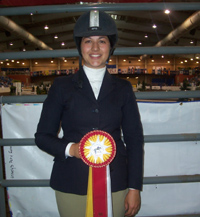 Mount Holyoke senior Kyla Makhloghi earned a second in team open fences to secure the Lyons their third IHSA National Championship. Mount Holyoke managed to win Nationals without the benefit of a first-place ribbon in any of the eight team classes.
Willeman's third assured a tie between Penn State and Stanford for reserve. As the Mount Holyoke fans cheered their guaranteed championship, Makhloghi was announced as second. The senior from Putney, Vermont had lifted the Lyons' point total to 23, the second-lowest modern day high total to win the hunter seat portion of an IHSA National show. It was quite an amazing finish for Mount Holyoke, huge winners at Zones (winning seven of eight classes in their own facility on April 8th) but runner-up to Virginia Intermont at both Tournament of Champions shows by comfortable margins.
With all the hulabaloo surrounding second and third place, almost forgotten was that Weber had won the division to assure Sweet Briar of third place. The senior from Mount Laurel, New Jersey ended up with a first in team open fences, a second in team open flat, and within another hour, fourth in the Cacchione Cup Competition. Had it not been for Willemans' dominance throughout the three days Weber would have been remembered as the hunter seat star of '06 Nationals.
Riders who look for a close race can take heart that only three of the first seven IHSA National shows in the '00' decade were essentially decided before the eighth division. There is also more balance to an extent, in that save for 2004 at least eight teams have broken double digits within the hunter seat team competition, which at the start of the decade included only 14 teams as the IHSA was between 'Growth Spurts' at the time.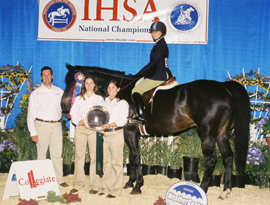 Standing from left to right are Sweet Briar Head Coach Jon Conyers, assistants Angela MacFawn and Krista Steinmetz. On the horse is team open over fences champion Jodie Weber. Webers' first lifted Sweet Briar's team total to 18 points in what can be called the Vixen's first 'competing' appearance in the Nationals hunter seat team competition.
More Nationals Comings and Goings: The 2006 Lifetime Achievement Award went to longtime University of Connecticut Head Coach Janice Callahan. The IHSA Nationals program includes a full page dedicated to the award winner each year. Somewhat unusualy, this year's write-up was written by Callahan's daughter Heather, who had been a member of the UConn team 2002-06. Callahan's write-up was one of the better ones in the past ten years, referring to her mother as 'Janice' throughout, with the fifth paragraph summing things up best.
"Janice Callahan is the most horse-crazy person I know. No matter the climate conditions, she just has to ride her horses. Rain, sleet, snow or sun, Janice rides. In the odd event she can't ride, it is best you don't approach her while she's having a 'bad horse day.'"
Though synonymous with New England, Callahan and her husband will move to Virginia soon, to an area not far from several of the Zone 4, Region 2 schools. Callahan discovered the area through Longwood University Head Coach K.C. Hearn, who rode for Stonehill under both Sheila Murphy and Callahan's good friend Bill Barber.
Several other awards not always presented at every National show were given out. Known today as Delaware Valley College's 'Side Saddle Instructor,' judge Audrey Bostwick received the Chronicle Award. Bostwick judged the first-ever IHSA National show (eight individual classes) at Peacefield Farm in New Hope, Pennsylvania back in the Spring of 1974. That National show was hosted by Dee Jones, then and now the Head Coach at Bucks County Community College. Jones, who had received the Chronicle award in 1995 at Nationals in Fort Collins, Colorado, received the Pioneer award this year. The piece in the program included quotes from six individuals about Jones, including my own.
"If not for Dee Jones I would have not pursued publishing Collegiate Horse Affair in 1993, and without that, there would have been no campusequestrian.com. Thanks Dee!"
Jones, who briefly retired in 1993 but later returned to coach Bucks and two other Zone 3, Region 2 teams simultaniously, will retire at the end of this season, with one of her many former students, Amber Jewell (Erika's cousin), officially taking over.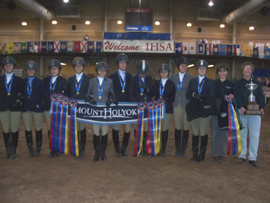 Mount Holyoke College Head Coach C.J. Law (far right) holds the championship trophy as the Lyons receive their blue ribbons as 2006 hunter seat National Champions. So balanced was the competition in Harrisburg that Mount Holyoke can now claim to have scored more points as reserve national champions at both the '05 and '07 National shows that their 23-point winning total in '06.
The last word on 2006 IHSA Nationals: So why was this show referred to as "The show that never was" on our home page? Because for the longest time the story on this particular aspect of 2006 Nationals was not completed. When Nationals pack up shop on a Sunday afternoon in May the plan for this writer is to return to his computer and piece together seven stories on the year-end show. Separately these stories cover the Cacchione Cup, the individual AQHA Trophy, the individual hunter seat divisions, the individual western divisions, the alumni divisions for both english and western, the Western Team Competition and the Hunter Seat Team Competition. The question of which story to write first is always a tough one, so usually a very short overview of Nationals goes up first, discussing the team results and the top open rider competitions. After that, anyone of the seven stories is fair game. Because this writer likes to mention every single rider who places (as many will earn only one ribbon in a lone IHSA Nationals appearance), these stories are rather lengthy. The hunter seat team competition, probably the most exciting event at 2006 Nationals, appeared to be the longest and hardest to explain before even the first photo for the piece was selected. As a result it was put off to be the last story, the old adage that you 'save the best for last.' This turned out to be true, however all seven 2007 IHSA Nationals stories would be posted before this one was completed!
For this delay I wish to apologize to Mount Holyoke, Penn State, Stanford, Sweet Briar and other '06 team entries as it was truly an event to remember. Members of at least two of these teams brought it to my attention during the 2006-07 season, and I hope you will agree with another old saying, "better late than never."
---Steve Maxwell
The 2006 Hunter Seat Team Class-by-Class Results. The first four classes listed were held Thursday, May 4th, the next three were held Friday, May 5th, and the final class was held Saturday, May 6th. The judges for all hunter seat classes were Robert Bielefeld and Linda Andrisani:
Team novice equitation over fences: 1. Kristina Macey, Virginia Intermont College. 2. Katherine Petro, Penn State University (State College). 3. Holland Davis, Saint Lawrence University. 4. Kate Fegan, Skidmore College. 5. Brittany Myers, Oklahoma State University. 6. Jennifer Rowe, Delaware Valley College.
Team intermediate equitation on the flat: 1. Hawthorne Hart, Skidmore College. 2. Jackie Geewax, Penn State University (State College). 3. Alison Carr, Sweet Briar College. 4. Kaitlyn McLaughlin, Delaware Valley College. 5. Nora Harris, Virginia Intermont College. 6. Sophie Gassee, Stanford University.
Team novice equitation on the flat: 1. Pam Geist, Stanford University. 2. Sarah Muntyan, University of Vermont. 3. Holland Davis, Saint Lawrence University. 4. Melissa Rabbitt, Mount Holyoke College. 5. Michael Cush, Miami University of Ohio. 6. Jessica Anselmo, Centenary College.
Team walk-trot-canter equitation: 1. Lauren Klutchka, Penn State University (State College). 2. Sara Royston, Mount Holyoke College. 3. Sophia Afridi, Miami University of Ohio. 4. Margaux Bennett, Stanford University. 5. Amy Carter, Centenary College. 6. Sarah Webb, Skidmore College.
Team intermediate equitation over fences: 1. Ali Joyce, University of Vermont. 2. Jackie Geewax, Penn State University (State College). 3. Natasha Rabinowitz, Mount Holyoke College. 4. Allyson Ketron, Maryville College. 5. Lindsey Cline, Sweet Briar College. 6. Gentry Horigan, Kansas State University.
Team open equitation on the flat: 1. Sarah Willeman, Stanford University. 2. Jodie Weber, Sweet Briar College. 3. Erika Jewell, Virginia Intermont College. 4. Kyla Makhloghi, Mount Holyoke College. 5. Ashley DiBongrazio, Centenary College. 6. Hannah Mayer, College of Charleston.
Team walk-trot equitation: 1. Katie Davis, Oklahoma State University. 2. Pam Ciccone, Centenary College. 3. Claudia Good, Delaware Valley College. 4. Kelly Reardon, Mount Holyoke College. 5. Jessica Wooten, College of Charleston. 6. Michal Adut, Skidmore College.
Team open equitation over fences: 1. Jodie Weber, Sweet Briar College. 2. Kyla Makhloghi, Mount Holyoke College. 3. Sarah Willeman, Stanford University. 4. Leslie Yates, Kansas State University. 5. Ashley Woodhouse, Skidmore College. 6. Erika Jewell, Virginia Intermont College.
Hunter Seat Team Totals:
Mount Holyoke College - 23 (National Champions)
Penn State University - 22 (TIE - Reserve National Champions)
Stanford University - 22 (TIE - Reserve National Champions)
Sweet Briar College - 18
Skidmore College - 14
Virginia Intermont College - 14
University of Vermont - 12
Centenary College - 10
Oklahoma State University - 9
Delaware Valley College - 8
Saint Lawrence University - 8
Miami University of Ohio - 6
Kansas State University - 4
College of Charleston - 3
Maryville College - 3
Ohio State University - 0
Indiana University - 0
Rocky Mountain College - 0