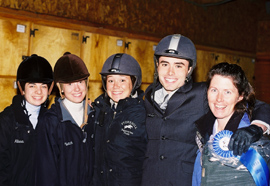 Stonehill's Tom Brennan (second right): Perfect at Zone 1 Zones, he kept the ball rolling at Nationals.
Chieftains come from behind
Murfreesboro, TN - As the one who gathers all the information you read on these pages, I cannot help but share a story from the 2001-02 season. When Zone 2, Region 2 held their first alumni classes ever, I contacted Alfred University head coach Becky Backer for the results. She did not immediately have the alumni results available, but she remembered that someone named "Unger" had won everything. Backer even thought Unger went to a school from another region named "Stonecastle College," which she had never heard of.
Having a "great memory" which I would like to forget, I knew right away that Backer was referring to Emily Unger, a 1999 graduate of Stonehill College in North Easton, Massachusetts. Unger was a three-time Cacchione Cup rider at Nationals, while the school from the Boston suburbs reached nationals three times during Unger's days as an undergraduate. Unger had a great year in 2001-02, reaching Nationals in the alumni flat. However when Unger got to the final show she only received a participation ribbon, while former teammate Sarah Brides was ninth riding out of Unger's old region. The catch here is that Brides, who was first a novice and then intermediate while Unger was with the team, was still riding under Stonehill head coach Sheila Murphy, who perhaps elevated Brides to a higher level.
Fast-forward to the following season. Stonehill opens up a big lead in the Zone 1, Region 4 team standings through the fall. Eventually the chieftains will mathematically eliminate the rest of their region at the next-to-last show. Sophomore Dyanna "Dee Dee" Rucco will finish as reserve high point open rider in the region, while three other Stonehill riders will finish in the top six within the region 4 open rider standings. The team goes to zone 1 zones for the second year in a row (the eighth time in eleven years) and proceeds to tie Brown for the most points, 39 (Brown does win a ride-off). Stonehill also takes part in the NCAA championships, finishing in a tie with the University of Georgia for the top spot (Georgia, like Brown, wins a tiebreaker). To top it all off, head coach Sheila Murphy gets engaged between clinching the region and taking part in zones. Could it get any better than this?
Headed into IHSA Nationals at the brand-new Tennessee Miller Coliseum over the May 2-4 weekend, some could be forgiven if they did not know all about Stonehill's recent success, but at the same time they should know how often the chieftains have participated in the championship event. Last season Stonehill put ten points on the board during the team competition. Each of the riders who placed in '02 were back in one team class or another. Tom Brennan, a junior from Holden, MA was third in intermediate flat during 2002 nationals and would ride in both intermediate divisions this season; Sara Payton was fifth in walk-trot-canter last season and would handle novice flat duties this season, and Rucco, who was third in open flat would swap with teammate Kelsey Amedeo in that the former would ride open fences this time while the latter would flat. In their previous seven team appearances, the Chieftains best performance had been in 1997 at Mount Holyoke, when they scored 20 points and were ahead through three classes. Could the chieftains improve on that number in 2003?
Only six of the other sixteen teams could claim to have faced Stonehill in last year's team competition, as the zones system worked wonders for creating turnover for the second year in a row. Brown was back, with many new faces to the rest of the country but only three weeks removed from facing off against Stonehill at Zone 1 Zones; Hollins University, a come-from-behind winner during the regular season and Zone 4 champion, riding at Nationals for the sixth year in a row; Virginia Intermont College, bolstered by some blue-chip freshman, back for a fourth consecutive season; The University of Findlay, now two seasons removed from their english and western national championships, fresh from a sub-par but passable Zone 6 Zones performance; Colorado State, who knew when they won Zone 7, Region 1 that they were assured a trip to nationals as there are only two regions in the zone but over 500 hunter seat riders, thus the top team from each region in Zone 7 goes to the finals, and Oklahoma State, also benefiting from being in the other half of Zone 7 but perhaps having to fight a bit harder than Colorado State to win their region during the regular season.
Several of the remaining ten teams were bigger threats to win the grand prize, or so it seemed at the time. Saint Lawrence had chased Cazenovia in Zone 2, Region 2 all season before finally pulling ahead at the last regular season show. Then the Saints finished dead last in each of the Zone 2 Zones jumping classes, only to rebound on the flat and win Zone 2 Zones outright; Centenary College, eliminated at Zone 2 Zones last season, now back at Nationals for the 13th time in 14 seasons; Fairfield University, back at Nationals with a team for the first time since 1999; Penn State, back after a season as reserve high point team in Zone 3, Region 3; The University of the South, champion of one of the two biggest regions in the country (Zone 5, Region 1), back for the first time since 2000; Auburn University, Zone 5 champs, making their first nationals appearance as a hunter seat team ever, held off NCAA champion University of Georgia not to mention Berry College and the University of South Carolina to win Zone 5, Zegion 2; Miami University of Ohio, kept from a region title in '02 by eventual National Champs Ohio University now back and possessing one of the best freshman open riders in Megan Palmer; Fresno State, which seems to bring a hunter seat team to Nationals on odd-numbered years without fail but never on the even ones; and two teams making their Nationals debuts, Kansas State and the University of Wisconsin at Madison. Both had come out of the new zone 9, with Wisconsin-Madison winning a big ride-off for reserve versus Purdue at Zone 9 Zones. With Ohio University, Cazenovia College, Mount Holyoke College, the University of Vermont, the University of Delaware and Skidmore College all noticibly absent from the team competition the door was open for the unexpected.
Round 1: Intermediate Fences The entire 2003 Nationals opened on Friday morning with this division, and few in attendance would have guessed it would take until 10PM each of the first two days to complete the schedule of classes. Though Intermediate Fences started the day at 8:53AM, the fourth and final team class of day one, novice flat, would not start until after 9PM! Despite a pair of riders being popped off their horses, the intermediate fences was completed in just under one hour, with Brennan giving Stonehill the early lead and repeating his Zone 1 Zones heroics with a first. Herb Schneider's Auburn tigers wasted no time showing they were in it to win it, as junior Clair Allison was reserve. It has sounded like a broken record out in Zone 6, Region 2 all season, but Kentucky's loss was really Miami of Ohio's gain when Sarah Zichi transfered to the red hawks from the wildcats. Zichi was third while Centenary's Allison Guerin put the cyclones on the board with a fourth. Wisconsin-Madison got their first-ever team points courtesy of Kristen James with a fifth. Ditto for Kansas State via Lauren Demmel with a sixth. Demmel, a freshman from Littleton, CO, would earn the only hunter seat team point here, though the Kansas State stock seat team would fair much better as the weekend continued.
Round 2: Intermediate Flat Following three other english and two western classes (not to mention the parade and opening ceremonies) the intermediate flat took place after lunch time. Brennan's unbeaten streak stretching back to zones came to an end with a third place ribbon. Another rider's unbeaten streak remained intact as Coagi Maten of the University of Findlay won the class. Maten, a senior from Williamsburg, MI had won the team novice flat class at each of the past two IHSA Nationals, an unusual feat in that Maten did not class up inbetween. Virginia Intermont senior Jennifer Tabisz was reserve, putting Eddie Federwisch's team from Bristol, VA on the board. Amy Gregonis brought Centenary yet another white ribbon while Saint Lawrence freshman Jill Callahan put Mary Druedings' team on the board with a fifth. The last point went to Vanessa Carter of Hollins, who would ride again in the novice fences the next morning. At this point Tom Brennan's combined points beat all others. Stonehill had eleven, Findlay seven and Centenary six. If any Stonehill rider were to score a fourth or better from here on out it would be the chieftains' second best showing at Nationals, ever.
Round 3: Walk-Trot Usually the hardest class to predict in that many of the participants are new to riding, the walk-trot has been known for providing teams that might otherwise never hit the scoreboard with their lone points of a national show. The riders who placed in the lower half of the top six put their teams on the board for the first time today. Sixth went to April Peck, a sophomore at Oklahoma State who rode at 2002 Nationals in the team beginner western, at which time she had placed second. Peck's ribbon would provide the only team point for the cowgirls at 2003 Nationals as it turned out. Fifth went to Penn State junior Nicole Connolly, who had won one of two sections of the same class at the Holiday Tournament of Champions back in December. Fourth went to Kate Whetstone of Megan Taylor's University of the South sewanees, who were destined to break double digits. The top three were from teams already in the ribbons. Third went to Danielle Burke of Auburn, raising the tiger's total to nine points and third overall. Centenary may have missed out on another fourth-place ribbon but cyclone walk-trotter Cem Uzman will not complain. All the way from Turkey, Uzman placed second. Though Connolly had won section "A" of the walk-trot at the Holiday Tournament of Champions, it was section "B" winner Jennifer Parshall who came through with a blue ribbon again this time. Virginia Intermont, now with 12 points, led Centenary and Stonehill by one and Auburn by three with five team classes still to come.
Round 4: Novice Flat If you had arrived in the morning for the team intermediate fences and wanted to go out for lunch and be back for the team intermediate flat you could have made it with minutes to spare. If you had arrived for the team intermediate fences and then wanted to go sight-seeing in the Nashville area before returning at dinnertime for the team walk-trot you would have made it easily. If you had arrived for the team intermediate fences, then decided to drive four hours west to Memphis to visit Elvis, eat lunch and dinner along the way and then return to Murfreesboro for the team novice flat you could have made it with seconds to spare! The final team class of the day started just after 9PM, with the announcements of the placings complete at 10PM on the dot! The longest Friday session on record ran 13 hours and 7 minutes, but would not be the longest day of the weekend. Held only two classes after the team walk-trot, the six riders who placed all came from teams with points on the board from earlier in the day. Catherine Wynne, a junior from Middlesex, VA gave Virginia Intermont and coach Federwisch their 13th point of the day with a sixth. Another Catherine, this one known as "Cate" doubled the Saint's point total as Cate Doucette of Saint Lawrence, who won the team walk-trot-canter class at 2001 Nationals, placed fifth. University of the South freshman Hannah Schremser put coach Taylor's sewanees on the board again with another fourth. Auburn continued to be the cinderella story of the day, as Erin Gaddy, a freshman from Long Beach, MS earned another third for the tigers, tieing them with Virigina Intermont at 13 points. The big Penn State campus is in State College, PA (a team from the Fayette campus, in the western part of the state near Pittsburgh, has fielded a team for three seasons as well), and the nittany lions from State College had their best day at Nationals since the mid-'90's thanks to freshman Kara Spengler. Her second in novice flat meant a total of seven points for Penn State, which had not ended a National show with more than five points since '96.
In passing I had mentioned to Centenary coach Andrea Wells (who is a co-coach with Michael Dowling) to "Get points in every class." Through day one only the cyclones were able to do this, as Ethan Smock earned Centenary's best ribbon of the day, a first. From Palmyra, PA, Smock had been outstanding in the fall, then kept out of action for most of the spring in order to use him in novice flat at Zone 2 Zones and perhaps Nationals. The ribbon put Centenary into the lead with 18 points, five more than Auburn and Virginia Intermont and seven more than Stonehill/Tom Brennan. Centenary had placed second in '93 and '96, third in '97 and '01. The cyclones won it all in '78 and '79. Could the title be headed back to Hackettstown, NJ for the first time in 24 years?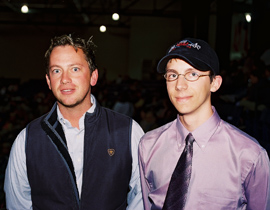 A Centenary "co-coach" with Andrea Wells, Michael Dowling (left) and cyclone novice flat rider Ethan Smock waited patiently through day one for Smock's ride, which gave Centenary the lead through four classes.
Round 5: Novice Fences There was more time to sleep between the first and fourth team classes on Friday the 2nd than between the novice flat (which ended Friday's session) and the novice fences which kicked off the slate on Saturday morning at 8:23AM. The rider who entered the ring at that time was Fairfield University's Jenn Santorello. Hailing from Northport, NY Santorello would earn a sixth place ribbon, getting Fairfield on the board. More significantly on the board with a fifth was Leyla Munday of Fresno State. The Sophomore from Santa Barbara, CA earned the first hunter seat team points at Nationals in six years! The bulldogs earned two sixth place ribbons at Mount Holyoke in '97, then got shut out in '99 at Cazenovia and '01 in Conyers, GA. Munday's ribbon is also the best in school history within an IHSA Nationals english team competition. Fourth place went to Sarah Casey of Wisconsin at Madison, brining the point total for hunter seat coach Whitney Paxton's badgers to five. Carter of Hollins did even better this time, placing third.
At Zone 1 Zones on April 12th, Shannon Tibbits of Stonehill had perhaps a tough draw, leading to fourth in novice fences that day. The freshman from West Kingston, RI was much better here, proving that Brennan would not be the only chieftain with team points as she placed second. It remained all-or-nothing for Findlay head coach Lori Cramer's oilers as Mara Keith Hunter won the class. A freshman from Northampton, MA, Hunter had won both of her novice classes at the Holiday Tournament of Champions (earning 14 of Findlay's 24 points that day) but had placed fourth over fences in a class of six at Zone 6 Zones (and only five ribbons were awarded as one rider fell off). Findlay thus moved into third with 14 points, Stonehill to second with 16, while Centenary finally did not earn points in a team class but continued to lead with 18.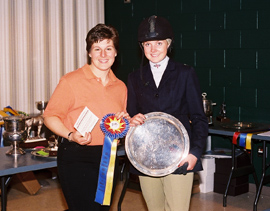 Findlay head coach Lori Cramer (left) and Mara Keith Hunter in the trophy room after Hunter won the team novice fences. The oilers had a pair of firsts at this point, but were not done with scoring by any means.
Round 6: Walk-trot-canter Following individual intermediate on the flat, the Cacchione Cup jumping phase and the AQHA Cup reining phase it was time for the team walk-trot-canter class. Once again the second team class of the day took place after most had eaten lunch, though historically the Saturday session does include the Cacchione jumping phase and one of the two AQHA Cup sections in the morning, with the fifth class of the day usually not in the ring before 1:30PM. Saturday also is always the longest of the three days, going past midnight once, in 1999. Virginia Intermont newcommer Kristina Frazier earned the 14th and final team point as it turned out with a sixth here. Sarah Brandle, a freshman from Springfield, OH, put Findlay on the board again without a blue ribbon but with a pink one instead. Fourth went to sewanee freshman Georgia Robert, the third time in the last four classes that a University of the South rider had received a white ribbon. Andrea "Andi" Minks put Tiare Well's Colorado State rams on the scoreboard with a third.
A gentleman by the name of Mike Burke has earned as many frequent-flyer miles as any IHSA parent over the past five seasons. Several times a year, Burke flies from San Francisco to New England to see his daughters ride for Brown University. Megan Burke graduated last season, overlapping for the 2001-02 season with younger sister Galyn. Now a sophomore, Galyn Burke placed second in walk-trot-canter, somewhat surprisingly earning only the first team points for Brown in the competition. Last season the bears were third in the nation, trailing only Ohio University and Cazenovia when it was all over. The journey from San Francisco to Nashville is nearly 1,000 miles shorter than to Providence or Hartford, and the shorter journey would be even more worth it for Mike Burke when Galyn won the individual walk-trot later in the day.
Though Burke had won the team walk-trot-canter at Zone 1 Zones it was runner-up Sarah Muller of Stonehill juxtaposing the placings in Murfreesboro. The Sophomore from Bridgewater, MA won the class, catapulting Stonehill back into the lead, and by five points no less. With the open divisions still to come, Stonehill had set their all-time Nationals team record with 23 points. Centenary held onto second with 18, Findlay had moved up to 16, Virginia Intermont held at 14 and Auburn remained at 13. It would take two firsts from anyone else in the competition to even tie Stonehill at this point.
Round 7: Open Flat For the third season in a row, the open riders have waited through all of the other six divisions to take their place in the spotlight. Placing open at the end works against schools who have a great open rider, in as much that the other divisions have already made or broken the team's chances. Two seasons ago, Amanda Forte, then a junior at Brown, won both open team classes, moving the bear's point total from a point to 15 points. Had Forte ridden earlier in the competition perhaps Brown would have had more of a chance from a psychological point of view. Several schools who entered the class very much eliminated had among the finest performers in the open division throughout the regular season. Megan Palmer from Miami of Ohio, Jamie Peddy of Brown, Whitney Slauson of Saint Lawrence, Alex Ansteth of Colorado State, Lindsey Phoebus of Penn State and Allison Woodworth of Kansas State were all Cacchione participants earlier in the day. All would try to play spoiler this time, perhaps even raising their teams into the top five if the success could carry over into the fences division the next morning.
It was after 9PM when open flat, the final class of day two, got underway. Over and done with at 10:09PM, the results of the class would leave only two teams alive to be 2003 hunter seat national champions. In sixth was Katherine Wilkinson of the University of the South. The sewanee sophomore from Atlanta, GA had placed second at Nationals last season in the individual novice flat division and still did well two levels up on this day. Phoebus of Penn State was fifth, further improving the nittany lion total to nine points. Penn State's combined point total from their previous three Nationals appearances had been only eight!
Stonehill had a chance to eliminate the entire field. Sophomore Kelsey Amedeo placed fourth, raising the chieftains total to 26. However fans of Zone 2, Region 1 could see that Centenary's Annabel Benito was still out in the ring (all riders lined up on their horses after each flat class and participation ribbons were given to the eleven riders who placed below the top six as each headed into the horse-holding area). Benito could only shave one point off the Stonehill lead, but the junior who came up big at Zone 2 Zones kept Centenary in it with a third. Peddy, a freshman from Oyster Bay, NY doubled the Brown point total with a second while Palmer, yet another freshman, took Miami of Ohio to double digits with a first. Palmer, from Lake Bluff, IL, could now claim to have won a class at each of the Invitationals and, counting an individual class at Zone 6 Zones, each of the post-season shows.
With only one class to go, Stonehill College (without an on-campus riding facility) led Centenary College (with a two-year-old state-of-the-art indoor) by a 26-22 margin. Findlay was third, and still in line for reserve if Sara Ballinger could win open fences, with 16. At this point no other teams could end up higher than third.
On Sunday morning, the chieftains were all smiles upon arrival at Tennessee Miller Colliseum. "Can you believe it? We are at least second best" said Tom Brennan when I greeted him at the start of the the third and final day of showing. "Would you have ever thought we would be as good as second?" To be honest, I thought that a lot depended on Brennan getting off to a good start. Just as he had done at Zones, Brennan was the catalyst for bigger things to come.
Round 8: Open Fences Three riders would be the center of attention headed into the final class: Stonehill's Dee Dee Rucco, a sophomore from Rehoboth, MA, had placed fourth at Zone 1 Zones in the team competion, and would now hope to follow teammates Amedeo, Muller and Tibbits by doing better at the National show; Centenary's Becky Huestis, a senior from Saratoga Springs, NY, who started at the novice level as a freshman and, through hard work and the coaching efforts of Wells and Dowling, ended her final season only one point out in the Zone 2, Region 1 Cacchione standings to teammate Kristen Schwieger; and Findlay's Sara Ballinger, a senior from Marion, OH, third in the Zone 6, Region 3 Cacchione standings, and at one point during the season in the wrong place at the wrong time. Ballinger was kicked in the face by a horse in the middle of the season, requiring surgery. Things healed well, to the point where most observers would not notice. Her riding did not suffer, and Ballinger even placed first in team open fences at Zone 6 Zones, ahead of Palmer.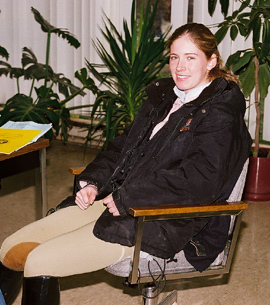 Sara Ballinger of Findlay battled adversity much of the season, but the open rider saved her best ride for last.




Since 2001, the judge's scores in all of the jumping classes, team or otherwise, are announced at some point after each rider's go but before the class is complete. This takes some of the joy out of the actual placings of the jumping classes, as anyone who writes down the scores can figure out to an extent how the placings will come out. Rucco was third to go in the class of 17. Her score of 164 was good, but with 14 rides ahead no one knew how good. Ballinger of Findlay was next, and scored a 165, the best so far in the class. It was not until the eighth or ninth ride that Huestis got her chance. By this point, no one had equalled Ballinger's 165, which if it held up, and if Centenary did not pin, would move the oilers all the way to reserve. If Huestis could score in the 170's and if several of the remaining riders could place between Huestis and Rucco then Centenary still had a chance to win. Huestis started out alright, but her horse would not look at a jump at roughly the fifth fence, resulting in a run-out. Good sportsmanship was shown by all, as the refusal happened near where both Stonehill and Centenary were sitting, and not a sound was heard from anyone! Moments later, Shirley Murphy, twin sister of Stonehill coach Sheila and a writer for the Horsemen's Yankee Pedlar, remarked that many did not know about Stonehill before the competition started. During one of the later classes, perhaps even Rucco's, the Stonehill rider in the ring relayed to Shirley Murphy afterwards that someone in the stands said, "Shhhh! It's Stonehill!" while she was riding by!

When the class was pinned, Peddy added one more point to the Brown total, bringing the bear's number to 11 (all obtained in the final three classes). Palmer was fifth, moving Miami of Ohio into a tie with Auburn for fifth. Slauson of Saint Lawrence brought the saints their best ribbon of the show with a fourth. Hollins senior Jessica Parker, a Cacchione Cup rider in 2001, ended her IHSA career with a third. Palmer, Slauson, Parker and Rucco were all given combined judging scores of 164, which did bring some drama to the issue of who placed second through fifth before the ribbons were actually announced. Rucco was the best of the 164's as it turned out, giving the chieftains points in six of eight classes and a final point total of 31. Though she went early in the class, no one caught Ballinger, who ended a bizarre senior year on a personal high note. Centenary was third for the third time in eleven seasons, while Findlay could claim to be one of the two best teams for the second time in three years.

The modest chieftains were simply happy to have been assured no worse than second only moments earlier. Each of them now knew they would be the center of attention at the closing ceremony later in the day. Sheila and Shirley, Tom Brennan, Dee Dee Rucco, Kelsey Amedeo, Shannon Tibbits, Sarah Muller, Walk-troter Kim Foley (first at Zone 1 Zones), and novice flat rider Sara Payton would be the last ones presented to the crowd as the 2003 IHSA National Champions.

The Sunday slate of classes ended at a minute before 6PM (after the show, Middle Tennessee State head coach Anne Brzezicki said that a covered outdoor ring is under construction to compliment MTSU's new indoor, and that the possibility of holding English and Western classes simultaniously during the 2004 IHSA Nationals in Murfreesboro is a real possibility). The various awards were then presented to the Stock Seat and Hunter Seat teams. The best was indeed saved for last, as Stonehill was presented with the Collegiate Cup. I could not help but recall something Sheila Murphy said late last season. Following Stonehill clinching the regular season NCAA championship in 2002, Murphy said "It's all in the luck of the draw." The rest of the IHSA had better hope so, because all of the Stonehill Nationals participants will be back in 2003-04, ready to take on Zone 1, Region 4 foes en route to Zones and the chance to repeat as National Champions.

---Steve Maxwell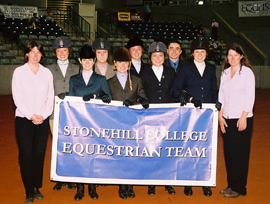 Hail to the Cheiftains! Stonehill head coach Sheila Murphy is on the far right while twin sister Shirley is on the far left.
Post Script: Even when the IHSA show season is over, it is not really over. Eight hours after Nationals were complete, Champion team Stonehill and myself were on hand for some of the most significant Tornado scares the Nashville suburbs had seen in years. Some were awake since the early evening, while I was awakened by the hotel at 2:44AM to "Come to the conference rooms where all the other guests are huddled." In the lobby and conference rooms were none other than the chieftains (not to mention Findlay, Oklahoma State, Cal-Davis, Marist, Minnesota-Crookston, Delaware Valley and West Texas A & M) who were watching the radar on television. Tom Brennan, always seeing the big picture, was most concerned for the horses back at the MTSU stables (many schools from throughout the south had brought horses, most of which were likely still at the MTSU stabling area, partially exposed to the elements). Damaging hale and dangerous lightning seemed to peak in Murfreesboro around 3AM. Flooding and downed lines affected some routes and this writer hopes everyone (be they a two or four-legged creature) made it back to their part of the country safely.
The Hunter Seat Team Class-by-Class Results. The first four classes listed were held Friday, May 2nd, the next three were held Saturday, May 3rd, and the final class was held Sunday, May 4th. The judges for all hunter seat classes were Carole O'Brien, Larkspur, CO and Jeff Wirthman, Island Lake, IL:
Team intermediate equitation over fences: 1. Tom Brennan, Stonehill College. 2. Clair Allison, Auburn University. 3. Sarah Zichi, Miami University of Ohio. 4. Allison Guerin, Centenary College. 5. Kristin James, University of Wisconsin at Madison. 6. Lauren Demmel, Kansas State University.
Team intermediate equitation on the flat: 1. Coagi Maten, University of Findlay. 2. Jennifer Tabisz, Virginia Intermont College. 2. Tom Brennan, Stonehill College. 4. Amy Gregonis, Centenary College. 5. Jill Callahan, Saint Lawrence University. 6. Vanessa Carter, Hollins University.
Team walk-trot equitation: 1. Jennifer Parshall, Virginia Intermont College. 2. Cem Uzman, Centenary College. 3. Danielle Burke, Auburn University. 4. Kate Whetstone, University of the South. 5. Nicole Connolly, Penn State University (State College). 6. April Peck, Oklahoma State University.
Team novice equitation on the flat: 1. Ethan Smock, Centenary College. 2. Kara Spengler, Penn State University (State College). 3. Erin Gaddy, Auburn University. 4. Hannah Schremser, University of the South. 5. Cate Doucette, Saint Lawrence University. 6. Catherine Wynne, Virginia Intermont College.
Team novice equitation over fences: 1. Mara Keith Hunter, University of Findlay. 2. Shannon Tibbs, Stonehill College. 3. Vanessa Carter, Hollins University. 4. Sarah Casey, University of Wisconsin at Madison. 5. Leyla Mundy, Fresno State. 6. Jenn Santorello, Fairfield University.
Team walk-trot-canter equitation: 1. Sarah Muller, Stonehill College. 2. Galyn Burke, Brown University. 3. Andrea Mink, Colorado State University. 4. Georgia Robert, University of the South. 5. Sarah Brandle, University of Findlay. 6. Kristina Frazier, Virginia Intermont College.
Team open equitation on the flat: 1. Megan Palmer, Miami University of Ohio. 2. Jamie Peddy, Brown University. 3. Annabel Benito, Centenary College. 4. Kelsey Amedeo, Stonehill College. 5. Lindsey Phoebus, Penn State University (State College). 6. Katherine Wilkinson, University of the South.
Team open equitation over fences: 1. Sara Ballinger, University of Findlay. 2. Dyanna Rucco, Stonehill College. 3. Jessica Parker, Hollins University. 4. Whitney Slauson, Saint Lawrence University. 5. Megan Palmer, Miami University of Ohio. 6. Jamie Peddy, Brown University.
Hunter Seat Team Totals:
Stonehill College - 31 (National Champions)
University of Findlay - 23 (Reserve National Champions)
Centenary College - 22
Virginia Intermont College - 14
Auburn University - 13
Miami University of Ohio - 13
Brown University - 11
University of the South - 10
Hollins University - 9
Penn State University (State College) - 9
Saint Lawrence University - 7
University of Wisconsin at Madision - 5
Colorado State University - 4
Fresno State - 2
Fairfield University - 1
Kansas State University - 1
Oklahoma State University - 1