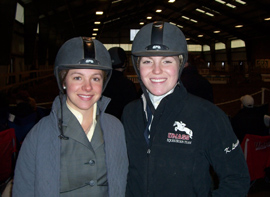 Though Kate Lawrence (right) saw her streak of first place ribbons come to an end with a second in open fences to start the day, her UMass teammate Bailey Sheran (left) won the second section of open fences moments later. UMass would appear to be ahead early, then be given up for dead midway through the show, then look surprisingly good late in the afternoon, making the announcement of high point team at the March 8th Smith show all the more meaningful.
43-36 WIN TAKES UMASS TO ZONES
Northampton, MA - From season to season there are certain IHSA Regions where one writes off the chances of any team other than the defending region champion to win that region for the coming school year. Historically there have been several dynastys. Ohio State is a lock for the top Western team in Zone 6, Region 1, where they have won the region every season for over two decades. Skidmore College clinched their tenth consecutive hunter seat region title on March 1st, while on March 8th Centenary College made it 19 straight Zone 2, Region 1 hunter seat Region Championships, this with one regular season show remaining.
If one had seen a composite schedule of all 2007-08 IHSA shows around Labor day one would have thought that March 8th would not only the day for Centenary to clinch but for Mount Holyoke to do so as well. The Lyons would be looking for a 12th consecutive region title, and history was certainly on their side. Not since the 1998-99 season had Mount Holyoke actually gone into the final regular season show trailing. And in 2005-06 the Lyons won one of the most thrilling IHSA Nationals competitions ever, emerging with a 23-22 win over both Stanford and Penn State to capture the National Championship for the first time since 2000. Mount Holyoke also earned reserve national champion status in both 2005 and 2007. With the March 8th Smith show being the Zone 1, Region 3 regular season finale, surely this would be the day that Mount Holyoke would relegate the University of Massachusetts at Amherst - or Becker College - to '08 Reserve Champion?
Fortunately for some the outcome is decided not on paper but rather by riding a horse inside an enclosed ring. People can predict and speculate all they want, but when the dust settles and the judge's cards become of historic interest, the actual outcome is, in fact, known. The old expression 'You never know' suddenly is a fallacy in that you do know. And the truth is very hard to believe sometimes.
Perhaps the idea that the 2007-08 season was all a strange dream could have been reality for those who ride for Mount Holyoke or the University of Massachusetts at Amherst. The truth on October 27th was that UMass won with 38, Becker was second with 30, Hampshire College third with 28 and Mount Holyoke fourth with 24, and at Mount Holyoke no less! Could anyone really believe it? No! It must be a dream! Wake up!
Then the Amherst show took place on November 10th. Mount Holyoke 36, UMass 35 and Becker 33. UMass with a one-point lead for the next 75 days. Mount Holyoke in second but only ten points ahead of Becker. Cue the Twilight Zone music. For the Lyons it must be a nightmare!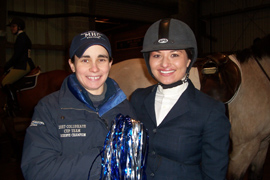 Mount Holyoke Assistant Coach Gilly McPhee (left) holds one of the Pom-Poms the Lyons had to cheer each other on. Freshman Michelle Piccione (right) deserves a Rah-Rah-Rah for being the only rider with two firsts on March 8th. Piccione won both of her novice classes for Mount Holyoke and was high point rider for the day.
Then it was UMass hosting on February 23rd. Mount Holyoke 41, UMass 41! The one point lead lives to see another week. No! Make that eight days! A snowstorm forces the March 1st Mount Holyoke show to March 2nd, also throwing off UMass Head Coach Jerry Schurink, who had a clinic scheduled for that day.
The change of date turns out to benefit UMass, as the Minutemen go two-and-oh at Mount Holyoke. Their 40-38 win makes the overall score 252-249.
And then, six days later, on the 8th of March in Northampton, Massachusetts - Perhaps it will become known as the Northampton Classic - the final chapter of the season was written. It was a dreary day outside the Smith College indoor, with rain falling on snow not yet melted from a week earlier. However inside the atmosphere was festive. The Mount Holyoke team had pom-poms at the ready, while black labradors leaned into the spectators near the UMass riders and their many traveling chairs. Becker College, always the peacemakers unless someone else is, nestled themselves in the middle between the Lyons and the Minutemen. The Smith riders were scattered about, as this was their turn to host. Would it be the same old story, or would the outcome send shock waves from Boston to Bristol, Virginia?
The point sheets are not posted in Zone 1, Region 3, so everyone in attendance tried to imagine who was actually pointed. The first class saw Kate Lawrence finish second to Cassie Herman of Mount Holyoke in open fences. Lawrence had been undefeated for UMass over the previous two shows but was no more. However Bailey Sheran of the Minutemen came through with a first in the second and final section of open fences. Holy Cross sophomore Lauren Duffee (who has a realistic shot at a future Region 3 open rider title if she makes all the shows) was second. Jesse Tyma of Amherst College was next with a third. Then came Amanda Pettengill and Lindsay Sceats of Mount Holyoke with fourth and fifth, respectively. Did they point Herman? In that case they are at least no worse off then when they started! But what if Mount Holyoke pointed the section B riders? Could UMass have pointed Sheran instead of the hot-handed Lawrence? Bill Payne, the husband of Smith Coach and Region President Sue Payne, is essentially the Region 3 Mathematician in that he usually adds the points in seclusion during each show on behalf of the region. If we could only have read Bill's mind we might have been able to relax or tense up even more!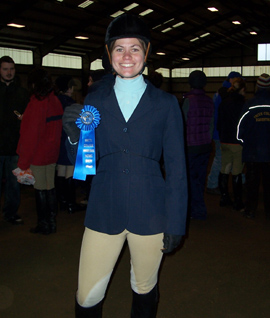 It took nine classes before a rider from a school other than Mount Holyoke or UMass won a class. From Palo Alto, California, Amherst College sophomore Katherine Nolan won the second of three sections of open flat. Only four blue ribbons would not be awarded to Mount Holyoke or UMass at today's show.
Then UMass kept winning. Elena Serkin won section 6A of intermediate fences. Annie Ollila won section 6B, qualifying for Regionals in the process. However there was a third section of intermediate fences, and this time Mount Holyoke was best. Elizabeth Tripp started Holyoke on a winning streak with a first. This carried on into the novice fences, where both sections went to the Lyons. Lorin Weaver won section 4A while Michelle Piccione won 4B. Head Coach Beth Jankelson and her Landmark College team are back competing in Region 3 after several seasons out of the IHSA, and low and behold her freshman novice fences rider Paige Williams placed second to Weaver, relegating UMass's Molly Bettencourt to third and Lauren Kolodzinski to fourth. If they were pointed, Williams had affected IHSA history. However if Amy Donahue was pointed then the Minutemen gave back two points at worst, as Donahue was second to Piccione.
The alumni appeared in the middle of the day. 2007 Mount Holyoke graduate Christine Gunn won both sections, while '07 Becker grad Mary Omelenchuck was second twice and Williams alum Tracey VanKempen received a pair of thirds. Technically this ran Mount Holyoke's win streak to five classes, though fortunately for UMass these 14 points for Gunn had no effect on the team standings.
(Editor's note: At this point the writer of this story went outside in the elements to visit Poppie's Concessions. The writer's girlfriend had a hot dog while the writer had chicken fingers with fries. This writer wants to go on record that Poppie's Concessions had the best tasting food of any portable food provider at any IHSA show nationwide so far this season in his opinion, and this was his 23rd show of the season!)
The undergraduate flat divisions began with Herman placing second to teammate Pettengill, giving Mount Holyoke wins in four consecutive undergraduate classes. Then the Holyoke win streak snapped. However it was not UMass to blame. Amherst sophomore Katherine Nolan was the blue ribbon winner in section B of open flat, with Tracey Mack of Mount Holyoke second. Abigail Cooper earned host Smith College their best ribbon thus far on the day with a third. Lauren Barry of Becker College was fourth while Lawrence was only fifth. It seemed like the rout was on, that Mount Holyoke was coming on to do what many thought they would do. But other than the hidden point sheets who really knew?
There were four sections of novice flat, but the order of classes was haphazard in that the third section of open flat fell between sections B and C of novice flat. Morgan Brescia won the lone blue ribbon for Smith on this day with a first in novice flat section A while Mark Greene of UMass was second. Piccione, a freshman from Chicago, Illinois, delivered another blue ribbon to the Lyons in section B while Bettencourt was second. Piccione would not have to ride off as she was the only rider with two firsts on this day.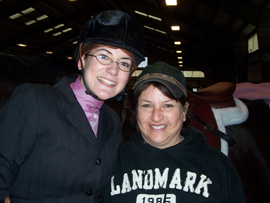 Landmark College freshman Paige Williams (left) poses with Head Coach Beth Jankelson after her novice fences ride. Williams placed second in both of her novice classes while Landmark, showing for only the second time this season, outscored four teams and tied Holy Cross for seventh at today's show with 13 points.
The final section of open flat was won by Mount Holyoke's Tattie Singer, and like the novice class before it, a UMass rider was second. Ollila would be one of four UMass riders with a first and a second on this day. The third section of novice flat followed, with Mount Holyoke's Heather Johnstone only able to finish second. However the good news for the Lyons was that first went to Elizabeth Butterfield of Amherst, who qualified for Regionals with the win. The Lyons made it two of four in novice flat as Maudie Braswell won section D. Williams again was second for Landmark, likely earning ten of their season-high 13 points. UMass had now gone ten consecutive undergraduate classes without a first. Mount Holyoke had earned seven blue ribbons in that time. It didn't look good for UMass, but for once maybe things did look better on paper, even if that paper was hidden somewhere where only the Region 3 mathematician could see it.
Finally a division came along that offered the Minutemen some hope. While Andrea Falciani won the first section of walk-trot for Mount Holyoke, Sarah Pennington won the second section, giving UMass their first blue ribbon since Ollila in the fourth class of the day. Pennington's teammate Hannah Deutsch won the third section, giving UMass their second win streak of the day.
Originally there were to be three sections of beginner walk-trot-canter. However due to scratches and changes the third section was eliminated and the remaining riders from that section were distributed among sections A and B. Mount Holyoke swept the division, as Kim Nichols won the first section and Kate Miller the second. Rebecca Hollander of Amherst College was second to Nichols while Anna E. Godden of Hampshire College was second to Miller. UMass had only one rider between the two sections. Kate Breen of the Minutemen placed third in the second section. With all the advanced walk-trot-canter sections not until the end of the day no one knew if Mount Holyoke had picked up any points in these divisions or not.
With only five classes remaining Mount Holyoke held a commanding 11-5 lead in blue ribbons (not counting Gunn's firsts in alumni). However two divisions were not yet explored. UMass had done well earlier in intermediate fences, and now gazed at two intermediate flat classes with three Minutemen riders entered between them. Donahue, who has been a point rider before, won the first section while teammate Serkin was second. Adriana Fazzano of Amherst was third while Barrett Phillips of Smith was fourth. Mount Holyoke also had two riders in the section, with Caralie Cahill fifth and Tripp sixth. UMass freshman Stefanie Vander Kaaij (pronounced 'Vander-Kay'), who was second to Tripp in intermediate fences, won to become the fourth and final UMass rider in the ride-off for reserve. Rounding out the placings for section B were Marguerite Davenport of Smith in second, Caitlin Hathaway of Westfield State College in third, Kathryn Mishkin of Smith in fourth, Amy Russell of Williams College in fifth and Lora Ciborowski of Mount Holyoke in sixth. The Lyons had not done themselves any favor with the placings in this division. In fact between the four intermediate sections Mount Holyoke was above fifth only once, as Kirsten Kasper had placed second to Serkin in 6A. Suddenly UMass had two in row and hope that Mount Holyoke had not pointed well in two divisions.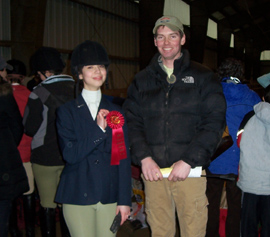 After Campus Equestrian launched in August of 2002 our first article written about an IHSA competition covered the Fall 2002 Tournament of Champions show. And who was the star of that show? None other than Cazenovia College's Frank Bassett. Today Bassett (on right) is coaching the Clark University team. Clark sophomore Vanessa Puglisi (left) was second in the first section of walk-trot.
The final three classes were all advanced walk-trot-canter (though technically the IHSA has re-named those who qualify from this division as having simply pointed out of "walk-trot-canter"). Ariel Spuzzillo, a UMass sophomore from Cleveland, Ohio who won the first IHSA class she ever competed in back on opening day at Becker ended her regular season on a positive note. Spuzzillo was first, while Smith had second and third via Anya Bahros earning the red and Susanna Haas the yellow. Mount Holyoke did not earn a ribbon in this section. UMass won a fourth-consecutive class for the only time all day as Meaghan Maynard was first in section B. Katie Henderson gave Mount Holyoke a chance (although Nichols or Miller could have been pointed in the beginner sections) with a second. Section C looked like a posibility for UMass going in, as the Minutemen had two riders in the class. However Sarah Dickstein was fifth and teammate Mari Mavilia fourth. Third was - eh - we are not sure (the number in the program does not match anyone listed). Second went to Emme Johnston of Mount Holyoke while Becker College earned their only blue ribbon of the day in the final class, as Jessica McKinley was first for the Hawks.
Not long after would be the announcement that everyone had waited since the October 6th Becker show to hear. The high point team announcement would be the dead giveaway. "High point team for today is the University of Massachusetts!" The shock is still being felt around New England and the IHSA days later. UMass will have a team at Zone 1 Zones for the first time in 12 years and Mount Holyoke, which hosts the event, will not. Only the region champion takes a full team to the Zones show, and although Mount Holyoke has one of the three best teams in the country in this writer's opinion the UMass Minutemen can make that same claim in 2007-08. And by a final 295-285 margin (and a rare win at Smith, a show which has historically been their downfall), the University of Massachusetts will have a shot to advance to Nationals for the first time in 12 years, ironically to be held at the Los Angeles Equestrian Center in Burbank, California, the same location as the last time UMass had a full team at Nationals.
UMass already knows that one rider is safe for Nationals. Lawrence, a sophomore from Scituate, Massachusetts, is the Region 3 Cacchione Cup representative, finishing 17 points ahead of Sheran and 22 ahead of Pettengill. The big question is will the Minutemen make the top two at Zone 1 Zones on April 5th to advance a full team to Nationals from the four-way team competition?
After the final class before the ride-off but before the announcement of high point team, Schurink was still not sure if his team had fallen back to second.
"I was on my way across the arena to conduct the intermediate high point quiz questions for a tie between our riders when they announced the UMass score as high point college," Says Schurink. "I really almost fell down! I had to walk slowly back to my team to gather my composure because I was on the verge of breaking into tears - I'm not matcho, I just didn't want to be a sobbing mess. Eddie (Federwisch) from Virginia Intermont called me yesterday to offer congratulations. It's getting around!
Mount Holyoke Head Coach C.J. Law was gracious in defeat. "I do believe I have a truly top National team this year and it is difficult to know that they will not be advancing on after this weekend," Says Law. "Several people have asked if the MHC team is not as strong this year and I keep saying no and they ask me why UMass is ahead. The UMass team is good this year with a lot of talent in all the divisions. The defeat is tough to take but Jerry deserves it. He has a lot of depth in his team and his riders are riding well. Jerry has worked hard to get this far and I am happy for him and for his riders. I wish I didn't have to be sad to have him advance but that is what good competition is all about. A past student of mine wrote me and mentioned that 'It takes defeat to appreciate success for what it is worth'. Things happen for a reason...I have to look at the positive side and think onto Regionals and onto next year. I know my team will be more united and more determined next year. It is tough to lose but at times you have to lose to appreciate the wins even more.
Perhaps Becker College Head Coach Ed Paro summed it up best, helping us to believe that it really did happen after all:
"We are so happy for UMass. They have been the Bridesmaid for too long. And my gosh they beat the team that has won all the tournaments. Wow!"
(Editor's Note: We wish to thank Bev Donahue for letting us know that Amy Donahue won the Reserve High Point Rider award at the Smith show.)
---Steve Maxwell
Show Incidentals: Cloudy skies, with occasional rain. High Temperature in the low 40's. Entire show held indoors. Start time: 9:11AM. Finish: Unknown (A 42 minute lunch break took place between 11:43AM and 12:25PM; Coaches and Captains meeting held prior to start of show). Point Cards posted in this region? No. Alumni Classes held in this region? Yes. Judge: Martha Brozski. Stewards: Ehrlick/Springfield College, DeMayo/Williams College and Schurink/University of Massachusetts at Amherst.
Team Totals: University of Massachusetts (High Point Team) 43; Mount Holyoke College (Reserve High Point Team) 36; Becker College 26; Amherst College 25; Smith College 24; Westfield State College 19; Landmark College 13; College of the Holy Cross 13; Clark University 10; Williams College 8, Hampshire College 7 and Springfield College 2.
High Point Rider - Michelle Piccione, Mount Holyoke College
Reserve High Point Rider - Amy Donahue, University of Massachusetts at Amherst