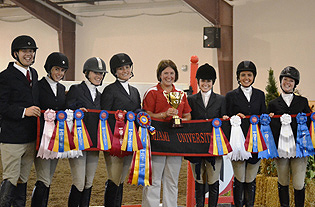 Jamie Donovan (on far right) won her open fences. Kitty Sarosy (fourth on left) won her novice flat. Maddie Macleod (second on right) was second in intermediate fences. Miami University of Ohio head coach Heather Pinnick (holding trophy) reaped the most benefit from these upper-level ribbons as her Red Hawks were tops in a field of twenty teams at the Pre-Season Tournament of Champions on September 24th (photo courtesy Jim Arrigon).
MIAMI OF OHIO PREVAILS IN FIRST TOURNAMENT APPEARANCE IN OVER FIVE YEARS
(Xavier University of Ohio Head Coach Jim Arrigon - who came up with idea for the Tournament of Champions series while coaching at Miami of Ohio and who has held Tournament shows since 1992 with the help of wife Gwen - wrote a press release following the Pre-Season Tournament of Champions invitational event hosted by Otterbein University in Westerville, Ohio on September 24th. His press release is repeated here with some minor changes as well as a 'Bonus Coverage' paragraph at the end - Editor.)
Westerville, OH - If the 2011 Tournament of Champions Preseason Classic proved anything it was that the talent pool is deepening in collegiate riding. Ten years ago the top IHSA teams were ALWAYS the top teams and a handful of teams would run away with the top spots at National level events like the Tournament of Champions because the second-tier teams didn't have anybody who could compete in the national level arena. In September of 2011 only a single blue ribbon separated the top seven teams in the standings at the Preseason Classic, held September 24th and hosted by Otterbein University.
Fifteen different teams were on the scoreboard after three classes were in the books, an indication of the tight competition that was forthcoming. It was not surprising when Cornell's Katie Fink grabbed the first blue ribbon of the day, with Virginia Intermont College's Gold team second. But it got people talking when, after several classes were in the books, the names at the top of the leaderboard were UMass and Michigan. The surprising University of Massachusetts at Amherst team, with new coach Mara Keith-Hunter (a former two-time IHSA National Champion rider for Findlay who went on to graduate from UMass) tied with Virginia Intermont for most blue ribbons on the day, with three of their eight entries taking home firsts.
When Miami of Ohio won the final class of the day to leap-frog several teams into the lead, the Red Hawks validated their trip to Nationals in 2011. Miami had been one of the top teams at IHSA Nationals and in the Tournament of Champions for many years but hadn't made a trip to either in five years until winning Zone 6 Zones last April.
Three teams (University of Massachusetts-Amherst, Virginia Intermont's Black team, and Otterbein) tied for third Place, only four points off the lead, and were placed by the IHSA tie-breaker system of most blue ribbons (followed by most reds, followed by jumping points).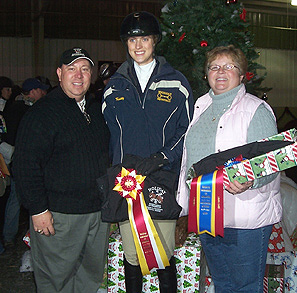 All right. We admit it. This photo of Tournament of Champions creator Jim Arrigon (on left) and his wife Gwen (on right) is from the December 2009 Holiday Tournament of Champions. However the same rider placed second in the Collegiate Medal Division that day and on September 24th at the 2011 Pre-Season Tourney. That rider is University of Michigan senior Kristy Kenn (center), who saw her Wolverines tied for the lead through the first couple of classes at the most recent Tournament event.
Perennial top-feeders Virginia Intermont, Mount Holyoke and Virginia Tech all had strong shows but the story was in the also-rans. UMass and Otterbein both had very strong performances that landed them in the team ribbons and upstart Xavier University from Cincinnati finished just two points out of the team ribbons, largely on the merits of freshman Lizz Kingsbury's second in open fences and third in open flat. Purdue, Ohio University, Cornell, and West Virginia all had strong showings, and even Northern Illinois and Wisconsin showed signs of life occasionally.
The Tournament of Champions Medal class – an eclectic mix of open stars, outstanding intermediate riders and a few excellent alums - was as competitive as ever. Twenty entries flatted, eleven were called back to jump and five came back for a final test. Virginia Intermont continued to impress, claiming both Champion Danielle Clark and third place Blake Roberts. Michigan's Kristy Kenn took Reserve Champion, and a Hollins alumnus – 1994 graduate Kelly Douglas Mallery – came in fourth.
The Equestrian Talent Search Medal followed the same format for high school riders from the ETS (Equestrian Talent Search) National Clinic Program which is produced by Jim Arrigon and Beckett Run, the same company that runs the Tournament of Champions. The ETS Medal is something new, and will be offered at all three Tournaments this season (Virginia Intermont College is offering a $5,000.00 scholarship to each of the winners). The final test featured three top IEA Riders – Mollie Kowalchik of Beckett Run in Cincinnati, Rachel McConnell of Yinger Equestrian in Columbus, Lauren Thompson of Evermore Farm in Georgia – plus Christine Stephan from Buffalo, NY. In the end placings were so close that the top two were separated by a question from the judge, with McConnell taking home the Virginia Intermont scholarship. (which VI head coach Eddie Federwisch hopes will be used next year since McConnell is only a high school junior). Reserve Champion Mollie Kowakchik is only a sophomore and the youngest in a family of riders - sister Emily Kowalchik is Team Captain for Cornell while oldest sister Melissa rode NCAA for Southern Methodist University. Third place rider Lauren Thompson is also a junior while Stephan – who was the only senior in the top four - hopes to ride at Cornell or Xavier next year.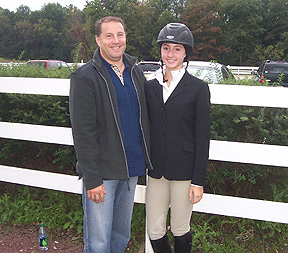 Seen here with her Father, Samantha Genise not only placed fifth in the Equestrian Talent Search Medal division she even participated in Equestrian Talent Search events the weekends before and after the Tournament of Champions. From Freehold, New Jersey, Genise traveled to Mount Holyoke College the week before competing in Ohio while taking part in the ETS at Delaware Valley College on September 31st/October 1st.
Missing from the Tournament was a whole slew of southern schools – there were regular IHSA shows in two Zone 4 regions which prevented top names like Hollins, Lynchburg, Bridgewater and St. Andrews from attending the Pre-Season Tournament. Also noticeably missing was the Zone 2 contingent – defending National Champion Centenary College (the host for the Holiday Tournament of Champions on December 3rd) along with reserve champions Skidmore and St. Lawrence.
The new Otterbein University Equine Center was a beautiful and fitting site for the Tournament, and horses were very solid in their jobs. Besides Otterbein, horses came from Miami, Yinger Equestrian (an IEA team in the area) and Sid Griffith Equestrian (a local IEA barn that is the new home to the Ohio State University hunter seat team; the Buckeyes declined an invitation to the Pre-Season Tournament because they only started school last week).
Next on the Tournament schedule is the twentieth Anniversary Holiday Tournament of Champions. Centenary will host the event for the fourth time (all between 2004 and 2011) on Saturday, December 3rd. The final Tournament event of the 2011-12 season will be hosted by the University of Mary Washington on January 28th, 2012. The team with the best two-show point total will be crowned the Series Champion at the conclusion of the Mary Washington event, known as the Winter Tournament of Champions.
(For more info about the Tournament of Champions series or Equestrian Talent Search, email JimArrigon@hotmail.com or visit www.BeckettRunRiding.com or visit the Equestrian Talent Search page on Facebook.)
--Jim Arrigon
Bonus Coverage: Only six of the schools which took part in the 2010 Pre-Season Tournament of Champions were again entered in 2011. Of these six only Virginia Intermont made the top six both times and Mount Holyoke was the only other school to place eighth or higher each time...Sometimes it is hard to break a mindset. Centenary College was in Zone 2 from 1984 through 2010 but in the fall of '10 their region was renamed Zone 3, Region 3. As a result they are not part of the missing 'Zone 2 contingent.' Save for Centenary and the rest of their region no schools from Zone 3 took part due to conflicts with regular season shows the same weekend. No schools from Zones 5 or 8 made the journey to Westerville this time either...The ETS medal division was held for the first time at the January 2011 Winter Tournament of Champions event. Of the eight riders who placed in Westerville only one, Ally D'Amico, had also placed last January. Ironically D'Amico was eighth on that occasion as well...Kelley Mallery was apparently entered as a University of Wisconsin alumni. However Mallery was in fact a Hollins College graduate. As Kelley Douglas she competed for the 1992-93 Hollins team that went on to win a National Championship when the show was held at Lake Erie College. Kelley has the unique distinction of winning the same class at consecutive IHSA Nationals with a different last name! As Kelley Douglas she won 2010 alumni over fences and repeated the ribbon as Kelley Mallery a year later. Mallery has trained with Wisconsin-Madison coach Mark Aplin which may explain why she was entered as a Badger...Expect lots of Pomp and Circumstance when the Tournament of Champions series reaches Long Valley, New Jersey on December 3rd. The first-ever Tournament of Champions event was the Holiday Tournament during the 1991-92 season, and with this being the 20th anniversary there will be something out of the ordinary to celebrate the occasion.
Team Totals: Miami University of Ohio (High Point Team) 30; Virginia Intermont College - Gold Team (Reserve) 28; University of Massachusetts at Amherst 26; Virginia Intermont College - Black Team 26; Otterbein University - Otter Trotters 26; Otterbein University - Cantering Cardinals 24; Mount Holyoke College 23; Virginia Tech - Enter Sandman 20; Xavier University of Ohio 18; Purdue University 18; Ohio University 17; University of Michigan 16; West Virginia University 14; Cornell University 13; Northern Illinois University - Black Team 12; University of Wisconsin at Madison - Team Badger 11; Virginia Tech - Hokie Nation 10; University of Wisconsin at Madison - Team Bucky 10; University of Louisville 5 and Northern Illinois University - Red Team 5.
Results of Collegiate Medal Division: 1. Danielle Clark, Virginia Intermont College. 2. Kristy Kenn, University of Michigan. 3. Blake Roberts, Virginia Intermont College. 4. Kelly (Douglas) Mallery, Hollins College (later Hollins University). 5. Madeline Rohl, Otterbein University. 6. Courtney Bryggman, University of Massachusetts at Amherst. 7. Lizz Kingsbury, Xavier University of Ohio. 8. Katie Fink, Cornell University.
Results of Equestrian Talent Search (high school) Medal Division: 1. Rachel McConnell, Powell, Ohio. 2. Mollie Kowalchik, Loveland, Ohio. 3. Lauren Thompson, Rincon, Georgia. 4. Christine Stephan, Amherst, New York. 5. Samantha Genise, Freehold, New Jersey. 6. Sophie Bish, Charlotte, North Carolina. 7. Madeline Davis, Troy, Ohio. 8. Ally D'Amico, Cheshire, Connecticut.