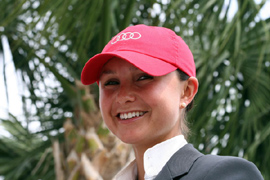 Georgina Bloomberg's charity 'The Rider's Closet' was launched last fall with the needs of IHSA riders in mind (Photo: Kenneth Kraus/PhelpsSports.com).
LISTEN UP IHSA! SHOW CLOTHES FROM "THE RIDER'S CLOSET" CHARITY ARE WAITING FOR YOU
Though she did not join the New York University Equestrian team while going to school there, 2008 Olympic hopeful Georgina Bloomberg has given more to the Intercollegiate Horse Show Association than you might imagine. In September of 2006 Bloomberg created a charity known simply as "The Rider's Closet." In the original press release launching the charity, Bloomberg explained that the Rider's Closet is "A program to help collect rider's used show clothes and an assortment of used riding equipment in good quality. We'll then donate the items we collect to the various intercollegiate riding programs."
"If it's something a rider has grown out of, something they no longer use, as long it's in a good, usable condition, we can use it all and we promise we will put it to good use."
When the charity was launched, several publications - from the equestrian-related 'Show Circuit' to the non-equestrian-related 'New Yorker' magazine - published stories on Bloomberg's venture. Since most of the press afforded to the Rider's Closet came in late 2006 Campus Equestrian thought we would ask Bloomberg how well-stocked the Rider's Closet is today. Most importantly we were interested in how IHSA programs could receive access to the donated clothing.
Upon contacting Bloomberg she agreed to answer a few of our questions and indicated because she does not have direct contact with the intercollegiate teams it would be great "to get the word out more."
CE: Starting off with a little about your riding history, are there any specific competitions you faired well in or have fond recollections of?
GB: I started riding when I was four at Coker Farm, showing when I was six. I rode at Old Salem Farm for 13 years. My proudest moments have been winning team gold in 2002 at the North American Young Rider Championships and Individual gold in 2003. Also, being a member of the first ever winning Samsung Super League team in France in 2005, and showing at the World Cup Finals in Las Vegas in 2005.
CE: In your words, how did 'The Rider's Closet' come about? It seems current New York University novice rider Shayna Silverman and former University of Vermont rider and Cacchione Cup winner John Pigott were involved.
GB: My father has a house that my sister and I grew up in that he was doing renovations for. I went to clean out my closets and realized that I had a ton of show clothes that were in great condition as most of it had simply been outgrown. I didn't know what to do with it all, and it got me thinking. I have a lot of friends who used to ride as kids and gave it up later in life, and I asked a few of them what they did with their show clothes and it was all pretty much the same answer. They just had it sitting in their closets because they didn't know what to do with it all. I wanted to do something to collect the clothing and donate but was having trouble figuring out where to donate it to. I thought therapeutic riding but a lot of the time they don't use full show clothes. I sat on the idea for the next few years and then it wasn't until I went to NYU and met Shayna that it came back into my mind. She had been talking about how on the intercollegiate team at NYU a lot of the riders had trouble affording all the show clothes that they needed to be able to compete. I thought, that's it!!! I called a good friend of mine John Pigott and asked him what he thought since he is involved with the IHSA. He put me in touch with Bob Cacchione who loved the idea and, along with Peter Cashman from the USMA, met me and worked out all the details.
CE: Besides your own 'closet full of attire from your pony days' what has been collected so far?
GB: I have gotten a bit of everything, but I mostly get show shirts, britches, show jackets and boots.
CE: Though the original press release claims that 'We can use everything' are there any items you would specifically encourage people to donate at this point? Have you received any unusual items that might stretch the limits of what is 'Equestrian-Related?'
GB: I have gotten some things that aren't even riding clothes! I think to myself, this person just didn't know what else to do with this!
CE: How might someone make a donation to 'The Rider's Closet?'
GB: Send it to me at
The Rider's Closet
Attn: Georgina Bloomberg
Gotham North
741 Titicus Road
North Salem, NY 10560

CE: How might an IHSA rider or team find out what items are currently available to them through 'The Rider's Closet?' How might they obtain an item?
GB: They just need to write me a letter with what they need! I am working on a website that will be ready for the New year.
CE: Just over a year ago the Washington Post published an article which states the Rider's Closet "…Accepts expensive show jumping clothes still in good condition and donates them to those who cannot afford necessary garments." The story does not specifically mention the IHSA so is the apparel collected also available to riders in other organizations?
GB: Yes, I've been giving to everyone. I get at least two letters a week from kids or mothers of kids who are nowhere near college age. I also donate things that I don't think intercollegiate riders could use to therapeutic riding.
After interviewing Bloomberg we caught up with both Pigott and Silverman. Both Pigott, who won the Cacchione Cup at 2003 IHSA Nationals, and Silverman, who met Bloomberg in a spanish class at NYU several seasons back both feel they are peripheral in the creation of the Rider's Closet, giving all the credit to the charity's founder.
"Georgina told me about her idea, and I pointed her in (IHSA Founder and Executive Director) Bob Cacchione's direction," says Pigott. "I had a feeling Bob would love the idea and would help promote the program. Besides that, the program is supporting itself as many people have old riding clothes they can't use that they are willing to donate to someone else in need.
A senior from the Catskills, Silverman calls Bloomberg "A real Sportswoman, a real Professional." Though last fall some media indicated in their stories that Silverman herself could not afford show clothes this is not true. Bloomberg offhandedly talked to Silverman about creating a charity to put unwanted clothing won during her pony days to good use. According to Silverman much of what Bloomberg had stored away at the time would have been from her youth and thus too small for most IHSA riders. Silverman, who herself had been riding for some time, mentioned that there are people who would like to join an IHSA team such as NYU's but have difficulty affording apparel.
A few other important Rider's Closet details before giving or receiving...
The only clothing item that should NOT be donated, and also cannot be received as a donation, is a riding helmet. For safety reasons helmets, be they approved or otherwise, are NOT to be donated.
IHSA Riders and Teams who would like to receive some of the many donated items should write a letter to Bloomberg explaining what they are interested in (Coats, Gloves, Boots, Britches, etc.). Please mention 'sizes' within the letter. Because custom boots have likely been a frequent donation, any information about leg measurements is helpful.
If you request a receipt when making a donation to the Rider's Closet, the items become tax deductible.
The Rider's Closet web site will be a big help when it debuts in 2008. However it should be made clear that there is a site currently operating with a similar name but which ends with ".net" and is in no way connected with the Rider's Closet Charity.
--Steve Maxwell