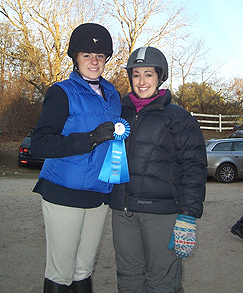 Briley Branden of the Southeastern Connecticut IEA team (on left, with Claire Gordon, who is one of two SE CT coaches) won her JV novice crossrails while placing second on the flat at the December 18th show at Mystic Valley Hunt Club. Southeastern Connecticut was the upper school high point team for the day.
SOUTHEASTERN CONNECTICUT, CRANBERRY EARN BLUE RIBBONS ON DECEMBER 18TH
Gales Ferry, CT - The final IEA show of the 2010 calendar year took just over nine and a half hours to complete. When it was over a pair of programs had prevailed by a single point. Co-host Southeastern Connecticut was the upper school champion team while the Cranberry Equestrian Team was tops among the middle schools. Southeastern Connecticut emerged a 27-26 upper school winner over both the North Shore and Cranberry Equestrian Teams while Cranberry edged out the Metropolitan Equestrian Team 20-19. It was the first time in team history that Cranberry's middle schoolers won high point team honors.
The final show of the fall was also a good indicator of how fast the IEA is growing. Eleven of the 25 teams signed up to compete at today's event made their IEA debut this fall and at least one program, Well-A-Way Farm, was competing in an IEA event for the very first time.
Though the Southeastern Connecticut program is in only their second season of IEA competition, the co-hosts (with Woodstock Acres) competed like old pros. Gabriella Tauro, a high school sophomore (whose mother assisted the show secretary at today's event) won both of her varsity classes while another sophomore, Briley Branden, won her junior varsity novice crossrails while placing second in JV novice flat. Ellie Myers was a winner for SE CT in junior varsity beginner equitation on the flat. Twice during the show Southeastern Connecticut won three consecutive classes, though one such streak involved wins by their middle school riders. Randi LaChance was one of the middle school winners, earning a blue ribbon in future novice crossrails while later placing second in future novice equitation on the flat. The Southeastern Connecticut middle school earned a respectable 12 points for the day.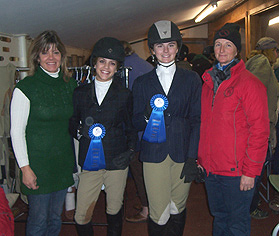 Danielle Barretto (second on left, next to her mother Deb) and Briana Kupic (second on right, with her mother Betsy) won consecutive sections of future intermediate equitation over fences for the Cranberry middle school team. Barretto was also a winner in future intermediate flat as Cranberry won the middle school competition with 20 points.
At today's show it was not uncommon to locate a team where one of the riders could claim one of their parents is also the coach. The Cranberry Equestrian Team had four middle school riders entered, with two of the four being Briana and Alexis Kupic. Their mother Betsy Kupic co-coaches the Cranberry team with Geraldine Burnet, and it was a very good day all around for the Kupic family. Eighth grader Briana won her future intermediate fences while seventh grader Alexis won her future novice crossrails. Add in a pair of future intermediate wins for Danielle Barretto and you have an elated Coach/mom. "We are very, very happy to say the least," said Betsy Kupic after Cranberry was champion middle school for the first time in the program's short history. The Cranberry upper school came within a point of making it two high point team ribbons at the same show, with two blue ribbons given out over the course of ten rides.
The Cranberry jackets were the same shade of red as those worn by the Metropolitans. Apparently red was the lucky color for today's middle schoolers, as the Metropolitan Equestrian Team came closest with 19 points. Unlike all but one other team entered at today's show, the Metropolitan team is from Zone 2 rather than Zone 1, but under IEA rules is allowed to cross zone lines and show against Zone 1 schools which are much closer geographically than nearly all possible Zone 2 opponents. Though the Metropolitans have competed in only four IEA shows since joining the organization this fall, Coach Jane DeCosta explained that in four meets the Metropolitans have finished as reserve champions at three while technically finishing in a three-way tie for first at the other (though by rule they were awarded third place due to a tiebreaker).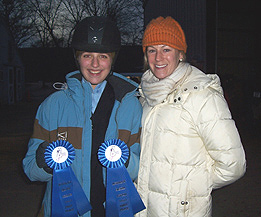 With the winter solstace three days away it was dark before 5:00PM. Dale Eddy of North Shore Equestrian (on left) holds her blue ribbons won in junior varsity novice flat and crossrails as darkness set in. Head Coach Heather Hunt (on right) saw North Shore come up one point shy in the upper school team competition.
While Metropolitan came up from New York City (they train at Jamaica Bay Riding Academy in Brooklyn), North Shore Equestrian traveled nearly as far but from the opposite direction. North Shore stands for the north shore of Boston, and like the Cranberry upper schoolers were only a point out of first behind Southeastern Connecticut. While Southeastern CT had 13 riders in 21 divisions and Cranberry had eight riders in ten divisions the North Shore upper school roster was made up of only four riders in eight divisions. Dale Eddy, a high school freshman, won both her junior varsity novice crossrails and flat to pick up over half the North Shore points. According to Head Coach (and former Stonehill College rider) Heather Hunt the North Shore middle school team is among the top in points nationwide at the moment (though few of their middle school riders were entered today). Though technically today's show was hosted by a Region 4 program North Shore was one of perhaps as much as half the field which came from another region (or zone) to compete at today's event (conversely there were at least five Zone 1, Region 4 programs which did not compete at today's show). Because the tiebreaker at today's show was points over fences, Technically North Shore was upper school reserve high point champion.
River's Edge Equestrian Team (from Region 4) did well in the upper school competition, earning 24 points. Erin Wester led the way for River's Edge, receiving blue ribbons in both varsity intermediate flat and fences. Well-A-Way Farm faired very well in their IEA debut, earning two blue ribbons while scoring 23 points to make the top five for the afternoon.
Carriage Stone Farm (yet another Zone 2 school) and Hidden Brook Farm (from Zone 1, Region 4) both scored 22 points. Coral Torelli, a high school junior, was first for Carriage Stone in varsity intermediate fences. While we at Campus Equestrian are not sure if this was Carriage Stone's first IEA blue ribbon (it was their second-ever show following their debut on December 5th) it was Torelli's first IEA blue ribbon. Hidden Brook was led by Samantha Psanis. A high school junior, Psanis was first in both her varsity open flat and open fences classes.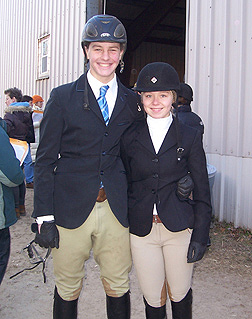 Mike Janson of Windswept (on left) won the varsity open flat class which started the day. Windswept teammate (and girlfriend) Dylan Spets (on right) was second in both of her varsity open classes but defeated everyone (including reserve champion Janson) in the varsity open championship class.
Rounding out the upper school teams which earned 20 or more points was Hunter's Run. Kimberly O'Keefe, a high school sophomore whose mother Jeri is the Hunter's Run coach, was a blue ribbon winner in varsity open equitation on the flat. Hunters Run, yet another team enjoying its first season of IEA competition, finished the day with 21 points.
Windcrest Equestrian Team, which rides out of Windcrest Farm in Hebron, Connecticut, was third in the middle school category with 16 points. Armand Chenelle, who coaches the team with wife Martha Chenelle and Danielle Johnson, broke his leg recently and did not attend today's show. We want to wish Armand, who is also involved with the Wesleyan University IHSA program, a speedy recovery. Hidden Brook Stables was fourth with 13 points while both Southeastern Connecticut and Windswept were also into double digits with 12 points each. Though Southeastern had only three middle school riders in six divisions, these riders (including LaChance) produced four blue ribbons and two red ones.
Today's show featured a Varsity Open Championship class. The top six open riders through the varsity open flat and fences divisions were invited to compete in this class. Mike Janson, a high school sophomore riding for Windswept who was making his IEA debut, won the section of varsity open flat to start the day. Before he could be photographed Janson asked if he could watch his girlfriend ride in the second flat class. She turned out to be Dylan Spets, another sophomore and Windswept teammate. While Spets finished second to O'Keefe and later was second over fences, both riders were invited back for the championship. This time Spets won while Janson was the reserve champion. Psanis, who relegated Janson to second in varsity open fences, was third.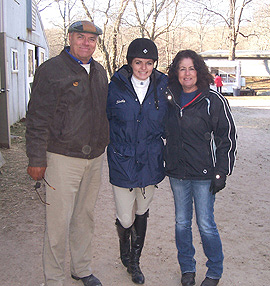 There were at least a dozen individuals with ties to the IHSA at today's IEA event. United States Military Academy Coaches Peter and Sherry Cashman were on hand to see daughter Shelby (center) make her IEA debut. The high school junior and Carriage Stone varsity open rider was third on the flat and fourth over fences. First-year team Carriage Stone finished five points behind Southeastern Connecticut for the day.
One of the unusual aspects of the IEA is that a rider can cross region lines to show by herself (or himself) without her team officially being entered in the shows' team competition. Bailey Manning, a high school junior who shows for the Hopkins Academy team in Region 3 (and which trains out of parents' John and Beth Manning's Biscuit Hill Farm in Shelburne, Massachusettts) competed in and won both of her varsity open classes. Manning also was fourth in the Varsity Open Championship class. Though she personally earned 14 points, Manning's Hopkins Academy team did not receive a team score at today's show.
IHSA ties: Among those with ties to the IHSA who were seen at today's show included John Manning, co-coach of the Amherst College team (on hand to watch daughter Bailey); Rachel Sherman, a former Johnson & Wales University rider who tracked the points in the office; Hunt, the former Stonehill College rider who coaches the North Shore team; Elissa Schwartz, a former Brown University rider and Roger Williams University coach who is now assistant coach to (current Brown University coach) Michaela Scanlon, who have both gotten the Windswept team off the ground this season; Brooke Markewicz, a former IHSA rider at two schools (one being Midway College) who now coaches the Maplewood Farm Equestrian Team; Sam Black, a recent St. Andrews Presbyterian College graduate who now coaches River's Edge; Tiffany Hajdasz, hunter seat coach at Sacred Heart University (which trains at River's Edge), who was on hand to watch daughter Savanna ride for Windcrest Farm; Robin Vinson, who was Robin Dawley when she rode for Johnson & Wales in the mid 1980's, who now coaches the Hummingbirds team; Claire Gordon and Marissa Sylvester, both coaches for Southeastern Connecticut and each a former IHSA rider (Gordon with Connecticut College and Sylvester with what was Teikyo Post University at the time); Jane DeCosta, Coach of the Metropolitan team, who coached Columbia University's IHSA team in 2003-04; Peter Cashman and Sherry Cashman, co-coaches for the United States Military Academy team, who were on hand to see daughter Shelby compete for Carriage Stone; Tina Bove, a former USMA rider known as Tina Struble at that time, who will be coaching the US Coast Guard IHSA team starting in the spring of 2011; and Richard Luckhardt, the Connecticut College head coach who runs Mystic Valley Hunt Club where Southeastern Connecticut trains (as will the Coast Guard team).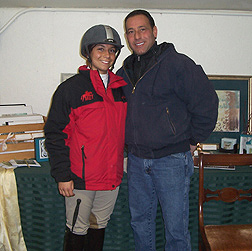 Seen here with her father, Maria Danza of the Metropolitan Equestrian Team won her junior varsity novice crossrails at Mystic Valley Hunt Club on December 18th. Metropolitan was one of at least 11 teams at today's show which made their IEA debut in the fall of 2010.
Speaking of Mystic Valley there was considerable activity in the upstairs lounge during today's show. A bake sale and a 'consignment britches' sale for lack of a better term took place, with nearly every cupcake and brownie completely sold out. Artist Sarah Martin, whose business card describes her as "Sarah M - Art in Design" was busy selling her art (some equestrian - related as she herself competes). Also the scoreboard was posted in the upstairs lounge, with Sherman updating the totals from the middle of the day onward.
Underneath part of the upstairs lounge is the announcer's stand. While Connecticut College open rider Katie Lynch did a fine job as announcer through lunch time, this writer was even more impressed with SE CT parent Rob Kohler's ability to correctly pronounce names having never announced at a show before. Kohler took over for Lynch and handled announcing duties as if he had done it for years! Kohler knew how to call for everyone to line up and dismount and read off the placings with accurate pauses between applause. Save for future novice flat winner Marisa Permatteo (we both thought Kohler pronounced it correctly as 'Per-mat-ay-oh' it turns out the Milestone Stable rider pronounces it 'Per-mattie-oh') Kohler appears to have correctly pronounced all the names. If Connecticut College or the U.S. Coast Gaurd (or an IHSA Zone 1, Region 1 school) needs an announcer for a spring 2011 show at Mystic Valley they should seek out Mr. Kohler.
A few weeks off: With the conclusion of today's event there are no IEA shows scheduled in Zone 1 for the next two weekends. On January 8th. According to the official IEA web site Miss Porter's School will host a show at Avon Valley Show Stables on January 8th and again the following weekend on the 15th. On January 15th there is more than one IEA show to choose from in New England, as the Wild Aire and Hunter Hill Equestrian teams will co-host at Wild Aire Farm in Southbridge, Massachusetts. There are at least nine other IEA shows scheduled in New England between mid January and March 13th, after which Regionals, Zones and IEA Nationals in Maryland will take place.
---Steve Maxwell
Show Incidentals: Sunny skies but cold, with temperatures in the mid '30's. Judge: Fred Hunt. Steward: Jennifer Eaton. Course Designer: Richard Luckhardt.
Team Totals - Upper School: Southeastern Connecticut (High Point Team) 27; North Shore Equestrian Team (Reserve - Won Tiebreaker, which was points over fences) 26; Cranberry Equestrian Team 26; River's Edge Equestrian Team 24; Well-A-Way Farm 23; Hidden Brook Stables 22; Carriage Stone Farm 22; Hunters Run 21; Windcrest Equestrian Team 16; Windswept 14; Folly Farm 13; Hummingbirds 13; Furnace Brook 11; ABF Equine 10; Blackstone Valley Equestrian Team 10; Metropolitan Equestrian Team 9; A Touch of Majic 6; Wachusett Equestrian Team 5; Woodstock Acres 5; Milestone Stable 2; Walnut Hill Farm 2 and Maplewood Farm Equestrian Team 1.
Team Totals - Middle School: Cranberry Equestrian Team (High Point Team) 20; Metropolitan Equestrian Team (Reserve) 19; Windcrest Equestrian Team 16; Hidden Brook Stables 13; Windswept 12; Southeastern Connecticut 12; Folly Farm 9; North Shore Equestrian 9; Milestone Stable 5; Maplewood Farm Equestrian Team 4; Well-A-Way Farm 4; Walnut Hill 3; ABF Equine 3; Hunters Blackstone Valley Equestrian Team 0 and Carriage Stone Farm 0.
Varsity Open Championship Class Champion - Dylan Spets, Windswept
Reserve Champion - Mike Janson, Windswept