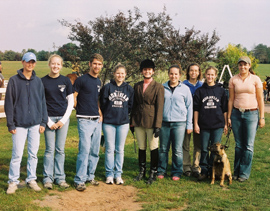 Team President and Captain Ashley Garrett (middle, in riding apparel) is largely responsible for the reformation of the Moravian College Team and one of a small number of IHSA Team Web Sites with "Moving Pictures."
INSTANT REPLAY: MORAVIAN WEB SITE OFFERS VIDEO FOOTAGE
Recognized as the sixth oldest College or University in the United States, Moravian College in Bethlehem, Pennsylvania is a liberal arts school of over 1,300 students. Moravian had an equestrian team for most of the 1980's and 1990's, and can even claim the 1994 IHSA Nationals Individual Open Flat champion in Terry Stephens.
However following the graduation of Magee Allegrucci in Spring of 1998 the team disappeared until 2003, when a student at Moravian by the name of Ashley Garrett was part of an effort to start the team anew.
"Amy (Kish) and I started the team along with Carolina (Arbelaez, the Head Coach at the time)," says Garrett. "We had a couple of other "founding members", but it was largely Amy, Carolina and I who did most of the grunt work to get the team off the ground. We had a club before that, but it didn't accomplish much in terms of riding or anything else."
Garrett, Samantha Dorney and Amy Kish became the 2003-04 greyhound IHSA team. In theory their point card was half full, with Kish in the walk-trot, Dorney a walk-trot-canter rider and Garrett in both novice divisions. Garrett showed the most times, missing only the opening day show but riding at the remaining nine shows and pointing out of both novice divisions. At Regionals Garrett was eliminated but Kish was second and thus moved on to Zone 3 Zones where she placed fifth. Though the team had been small, the enthusiasm was large, and even though Kish was a senior the feeling that the Moravian Team could continue to grow was a given.
In an effort to get word out that Moravian had a team once again, Garrett spearheaded a move to create a team web site, now located at http://home.moravian.edu/students/org/equestrian/. "We decided to make a tool to get more attention from prospective students," says Garrett. Photos were taken at almost every show, so the obligitory team photo gallery was assured. At the same time Garrett took a digital video class and determined that getting short clips of her riding onto the internet was not that difficult.
The Moravian Site itself is simple to navigate. The list of Icons along the left-hand side is self-explanatory: "About Us," "Roster," "Horses," "Barn," "Calendar," etc. The one category that makes the Moravian site stand out versus other IHSA team sites is "Movies." Four clips, or "MCET Student-Edited Movies" can be viewed. This writer had some trouble opening the clips, instead getting re-directed to an "Error" page on the Moravian school web site indicating the page requested was either "Not Found" or was not loading due to a broken link (it could even be the fault of my computer). When the page is functioning properly, viewers can watch greyhound highlights from one of three Zone 3, Region 4 shows from last season.
This writer would be remiss if he did not mention how up-to-date the Moravian site is. As recently as early September the greyhounds trained at a different barn from their current base, Piedmont Farm. The site was updated to include photos of the Piedmont facility and horses, which come in handy during the Moravian team lessons! Individual points from the September 25th East Stroudsburg show - as well as two photos - have been posted. Though Garrett herself was the only rider to compete for the greyhounds that day, the team now has riders for every division except open and will compete with up to seven riders when they co-host this Saturday (October 9th) with Princeton. Though they will be busy co-hosting, perhaps some friends, relatives or passersby will hold the camera long enough to tape the busy Moravian Greyhounds as many make their IHSA debuts. The footage will likely be up on the Moravian site shortly thereafter.
--Steve Maxwell
The Moravian College Equestrian Team Home Page:
http://home.moravian.edu/students/org/equestrian/