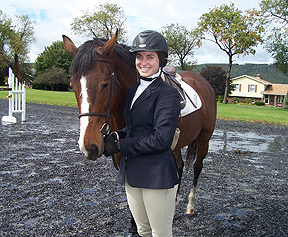 She earned 90 open level points over only seven shows. Penn State sophomore Elizabeth Lubrano (pictured here at her first IHSA show last season) was one of four riders to officially qualify for Nationals and the Cacchione Cup Competition over the March 27th/28th weekend to complete the field.
FIELD OF 31 2010 CACCHIONE CUP QUALIFIERS NOW SET
The final four entries into the 2010 Cacchione competition have been determined. Elizabeth Lubrano, who earned 90 of a possible 98 points will represent Penn State and Zone 3, Region 1 in Lexington May 6th through 8th. Lubrano clinched on Saturday (at the first of two Region 1 shows at Briarwood Farm) while also making "Elizabeth" the most common first name for 2010 Cacchione riders (joining Gilberti of Brown, Kigin of Skidmore and Webb of Wyoming). Eileen McNamara of Wheaton won the Zone 1, Region 4 race comfortably, while Lindsay Sceats of Mount Holyoke College needed better than a sixth in her second class of the day on Saturday to secure a trip out of Zone 1, Region 3 (Sceats was third on the flat to advance). Katherine Wallace of the College of William & Mary had been in the lead since midway through the fall and finished eight points ahead of Goucher freshman Karli Postel in Zone 4, Region 1. Though she had clinched weeks earlier, we only recently learned that Amanda Gelderman of the University of Montana Western had survived out of Zone 8, Region 3. The field of Cacchione qualifiers is now compete!
Of the 31 riders who will compete only six can claim a previous Cacchione appearance. Gilberti and Lubrano are the only riders who competed for the cup last season in Murfreesboro who will return in '10. Thus a new record is set for biggest turnover in the Cacchione field from one season to the next (it should be noted that the '09 Cacchione class featured 21 seniors, also a record). Ruschmeyer, Furches, Maxwell and Henson all rode in the Cacchione class in Burbank two seasons ago. While none of the '08 entries placed, Lubrano was fourth and Gilberti the Reserve National Champion behind Lindsay Clark of Centenary College last season.
The rider in each IHSA region who ends the regular season with the most combined open flat and open fences points automatically qualifies to compete at IHSA Nationals in the Cacchione Cup Competition. This competition, during which 31 riders get to flat and jump, determines the top hunter seat open rider in the IHSA for the season. Since the current format was put into place in 2003, somewhere between five and ten riders are called back for a work-off which determines the Cacchione Cup Champion.
--Steve Maxwell
The Complete list of 2010 IHSA Nationals Cacchione Cup qualifiers, each of whom will compete for the USEF Cacchione Cup May 6th through 9th in Lexington, Kentucky:
ZONE 1, REGION 1: Elizabeth Gilberti, Brown University
ZONE 1, REGION 2: Reese Green, University of Vermont
ZONE 1, REGION 3: Lindsay Sceats, Mount Holyoke College
ZONE 1, REGION 4: Eileen McNamara, Wheaton College
ZONE 2, REGION 1: Lindsey Mohr, Centenary College
ZONE 2, REGION 2: Suzanne Snyder, St. Lawrence University
ZONE 2, REGION 3: Elizabeth Kigin, Skidmore College
ZONE 2, REGION 4: Elysse Ruschmeyer, Fairfield University
ZONE 3, REGION 1: Elizabeth Lubrano, Penn State University
ZONE 3, REGION 2: Terence Prunty, Delaware Valley College
ZONE 3, REGION 3: Erica Green, Washington & Jefferson College
ZONE 3, REGION 4: Andrea Heinzman, Kutztown University
ZONE 4, REGION 1: Katherine Wallace, College of William & Mary
ZONE 4, REGION 2: Katie Furches, Hollins University
ZONE 4, REGION 3: Ashley Miller, Virginia Intermont College
ZONE 5, REGION 1: Lindsay Maxwell, University of the South
ZONE 5, REGION 2: Melina Laroussi, University of South Carolina
ZONE 5, REGION 3: Kelse Bonham, Savannah College of Art & Design
ZONE 6, REGION 1: Nicole DeCorti, Lake Erie College
ZONE 6, REGION 2: Ali Cibon, University of Kentucky
ZONE 6, REGION 3: Mary Margaret Fly, University of Findlay
ZONE 6, REGION 4: Ben Miller, Western Michigan University
ZONE 7, REGION 1: Elizabeth Webb, University of Wyoming
ZONE 7, REGION 2: Emily Taylor, Louisiana State University
ZONE 8, REGION 1: Brittany Henson, University of Nevada at Reno
ZONE 8, REGION 2: Tristin Schramm, Cal State - Fullerton
ZONE 8, REGION 3: Amanda Gelderman, University of Montana Western
ZONE 8, REGION 4: Melanie Christensen, Seattle University
ZONE 9, REGION 1: Mary Bungum, St. Mary of the Woods College
ZONE 9, REGION 2: Rori Fiebert, Washington University in St. Louis
ZONE 9, REGION 3: Emily Pope, University of Minnesota - Twin Cities