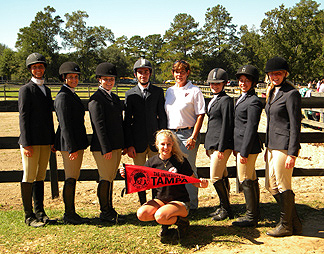 The University of Tampa equestrian team (pictured) made their IHSA debut on October 15, 2011, the day this photo was taken. The Spartans are one of seven teams to join Zone 5, Region 3 since 2009. In their second IHSA season the University of Tampa will compete in the new Zone 5, Region 5, which will contain all but four of the 2011-12 Zone 5, Region 3 schools (photo courtesy Art Heinrichs).
EVERYONE'S GONE TO THE SOUTHEAST
Trying to predict growth within a specific geographic area of the IHSA is not an easy thing to do. At one time the Southeastern United States appeared to be losing a few IHSA teams, in part due to various schools in that part of the country going NCAA-only between 2003 and 2006. During the years mentioned Auburn University, the University of South Carolina, the University of Georgia and the University of Tennessee at Martin all exited the organization. Following the 2007-08 season three Georgia-based schools (Emory University, Georgia Tech and Georgia State University) were moved from Zone 5, Region 3 into Zone 5, Region 2 to compensate for declining numbers in the latter region. It was hoped that Region 3 - which ran from Charleston, South Carolina to Miami, Florida - could survive with nine teams even though the distance from one end of the region to the other was gigantic.
Then something unexpected happened. During the 2008-09 season Zone 5, Region 3 grew two new teams, as the University of South Florida and Central Florida Community College made their first appearances in IHSA shows. The number of Zone 5, Region 3 schools grew to 15 in 2010-11. Florida Atlantic University, Florida Gulf Coast University, Florida International University and Rollins College all competed IHSA for the first time. Though the College of Central Florida was no longer seen in the team standings the riders were still very much there; between the 2009-10 and 2010-11 season the school was re-named the College of Central Florida! Though they have not been listed on IHSAinc.com (the official web site of the IHSA) since mid-2011 it is possible that Ave Maria College may have competed at least once in 2010-11 bringing the number of schools to 15. In 2011-12 the University of Tampa and the University of North Florida showed for the first time, with the former making their debut at the fall hunter seat season opener. Because Campus Equestrian could not obtain the Region 3 western team totals at any time during the 2011-12 season we are unsure if Stetson University competed in any shows. Stetson showed up on IHSAinc.com as part of their alphabetical list of over 300 teams during the 2011-12 season. If Stetson showed then up to 18 schools competed in Region 3 shows during 2011-12, making the region the largest in number of schools nationwide.
At the end of the 2007-08 season Zone 5, Region 2 had only seven schools (and this included club teams at both Georgia and South Carolina, as students at both schools campaigned for and received the right to form club teams which would co-exist with the NCAA teams there). One season later the Lander University team disappeared while the three Region 3 schools moved in. Then Lander returned in 2009-10 while Kennesaw State University and the University of South Carolina at Aiken made their IHSA debut. Then Converse College and Furman University both re-appeared within the organization after several years away for the 2010-11 season. New to Region 2 and the IHSA was the University of West Georgia, which brought the total number of schools to 15. Though West Georgia did not compete at any 2011-12 shows the University of Alabama did, keeping the Region 2 total at 15 teams, many of a very healthy size.
During the 2010-11 season there was discussion about the growth in Region 3 leading to perhaps spliting the region in two. The 'distance issue' had always been a cause for concern (at one time the University of Miami would not travel north of Savannah, Georgia because of this) while the consistant influx of teams within the state of Florida made it seem as if the Sunshine state could sustain being a region all its' own. While no split occured for 2011-12 many examined different scenarios which would not cause a 'facility shortage' should Region 3 either be split or the entire Zone realigned.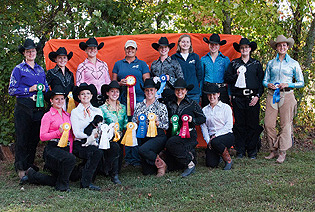 For several years Clemson University did not field a western team but in their IHSA return on October 8th, 2011 the Tigers were reserve high point team (western coach Rebecca Shirley holds the reserve champion ribbon). While it is assured that the Clemson hunter seat team is moving from Region 2 to Region 3 Campus Equestrian is unsure if the Zone 5 western team alignment has been altered (photo courtesy Sarah Pell).
At the 2012 IHSA winter meeting it became official: Zone 5 would in fact grow an additional region for the 2012-13 season. Instead of a simple Zone 5, Region 3 split the decision was made to move schools in three different regions within the Zone. Region 1 would lose two schools but otherwise would remain the same. Region 2 would gain two schools from Region 1 but would lose six schools to Region 3. Region 3 would be made up of the six schools moved over from Region 2 plus four schools already in Region 3. A new region, Zone 5, Region 5, would contain all but four of the schools that were in Region 3 during the 2011-12 season.
The following list shows which Zone 5 teams are slated to be in which regions during the 2012-13 season. History will show that sometimes a last-minute change can occur, which may mean one or two teams on this list will wind up someplace other than where they are listed here.
Zone 5, Region 1:
Maryville College
Middle Tennessee State University
Murray State University
Tennessee Tech University
University of the South
University of Central Arkansas
University of Tennessee at Knoxville
Vanderbilt University
Western Kentucky University
Quick Observations: The two schools within the state of Mississippi (Mississippi College and Mississippi State University) both move into Region 2, which means less travel to the north and more travel to the east for both programs.
Zone 5, Region 2:
Berry College
Emory University
Georgia Institute of Technology
Georgia State University
Judson College
Kennesaw State University
Mississippi College
Mississippi State University
North Georgia College and State University
University of Alabama
University of Georgia
University of West Georgia
Quick Observations: This region gains the Mississippi schools but loses Clemson University, Converse College, Furman University, Lander University, the University of South Carolina (Columbia) and the University of South Carolina - Aiken to Region 3. Strangely when Region 3 lost three teams to Region 2 four years ago those teams were Emory, Georgia Tech and Georgia State, each of which remains in Region 2 this time around.
Zone 5, Region 3:
Clemson University
College of Charleston
Converse College
Furman University
Georgia Southern University
Lander University
Mercer University
University of South Carolina (Columbia)
University of South Carolina at Aiken
Wesleyan College
Quick Observations: Though the name Zone 5, Region 3 has been around since the mid 1990's this region is not at all similar to the region which boasted the same name last season. Only the College of Charleston, Georgia Southern University, Mercer University and Wesleyan College get to keep the name from last season to the new season. The new ten-team region is made up exclusively of South Carolina and Georgia schools. Campus Equestrian could not confirm if Coastal Carolina University - which is north of each of the teams in this region - was to stay in Zone 4, Region 3 (where it was the only South Carolina school in a region made up of all-North Carolina schools otherwise) or to join this region.
Zone 5, Region 4:
Appalachian State University
Averett University
Elon University
High Point University
Lenoir - Rhyne College
Salem College
University of North Carolina at Greensboro
Virginia Intermont College
Virginia Tech
Wake Forest University
Western Carolina University
Quick Observations: Save for Lenoir - Rhyne and Salem Colleges (both of which made their IHSA debut since the fall of 2010) each of these schools were part of Zone 4, Region 3 prior to the IHSA 2010 nationwide realignment. Region 4 is the only region not affected by the summer 2012 Zone 5 changes.
Zone 5, Region 5:
College of Central Florida
Florida Atlantic University
Florida Gulf Coast University
Florida International University
Florida State University
Rollins College
Savannah College of Art & Design
University of Central Florida
University of Florida
University of Miami
University of North Florida
University of South Florida
University of Tampa
Quick Observations: The vast majority of Zone 5, Region 3 will now be known as Zone 5, Region 5. All but one of the schools in the new region resides in the state of Florida, essentially giving the state its own region. However to keep numbers balanced (and to keep the facility within the region) Savannah College of Art & Design from the state of Georgia (though their actual riding facility is a few miles away in Hardeeville, South Carolina) is in Region 5 as well. Stetson University may also compete in this region in 2012-13. As of July 31st Campus Equestrian could not confirm if Zone 5, Region 3 and Zone 5, Region 5 will continue to ride as one region for western. If anyone knows this please drop us a line.
In total contrast to the situation around 2003-04 the number of riders within Zone 5 has consistantly gone up over the past three seasons. Part of this growth might be related to the Interscholastic Equestrian Association (IEA) having grown in number by leaps and bounds throughout Georgia and Florida over the past five seasons, funneling some of their riders who grew up in the area to IHSA programs which are nearby.
Though everyone starts with a fresh slate in September one cannot help but wonder if both Savannah College of Art & Design and College of Charleston will win their respective regions and face off against each other at Zones. These two have had some legendary races for first and second place in Region 3 so if both advance to Zones there could be an epic battle. Other defending region champs Berry College, University of the South and Virginia Intermont College may also be thinking about how the first five-way Zone 5 Zones competition might shake out.
--Steve Maxwell