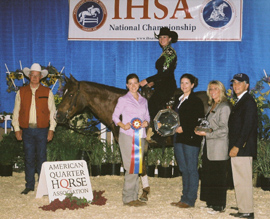 Sophomore Sara Weller (on horse) got Kansas State on the board with a first in team open reining at IHSA Nationals on May 6th. It would not be the last time a Kansas State rider won a blue ribbon in the Western Team Competition.
THE 2006 IHSA NATIONALS WESTERN TEAM COMPETITION
Harrisburg, PA - 2006 IHSA Nationals took place at the Pennsylvania Farm Show Complex in the state capitol of Harrisburg, the same site (though not the same arena) as had been the case 22 seasons earlier, which was also the first IHSA Nationals show to include both the english and western team competitions at the same location. The 2006 western field included four schools with full teams at Nationals for the first time, four schools with a previous Western National Championship to their credit and nine other schools with various amounts of prior success at IHSA Nationals.
With the defending champion Findlay unable to survive the competitive Zone 6 Zones show a month earlier, a new Western National Champion team was a certainty. 2005 runner-up Texas A & M, the winner or co-champion of the western team competition from 2002 to 2004, was one of the favorites. Seven-time National Champion Ohio State tied Texas A & M in 2002, and the Buckeyes had a full team at Nationals for the twentieth season in a row. Surprising Miami of Ohio had a full western team in the competition for the first time since at least 1991, with the Red Hawks hoping for a return to the glory days of 1979-82, when Miami won three of the first four western national championships. New Mexico State had finished second to Texas A & M at Zone 7 Zones but the similarly-named Aggies were back at Nationals, hoping for a third National Championship and their first since 1998.
Zone 9 could claim the most western riders registered to compete in the IHSA during the 2005-06 season. The numbers in Zone 9 were so great that the high point western team from each of the three regions within the Zone advanced to IHSA Nationals. Kansas State, the University of Nebraska at Lincoln and Saint Mary-of-the-Woods College posed stiff competition to the rest of the field. Zone 8 also had three teams qualified, including first-time entries Oregon State and Utah State. Cal Poly - Pomona was back from Zone 8 with a full team for the first time since 2003. Middle Tennessee State was back from Zone 5, hoping to avoid being shut out as was the case in '05. The other survivor of Zone 5 Zones was Georgia Southern University, making their IHSA Nationals debut. Rounding out the field were Morrisville State, known for many years in the 1990's as S.U.N.Y. - Morrisville, with a streak of over ten consecutive seasons with a Nationals team appearance; The United States Military Academy, back at Nationals for the second time after a thrilling ride-off at Zone 2 Zones for second which lifted the Black Knights over Cazenovia; Delaware Valley College, making their second western team appearance in as many seasons, having won Zone 3 Zones; Zone 3 runner-up West Virginia University, advancing a full western team for the first time; and Saint Andrews Presbyterian College, a program which had western in the early 1980's but was sending a full team perhaps for the first time ever.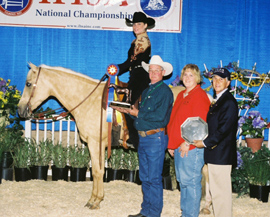 Technically they had won two team classes in a row. University of Nebraska freshman Megan Boone (on horse) won the first Western team class of 2006 Nationals, earning the blue ribbon in team novice western horsemanship. Cornhusker teammate Erin Peery (not pictured) won the team open western horsemanship division at 2005 Nationals, which had been the final IHSA class of the 2004-05 season!
Though the first western team class took place at roughly 2:30PM on Friday, May 5th the IHSA National Show was already one-fourth complete, with the rail phase of the AQHA Trophy division and 16 english classes having come and gone. The first of six western team classes was the novice division. As would be the case in four of the team classes, each rider walked, jogged and lopped to start, then went through their pattern one-by-one until all 17 riders had finished. New Mexico State had failed to earn any points in this division at the previous two IHSA National shows, but Caitlin Adams saw to it that this didn't happen here. The freshman from Prather, California was sixth while Dana Grupe's fifth place ribbon gave Saint Mary-of-the-Woods one more point than they had earned at 2005 Nationals. Schools from Zone 3 had earned a grand total of two points in the past seven IHSA western National Team Competitions combined. Kelly Doyle of West Virginia earned more than this in one ride, securing the fourth place ribbon, the finest showing for a Zone 3 western team rider to date. Third went to Shawna Winfrey of Cal Poly - Pomona while Ohio State freshman Natalie Norval was second, earning the Buckeyes their best ribbon in the first division of an IHSA Nationals team competition since Clint Ainsworth won team open reining to start 2000 Nationals.
One year earlier the University of Nebraska at Lincoln went into the final team class without having scored a point. Former Kansas State rider Erin Peery then proceeded to win the team open western horsemanship for the Cornhuskers. In 2006 Cornhusker freshman Megan Boone would do likewise. From Ashland, Nebraska, Boone won the team novice western division, giving the Cornhuskers seven points and their first-ever lead in a team competition at IHSA Nationals.
Following two english divisions and the individual intermediate western, the second and final western team class of the Friday session took place. Though we are still trying to confirm if Saint Andrews did in fact take a western team to Nationals in the early 1980's. we can tell you that Ashley Lancaster's sixth place ribbon in the team advanced western horsemanship division was at least the Knights' first team point since the decade of Reagan, Big Hair and the debut of the word processer. Fifth place went to Charlie Goetz of Morrisville State College while Amy Snoderly assured that Middle Tennessee State would do better than in 2005, with the sophomore from Maryville, Tennessee earning three points for the Blue Raiders with a fourth. Katherine Chesley, a freshman from El Paso, Texas, put New Mexico State on the board again with a third while yet another freshman, in this case Sara Gibson, delivered five points to Oregon State. From Oregon City, Oregon, Gibsons' second place ribbon provided the first Nationals team points in the history of the Beavers' program.
Ohio State began to look like the front-runner as sophomore Jessica Robbins earned the blue ribbon in team advanced western. Though Ohio State entered the day having won or shared seven western team national championships - the most of any program in IHSA history - Robbins was only the second Buckeye rider ever to win the advanced division. The Greenville, Ohio resident equaled the feat of Rebecca Johnson, who won the division three seasons earlier.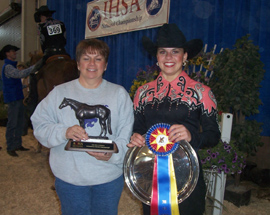 Seen here with her Mother, Kansas State sophomore Sarah Coomes was the third Wildcat rider in a row to place inside the top two. Coomes is seen here after winning the team intermediate western horsemanship division.
Western riders again had the chance to sleep in a little, as the team open reining pattern did not start until 2PM in the afternoon on Saturday (it is worth noting that the traditional IHSA parade of teams took part earlier in the day, but after 11AM). The first western class of the Saturday session is different in nature from the other western team classes, in that reiners do not ride as a group to the commands of walk/jog/lope but instead complete a lengthy pattern, with spins and slide-stops common only to the reining divisions. The third western team division at any IHSA Nationals can also start separating the contenders from the also-rans, basically making the class a do-or-die for a team with no points on the board headed in. Two schools without any points during the Friday classes would make quite a splash.
The team open reining pattern took almost 90 minutes to complete. During that time announcer Ken Marash gave the combined judge's scores of Carol Potter and Patti Carter following each rider's ride. Anyone who wrote down the scores could therefore get an idea where each rider would place. After all riders returned to the ring for the placings, Marash announced Oregon State senior Aurora Stanbro as the winner of sixth place. This was important, as Stanbro and Jamie Abel of Morrisville State had both received scores of '142.5.' Saint Mary-of-the-Woods junior Christina Ecker was fifth with a score of '143,' equaling teammate Grupes' ribbon a day earlier. Though Ecker was the only rider with a 143, two riders had a '144.5.' Ohio State freshman Keith Ceddia heard his name called next. From Sunbury, Ohio, Ceddia received the fourth place ribbon, giving the Buckeyes 15 points through three divisions. Hearing Ceddia's name first was music to the ears of New Mexico State freshman Ashley Dietz, who had the other 144.5 score and was awarded third place. Very surprisingly, no Texas A & M rider had scored a point in the team competition on day one. Tonna Brooks earned a score of '146.5' to change all that. A freshman from Canby, Oregon, Brooks gave A & M a quick five points while another program that had been shut out to this point climbed into an instant tie for third. Sara Weller of Kansas State scored an off-the-board '150.5' to give the Wildcats seven points. From Garden City, Kansas, Weller had pulled K-State into a tie with Nebraska. New Mexico State had scored in each division and was in second with nine points, while Ohio State was in command with 15. Could the Buckeyes ride back to Columbus with an eighth championship?
It was nearly 6PM when team beginner western horsemanship got underway. Save for the fact that the beginners did not have to lope the division was very similar to the other western horsemanship divisions, with all seventeen riders walking and jogging in the ring together followed by the execution of the pattern taken one-by-one. When the dust settled sixth place was awarded to Shannon Cosgrove of Nebraska, giving the Cornhuskers one more point overall than they had earned in 2005. Heather Short became the third Saint Mary-of-the-Woods rider to win a fifth-place ribbon, improving their team total to six points. Utah State would not be shut out in their IHSA Nationals debut, as Katie Rose earned fourth and three points for yet another group of Aggies (Delaware Valley, like Utah State, Texas A & M and New Mexico State, is also known by this nickname). Cal Poly - Pomona inched closer to double-digits, as Alexis Spaeth earned four points with a third. Heather Culwell, a junior from St. Francis, Kansas, earned second place to give Kansas State 12 points overall.
Ohio State blew almost the entire field out of the water with the top placing. Angela Rospert, a Buckeye junior from Oak Harbor, Ohio won the division, giving Ohio State 22 points and a commanding ten-point lead over second place Kansas State. New Mexico State was third with nine points, Cal Poly - Pomona and Nebraska next with eight, Saint Mary-of-the-Woods and Oregon State tied for fifth place with six, and Texas A & M surprisingly with only five points through four divisions. But the final two team classes were to bring some normalcy and a pair of ribbons back to College Station.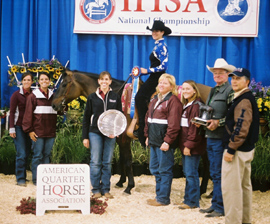 Texas A & M Senior Debra Ramirez (on horse) won the final class of 2006 IHSA Nationals, the team open western horsemanship division. The blue ribbon assured Texas A & M of a top three finish.
The final day of 2006 Nationals (and the 2005-06 IHSA Season) started at 8:09AM with individual advanced western horsemanship, which was won by Christine Sceets of Texas A & M. The blue ribbon helped give this particular group of Aggies some momentum, which would result in no placing below a third for Texas A & M on the show's final day. Team intermediate western horsemanship was the second class of the day, with all the ribbons awarded to riders from schools which were already on the scoreboard. When the placings were announced Casey Craig broke the Saint Mary-of-the-Woods string of fifths with a sixth. Alice Gifford elevated Cal Poly - Pomona into double digits with a fifth while Nicole Peck did likewise for New Mexico State, the junior from Los Alamos, New Mexico earning a fourth and raising the NMSU Aggie total to 12. Laura King, a Texas A & M freshman from Bryan, Texas, took third place. The Texas A & M Aggies were now at nine points, equaling their 1997 total which was their last time at Nationals before earning Varsity status. Tornados recently hit the town of Gallatin, Tennessee, which happens to be the hometown of Middle Tennessee State junior Sarah McKee. McKee was unharmed and went on to place second in team intermediate western, moving the Blue Raiders' point total to eight.
If Kansas State did not earn the first at this point Ohio State would clinch their first title since 2002 and first outright championship since 1999. However the Wildcats were to close the gap, as Sarah Coomes took the blue ribbon. A Sophomore From St. Paul, Kansas, Coomes had suddenly made the competition a two-team race with one division to go. Ohio State still had the lead, but only by a 22-19 score over K-State. New Mexico State still had a chance to tie for second, while seven different teams with nine points or less had a shot at double-digits. Could Kansas State catch Ohio State and capture their first-ever IHSA National Championship?
The final class of the show would be the team open western horsemanship division. Nine of the seventeen competitors in this division (including Ecker and Stanbro) had ridden in team open reining the day before. Four riders in team open western had competed in separate individual classes earlier in the day. Morrisville States' Jamie Abel had won the prestigeous NRHA-sponsored individual open reining, while Middle Tennessee State's Nikki Klein had placed ninth. Andrea Young of West Virginia and Scott Vetter of the United States Military Academy had opened the day competing in the individual advanced western division, with Vetter earning a tenth (riders showing in individual classes at 2006 Nationals were placed from tenth through first - editor). Would one of the riders with time in the seat already on May 7th walk away with the blue ribbon?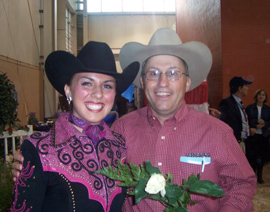 Ohio State sophomore Jessica Robbins (left, with Buckeyes Coach Ollie Griffith) won the team advanced western horsemanship division. Though this was only the second western team division held at 2006 Nationals, Robbins' seven points put Ohio State ahead for good.
When all was said and done it would turn out that one rider from earlier in the day would earn a third, two riders who had ridden the day before would place and three more would earn a ribbon in their only ride at 2006 IHSA Nationals. Sixth place went to Cal Poly - Pomona's Brianna Vermeulen, who had taken part in the individual AQHA High Point Open Rider division over the previous two days. Vermeulen's lone ribbon of 2006 Nationals gave Pomona eleven points for the competition, the most of any Zone 8 team competing over the weekend in Harrisburg (it is worth noting that due to a rise in the overall number of western riders in Zone 8 there were three teams from this zone competing at Nationals for the first time since 2003. Coincidentally, Cal Poly - Pomona scored eleven points at 2003 Nationals). Fifth place went to Peery of the University of Nebraska in her only ride at 2006 Nationals. The Cornhuskers thus ended with ten points and sixth place overall within the team competition. Making her lone appearance at 2006 Nationals, Christina Wilder made sure that New Mexico State finished no worse than fourth place, as the senior from Toas, New Mexico earned the fourth place ribbon. This group of Aggies finished with 15 points, the most points at an IHSA National show for the school located in Las Cruces, New Mexico since the legendary 1998 National Championship season (when in the days of only five stock seat divisions, New Mexico State scored 30 of a possible 35 points!). Abel took third, raising Morrisville's total to six points. It should be noted that though this was the final class of IHSA Nationals, Abels' first in the NRHA individual open western advanced her to the NRHA Derby in Oklahoma City on May 20th. Abel won that division as well, besting eleven others including several IHSA riders.
Only two placings remained, with both the Ohio State and Kansas State riders still among the 13 hopefuls mounted on their horses inside the ring. Four teams had yet to score a point, but Miami of Ohio's Brittany Lambert was able to reduce that number to three. The freshman from Milford Center, Ohio earned the first team points for the Red Hawks since the elder George Bush was President, earning the red, second place ribbon. The final placing changed the team standings, but not the top two. Texas A & M senior Debra Ramirez earned the final ribbon at any IHSA show this season with the first. From Mission, Texas, Ramirez raised this set of Aggies points to 16, one more than the Aggies from New Mexico State. Texas A & M thus could claim no worse than third place at any IHSA National show between 2002 and 2006.
The top six teams turned out to be the University of Nebraska at Lincoln sixth with ten, Cal Poly - Pomona fifth with eleven, New Mexico State fourth with 15, Texas A & M third with 16, Kansas State (with no seniors competing in the team competition) Reserve National Champions with 19 and Ohio State, having earned 22 of a possible 28 points in the first four team divisions, the new National Champions. The Buckeyes ended a four-year drought without a share of the title, still giving them essentially one National Championship for every other IHSA National show since 1991.
---Steve Maxwell
The Stock Seat Team Class-by-Class Results. The first two classes listed were held Friday, May 5nd, the next two were held Saturday, May 6th and the final two were held Sunday, May 7th. The judges for all stock seat classes were Patti Carter and Carol Potter:
Team novice western horsemanship: 1. Megan Boone, University of Nebraska at Lincoln. 2. Natalie Norval, Ohio State University. 3. Shawna Winfrey, Cal Poly - Pomona. 4. Kelly Doyle, West Virginia University. 5. Dana Grupe, Saint Mary-of-the-Woods College. 6. Caitlin Adams, New Mexico State University.
Team advanced western horsemanship: 1. Jessica Robbins, Ohio State University. 2. Sarah Gibson, Oregon State University. 3. Katherine Chesley, New Mexico State University. 4. Amy Snoderly, Middle Tennessee State University. 5. Charlie Goetz, Morrisville State College. 6. Ashley Lancaster, Saint Andrews Presbyterian College.
Team open reining: 1. Sara Weller, Kansas State University. 2. Tonna Brooks, Texas A & M University. 3. Ashley Dietz, New Mexico State University. 4. Keith Ceddia, Ohio State University. 5. Christina Ecker, Saint Mary-of-the-Woods College. 6. Aurora Stanbro, Oregon State University.
Team beginner western horsemanship: 1. Angela Rospert, Ohio State University. 2. Heather Culwell, Kansas State University. 3. Alexis Spaeth, Cal Poly - Pomona. 4. Katie Rose, Utah State University. 5. Heather Short, Saint Mary-of-the-Woods College. 6. Shannon Cosgrove, University of Nebraska at Lincoln.
Team intermediate western horsemanship: 1. Sarah Coomes, Kansas State University. 2. Sarah McKee, Middle Tennessee State University. 3. Laura King, Texas A & M University. 4. Nicole Peck, New Mexico State University. 5. Alice Gifford, Cal Poly - Pomona. 6. Casey Craig, Saint Mary-of-the-Woods College.
Team open western horsemanship: 1. Debra Ramirez, Texas A & M University. 2. Brittany Lambert, Miami University of Ohio. 3. Jamie Abel, Morrisville State College. 4. Christina Wilder, New Mexico State University. 5. Erin Peery, University of Nebraska at Lincoln. 6. Brianna Vermeulen, Cal Poly - Pomona.
2006 IHSA Nationals Stock Seat Team Totals:
Ohio State University - 22 (National Champions)
Kansas State University - 19 (Reserve National Champions)
Texas A & M University - 16
New Mexico State University - 15
Cal Poly - Pomona - 11
University of Nebraska at Lincoln - 10
Middle Tennessee State University - 8
Saint Mary of the Woods College - 7
Morrisville State College - 6
Oregon State University - 6
Miami University of Ohio - 5
Utah State University - 3
West Virginia University - 3
Saint Andrews Presbyterian College - 1
Delaware Valley College - 0
United States Military Academy - 0
University of Maryland - 0
Georgia Southern University - 0