THIS SITE
IS FOR SALE

If you or someone you know is interested in purchasing Campus Equestrian please contact the owner through the "Contact Us" icon found elsewhere on this page.




36 GOOD REGIONS DESERVE ANOTHER
For the first time since the 2010 national realignment the IHSA will add a new region for 2012-13, bringing the total number to 37 geographic regions. The new region will be known as Zone 5, Region 5. Several teams in other regions within Zone 5 will be shifted to someplace new in the process...

Full Story
STANDOUT SOCKS!
Many IHSA and IEA teams have matching jackets and matching caps. A few have matching collars. But with so many riders keeping their boots off until it is nearly time to mount up, hasn't the time come for matching boot socks?...

Full Story
AN IHSA-RELATED SHOW IN JULY!
The first-ever all-IHSA alumni show took place at Valley Forge Military College in Wayne, Pennsylvania on July 29th. Alumni riders from three different IHSA Zones competed, with one from the nutmeg state determined to be the best alumni rider at the inaugural event...

Full Story
ST. LAWRENCE WINS 2012 IHSA NATIONALS HUNTER SEAT TEAM COMPETITION
St. Lawrence University scored points in each of the first five hunter seat team classes and held the lead from the second class through the conclusion...

Full Story
OREGON STATE WINS WESTERN IHSA NATIONAL CHAMPIONSHIP
The Beavers led early and often, though the title was still up for grabs going into the final team class. Oregon State ultimately prevailed for their first National Championship ever...

Full Story




FEATURED LINKS

IHSAinc.com

CONTACT US

Contact Info
editor@campusequestrian.com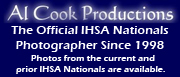 CAMPUS EQUESTRIAN 2002-2012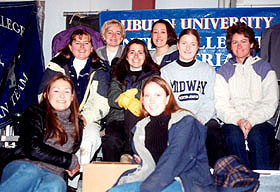 Members of the Midway College equestrian team are seen here prior to the start of 2002 IHSA Nationals in Cazenovia, New York. This was the original August 2002 Campus Equestrian home page photo.
Campus Equestrian was a website which generally covered IHSA events during its ten-year existence. Starting in 2010 Campus Equestrian covered IEA events and in 2011 the IDA as well. The top month for viewership was March of 2011, when Campus Equestrian received over 468,000 hits.

---




Though the Campus Equestrian website will no longer be updated, our Facebook Fans are welcome to write about anything equestrian-related on our Facebook page. New fans can join and write about their IHSA, IEA or IDA programs and experiences if they feel so inclined as well.
WHERE WILL WE FIND THE RESULTS FROM NOW ON?
As Campus Equestrian was closing up shop on August 4, 2012 we gave thought to where everyone might turn for current information and results regarding the IHSA, IEA and IDA in the future. There are more websites and facebook pages to investigate than you might think...

Full Story
RESULTS FROM 2012 IEA HUNT SEAT NATIONALS
IEA Hunt Seat Nationals took place at the Toyota Arena at the New York State Fairgrounds in Syracuse, New York April 20th through 22nd. Empress Equestrian Team (from Columbus, Ohio) and Storybook Farms (from John's Island, South Carolina, a stone's throw from Hilton Head) were the champion Upper and Middle Schools, respectively...

Full Story
---

---
RESULTS FROM 2012 IEA WESTERN NATIONALS
The 2011-12 IEA season is now finally completed. The upper school Western team competition was completed on the morning of June 30th, giving a program in Northwestern Ohio their first-ever IEA team title...

Full Story
PHOTO FINISH
If you walked around the Toyota Arena at the New York State Fairgrounds in Syracuse, New York during IEA Hunt Seat Nationals you may have noticed an office where everyone was staring intently at one of several computers. This is because freshly-taken photos of the riders were available for all to view...

Full Story
RESULTS FROM 2012 IDA NATIONALS
IDA Nationals took place in Long Valley, New Jersey on April 28th and 29th. Three schools went into the final team class separated by only two points...

Full Story
WALK TROT BANTER
When Campus Equestrian launched on August 16, 2002 we planned to post frequent editorials under the heading 'walk-trot-banter.' Though it has been years since we posted such an editorial we thought we would re-post the first one on the site's final day, complete with the original IHSA Zone map and our short-lived 'leather' header...

Full Story
THE LAST WORD
A few odds and ends that need to be covered in preparation for the shutdown of Campus Equestrian...

Full Story